Face lift tape is a type of adhesive tape that is designed to lift and tighten the skin on the face to give the appearance of a facelift without surgery. The tape is typically applied to the sides of the face, near the hairline, and then pulled back to tighten the skin around the cheeks, jawline, and neck.
While kinesiology tape for face may provide a temporary improvement in the appearance of the face, it is important to note that it is not a long-term solution and the effects will only last until the tape is removed. Additionally, improper application or overuse of the tape can result in skin irritation or damage.
There are various types of face lift tape available on the market, including clear tape, colored tape, and tape with adjustable tension. It is important to follow the instructions carefully when using face lift tape and to use it in moderation to avoid any negative effects on the skin.
2.5cm*5m (0.98inch*16.4ft)
Wemade accepts customised tapes and customised packaging in the size or colour you want. Custom kinesiology tapes are usually printed with a design or logo on the bandage and papercore, and can also be customised with personalised packaging to create a brand image. (Learn More)
kinesiology tape for face is a safe non-invasive anti-ageing lifting method used to reduce facial swelling and wrinkles.
It is a face lift tape. It consists of 95% cotton and the remaining 5% spandex with a single-sided adhesive tape.
Provides a safe, non-invasive and highly effective method of improving blood circulation and lymphatic drainage.
Designed for the skin of the face and neck. Improves all types of wrinkles. Leaves skin looking fresh and new.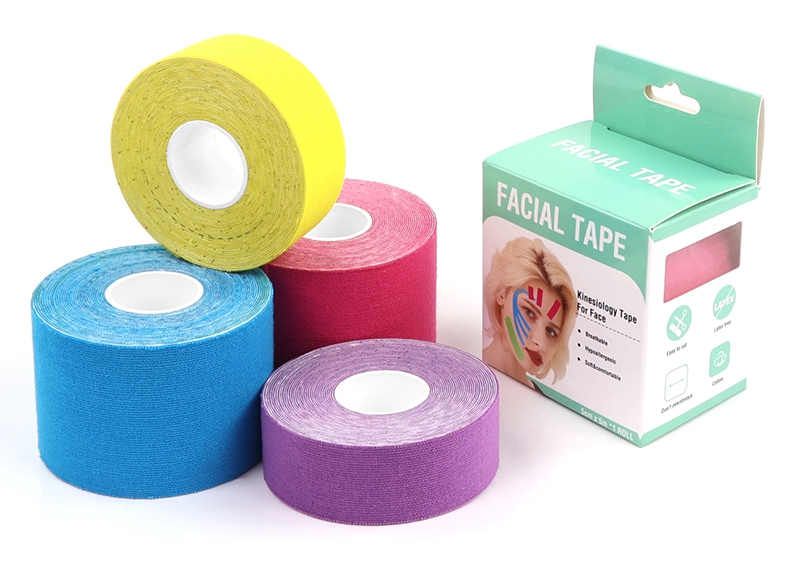 Details of face lift tape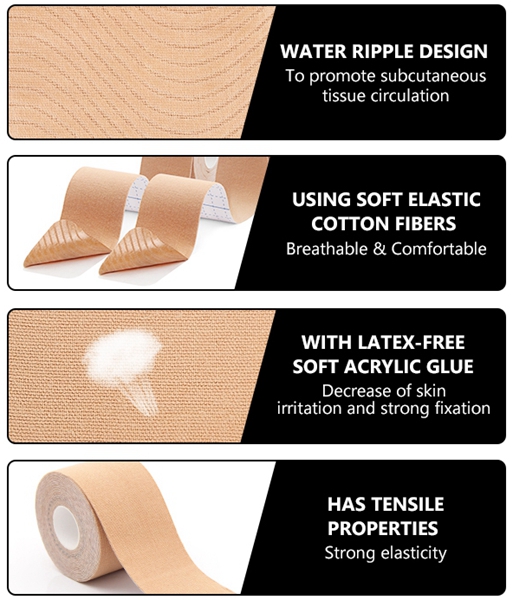 Water Ripple Design
Along the muscle texture and promote subcutaneous tissue circulation.
Using Soft Elastic Cotton Fibers
Skin-friendly, breathable and comfortable. Does not affect joint movement
With Latex-free Acrylic Glue
Decrease of skin imtation and strong fixation. Does not cause allergies easily.
Have Tensile Properties
Ergonomic stretching force. Strong elasticity.
Features of face lift tape
Soft & Comfortable:95% cotton and 5% spandex.
Good Adhesive:Acrylic glue or henkel glue.
Breathable:Waterproof and sweatproof.
High Extensibility:170%-180% stretch.
Long-lasting Fit:Can last 8-12 hours.
Drung Free & Latex:Safe, non-toxic and hypoallergenic.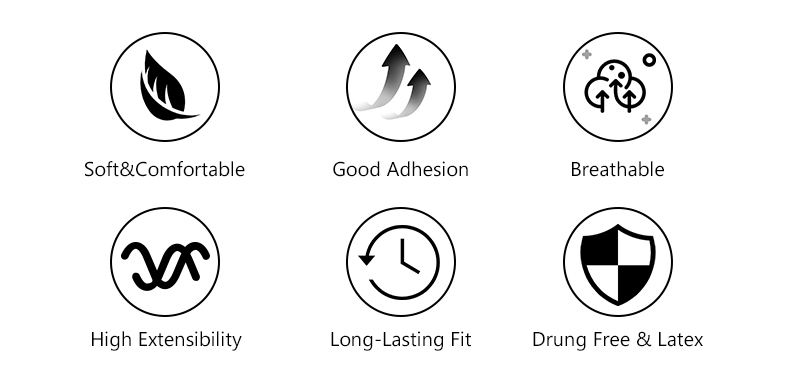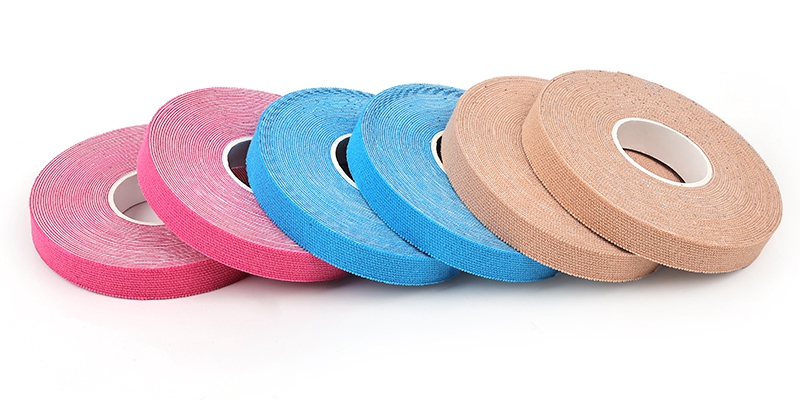 We have the narrowest and most suitable kinesiology tape for applying to the face. All enquiries are welcome.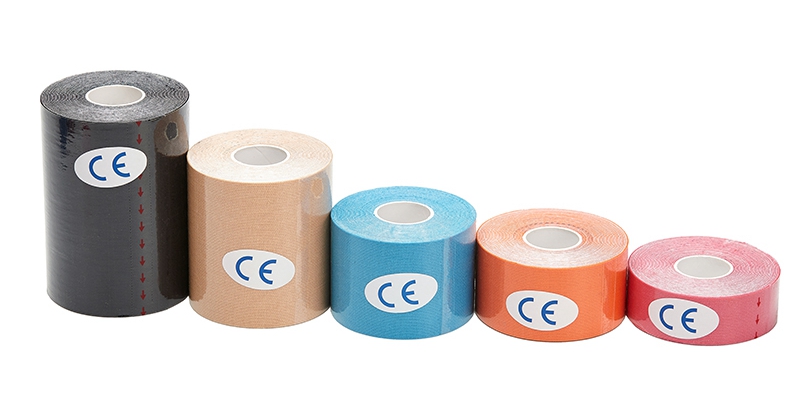 We also have other sizes. The widths are 2.5cm, 3.8cm, 5cm, 7.5cm, 10cm and length is 5m. We also accept custom kinesiology tape for face orders.
Kinesiology Tape for Face Lift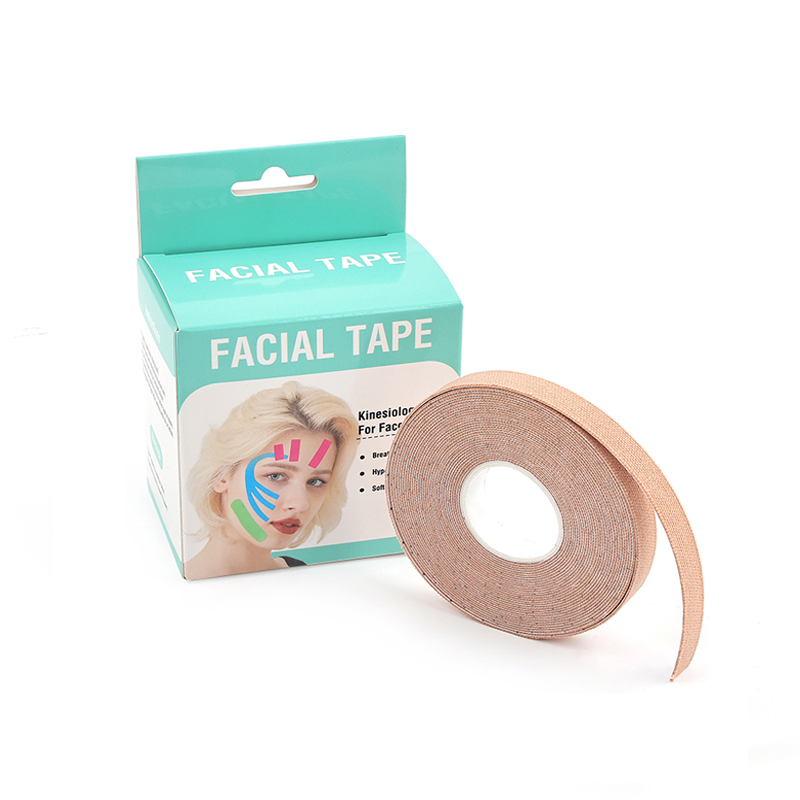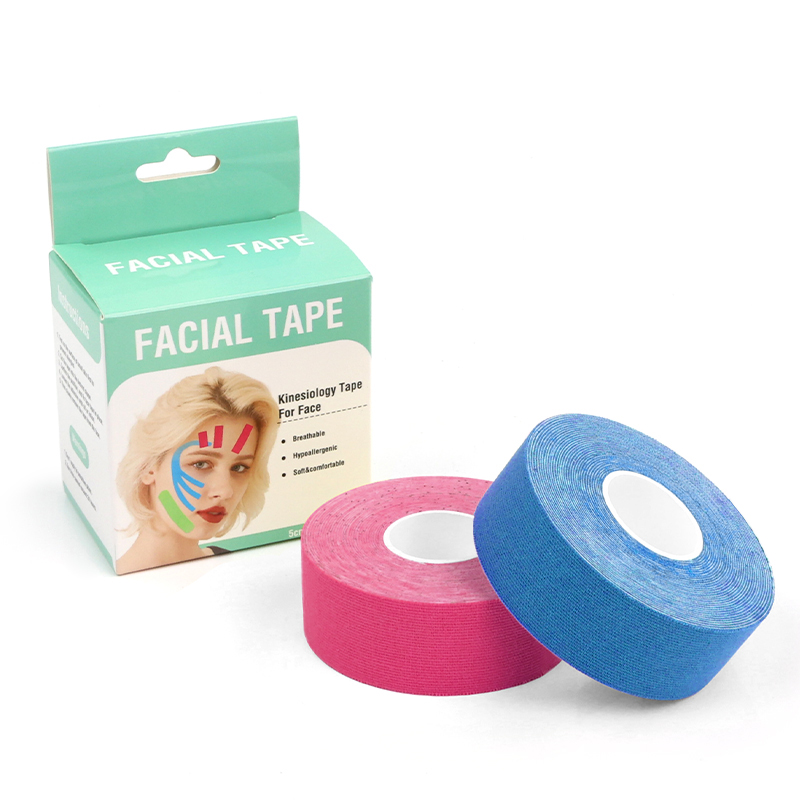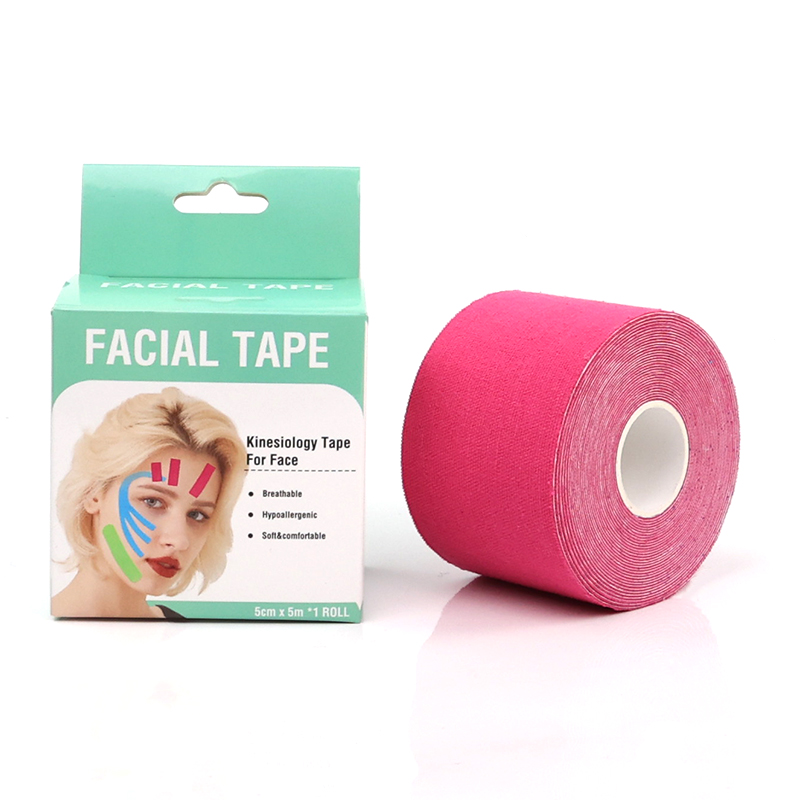 As we age, the loss of collagen in the face makes our skin less resilient. Kinesiology tape for face acting on the face improves blood circulation and lymphatic drainage. It improves all kinds of wrinkles. These tapes can eliminate swelling, especially around the eyes. They can also reduce double chins and smooth out wrinkles around the mouth, forehead and neck. Helps you to better define the shape of your face.
How to Use face lift tape?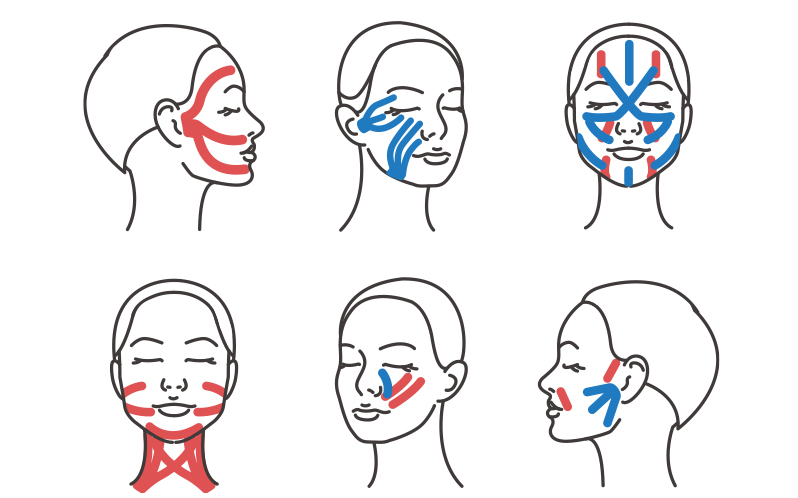 Take a small patch to test for allergies.
Step1. Remove hair and ensure clean, dry skin.
Step2. Prepare the required strips in advance.
Step3. Apply the tape to the massage line
Step4. Gently rub to activate the tape.
Recommended duration of use is no more than 12 hours!
Can I put kinesiology tape for face lift on my face?
Yes, we have face kinesiology tape.
Does kinesiology tape for face lift work on face?
Yes, Improves circulation by increasing the space under the skin through the tape. This relieves swelling and reduces wrinkles. But the effect varies from person to person.
How do you apply kinesiology tape for face lift to your face?
Cut out the required length and apply it to the wrinkle line.
How long do you leave face lift tape lift on your face?
Recommended duration of use is no more than 12 hours!
What are the benefits of kinesiology tape for face lift?
Relieves facial muscles to a certain extent, reduces double chin and wrinkles. Actual results vary from person to person.