kinesiology tape for horses
kinesiology tape for horses, also known as equine kinesiology tape, is specially designed for horses and riders. Its main function is to relax the tense muscles of the horse faster, helping your horse relieve pain, relax and prevent soreness. Tape for horses is a very thin cloth tape made of cotton cloth and glue, it can be used not only for animals, but also by professional trainers, riders and horse care practitioners, focusing on motion support, stability and Knee injury prevention. In addition, equine kinesiology tape can also be used as an auxiliary treatment tool for veterinarians, such as cats, dogs, etc.
2.5cm*5m(0.98inch*16.4ft)
3.8cm*5m(1.5inch*16.4ft)
5cm*5m(1.97inch*16.4ft)
7.5cm*5m(2.95inch*16.4ft)
10cm*5m(3.94inch*16.4ft)
We are a manufacturer from China. We can provide any ODM and OEM services you need. We have a professional design team. If you need customized products, you can contact us directly, or you can click custom kinesiology tape or wemade service for details.
Features Of Equine kinesiology tape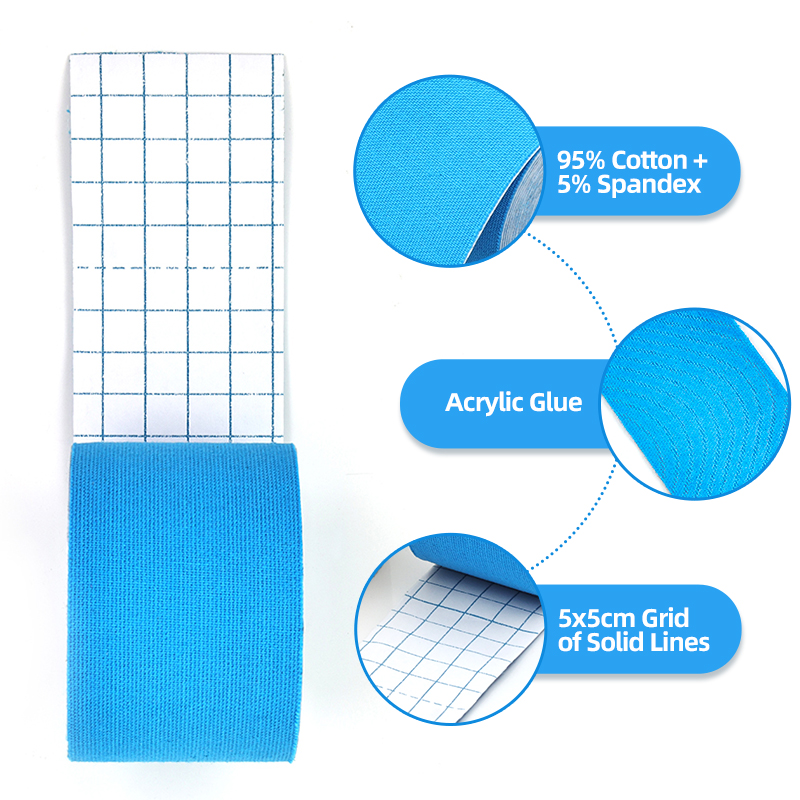 Pure Cotton Material, More Skin-friendly
Equine kinesiology tape is made of 95% cotton and 5% spandex, which is more friendly to the skin, and the design of adding spandex makes it more elastic.
Acrylic Glue, Stronger Stickiness
It uses acrylic glue with strong viscosity, which can stick well even if the hair is thick, and it is not easy to fall off.
Water Ripple Shape Glue, Better Air Permeability
The unique water ripple rubber surface design fits the skin texture, assists muscle extension and contraction, enhances sports performance, and is not easy to fall off during exercise.
5x5cm Grid Of Solid Lines, Easy For Precise Cutting
Equine kinesiology tape is usually uncut rolls, because each part uses different lengths and widths. The grid line design is to allow you to precisely cut the tape to the size you need.
Different Size Kinesiology Tape For Horses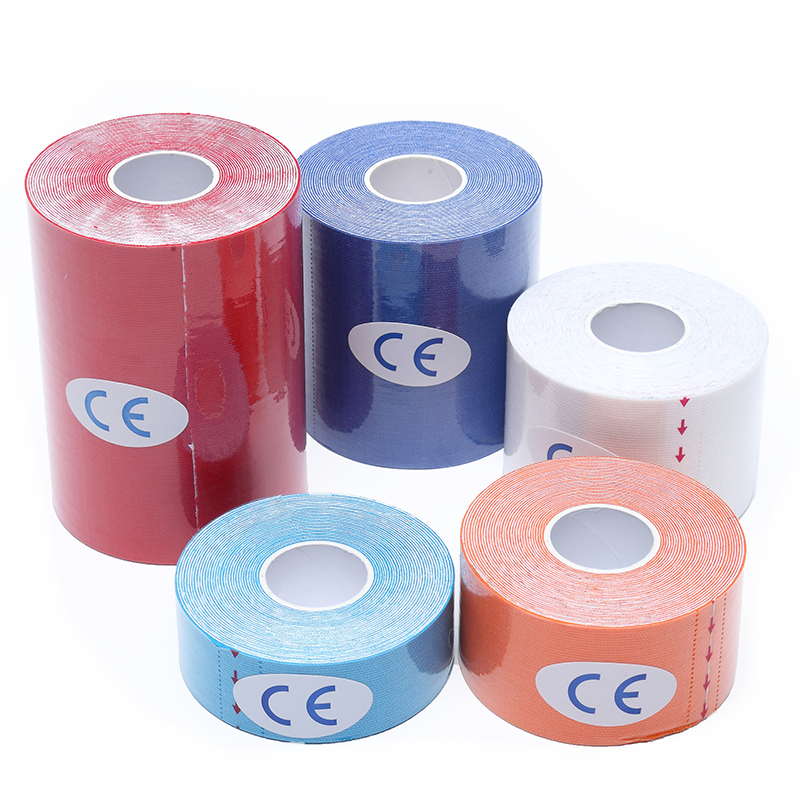 2.5cm tape for horses
2.5cm is more suitable for riders. The rider's fingers may be worn when they only grab the reins. 2.5cm tape can be used to protect the rider's fingers.
 3.8cm tape for horses
3.8cm is best for fascia on horses, this size requires little to no excessive shearing
 5cm tape for horses
5cm tape is the most common size, whether it is a horse or a knight, it is often used, such as the horse's hock, stifle, lower leg, etc. Knight's knees, inner thighs and other parts can also be used.
 10cm tape for horses
10cm kinesiology tape for horses is usually used on the horse's legs. When the horse's legs need to be wrapped in a large area, this wide size will be more suitable.
What Are The Benefits Of Tape For Horses?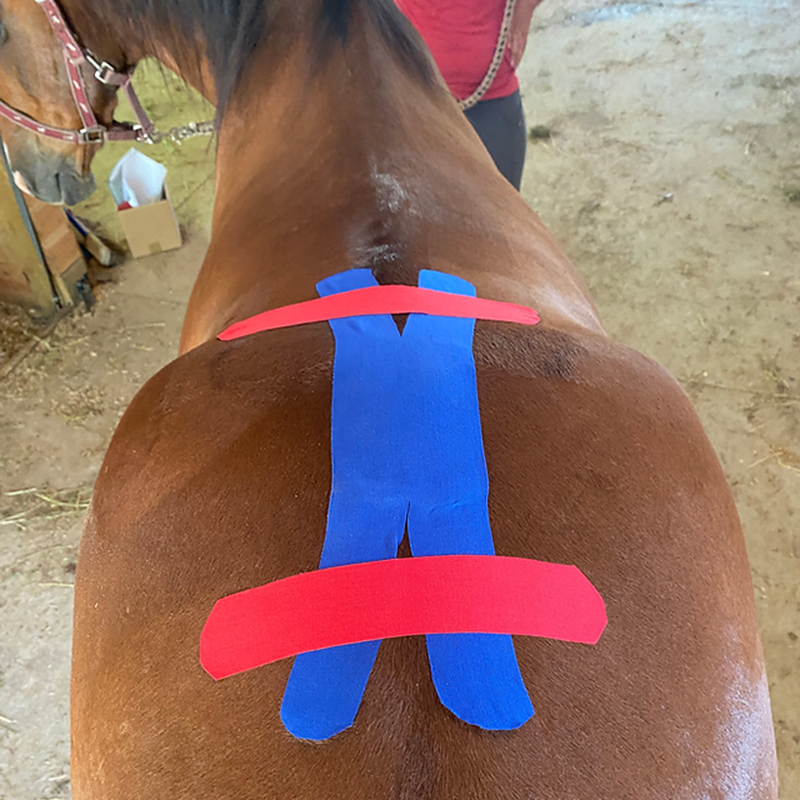 Enhances Muscles
Equine kinesiology tape increases muscle contraction even in weak muscles, helps your horse stay healthy and efficient, helps relax over-stressed muscles, tendons, joints, and ligaments, reduces the risk of strain injuries, and is an integral part of a training program Important addition.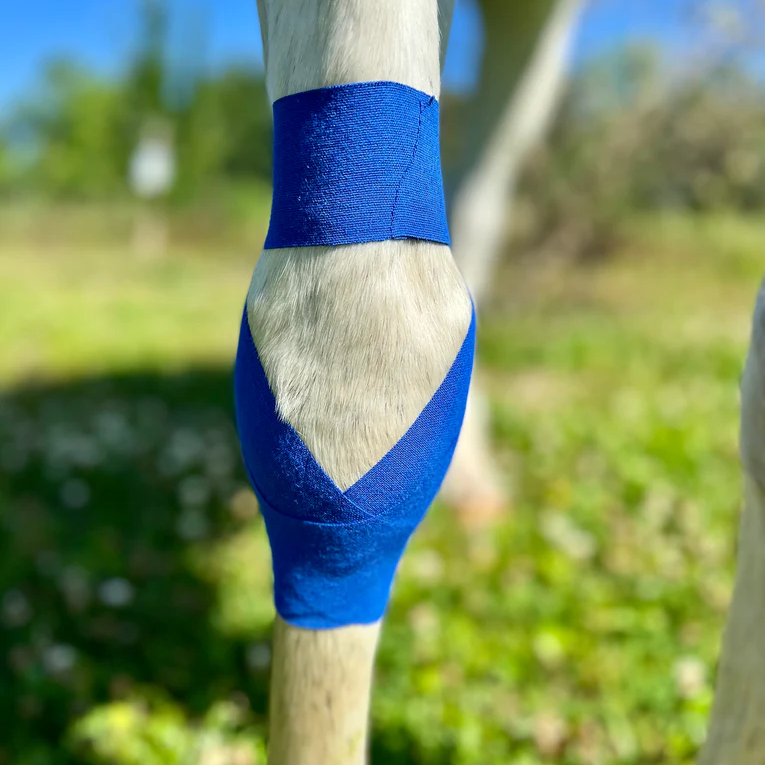 Stabilizes Joints
Equine kinesiology tape can be wrapped tightly around injured or unstable joints to mechanically support the soft tissues surrounding the joint. Improve your horse's movement quality and potential by increasing joint and muscle flexibility and strength. It provides extra support to vulnerable areas and reduces load stress.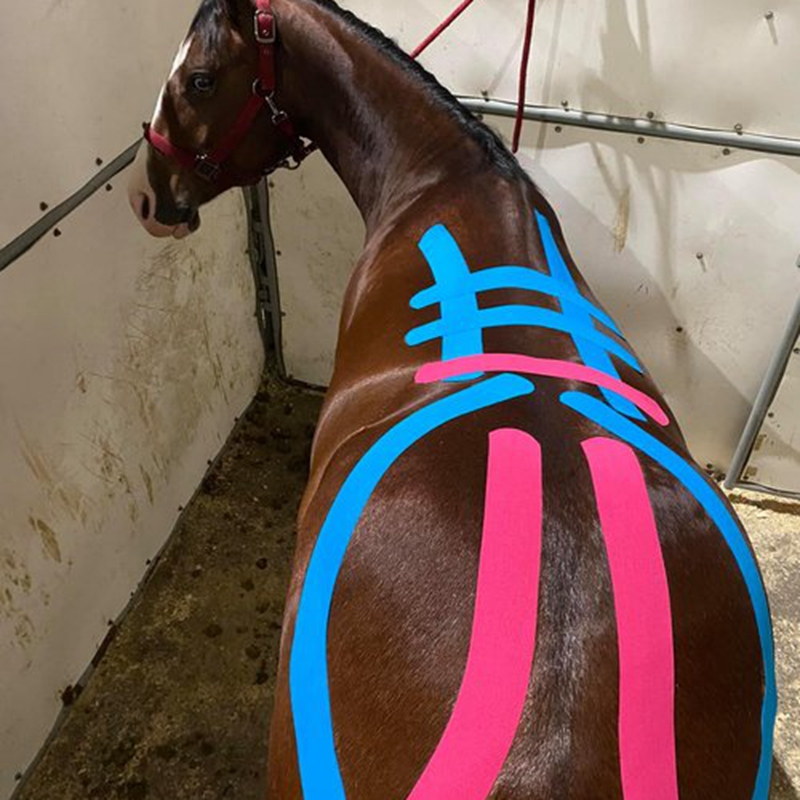 Pain Relief
Equine kinesiology tape stimulates subcutaneous nerve endings by stretching the hair. When mechanoreceptors are stimulated, nociceptors are inhibited, thereby indirectly relieving pain. At the same time, it also has the effect of improving blood and lymph circulation, reducing the risk of inflammation, and avoiding pain caused by verification.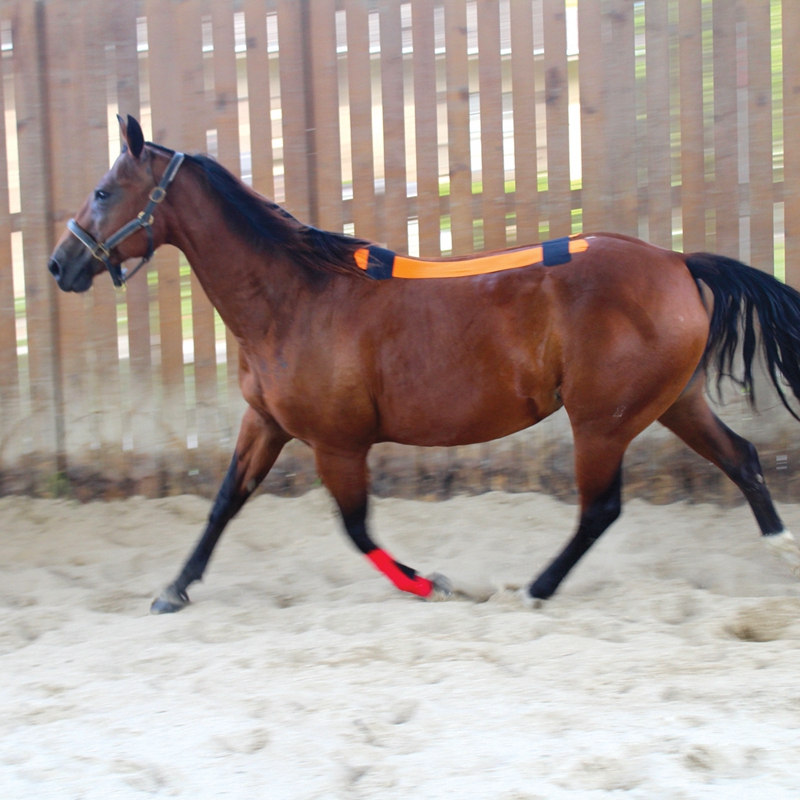 Enhance Athletic Performence
Equine kinesiology tape is made of soft material, which can improve the comfort and relaxation of the horse when using it, and allow the horse to move its limbs more freely. Also helps horses maintain correct head, neck, and limb posture for more natural, comfortable movement. It can also enhance a horse's explosive power, flexibility and coordination, improving its athletic performance.
How To Use Kinesiology Tape For Horses?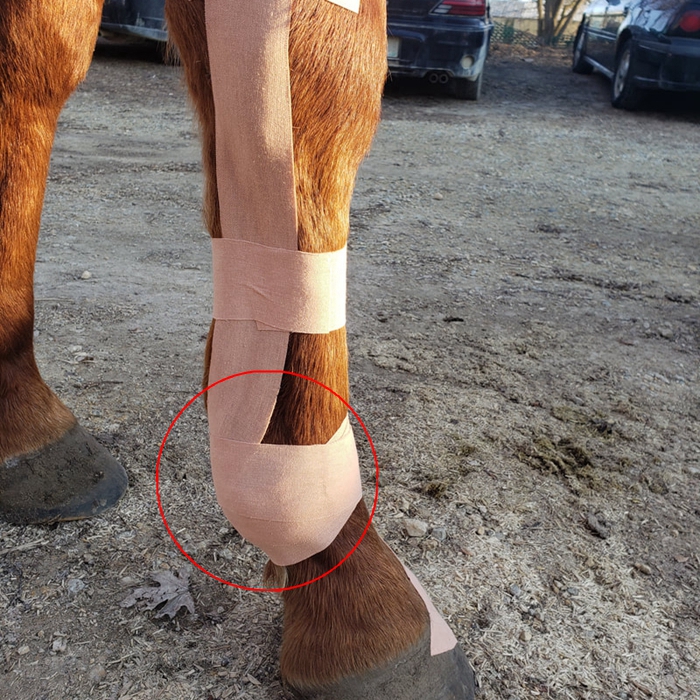 SDFT/DDFT
1.Apply 5cm or 10cm widekinesiology tape for horses along the length of the SDFT/DDFT and suspensory ligament without any stretch.
2.Apply a 5cm decompression strip across the area of soreness/lesion diagnosed on ultrasound.
LUMBOSAORAL
Apply two pieces of 5 cm wide kinesiology tape for horses with zero to 50% stretch adjacent to the spine,starting at thegluteal tongue and ending at the base of the dock.This can be applied with the horse in neutral or in a lumbar stretch.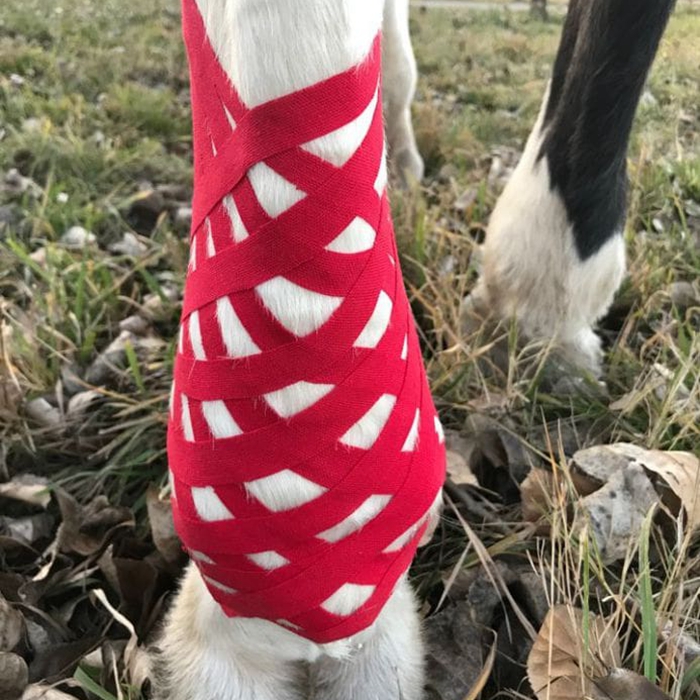 INFLAMMATION
1.Apply 5cm or 10cm wide kinesiology tape for horses depending on the area to be treated.Alternatively,use pre-cut oedema strips.Anchor the uncut end and then apply each "tentacle"with zero to 50% stretch over the area of inflammation.
Repeat with a second piece to create the "lattice" pattern shown.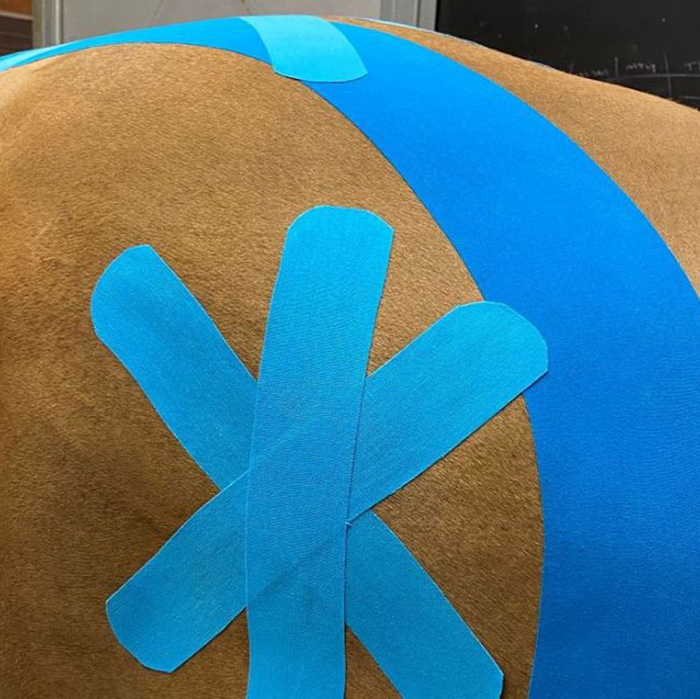 SIJ
Apply three pieces of 5cm kinesiology tape for horses without stretch in a star formation over the lumbosacral junction or over the SIJ of concern.
What is horse tape called?
There are many kinds of horse tape, the most commonly used are cohesive bandage for horses and kinesiology tape for horses. The former only sticks to itself and not to hair, so it can't stick to the horse's body and can only be used to wrap, such as horse legs, horse hoofs, horse necks, etc. The latter can be attached anywhere on the horse's body to relieve muscle spasms and relieve pain.
So horse tape actually has many names, such as Equine Kinesiology Tape, tape for horse, horse tape, etc.
Is kinesiology tape for horses waterproof?
Of course, our kinesiology tape for horses is made to withstand moisture, sweat and a certain level of water exposure for riding, bathing and riding the horse.
Can you use kinesiology tape on horses?
Yes, you can tie your horse with kinesiology tape to help with muscle soreness and muscle relaxation, and if used properly it can even reduce swelling from an injury.
How long can you leave kinesiology tape for horses on?
Everyone's use is different, and the tape wear will be different. When to remove the tape depends on the wear and stickiness of the tape.
What do I need to do to prepare my horse for kinesiology taping?
Proper prep is key so the tape adheres well to your horse's coat. Tape stickiness can vary a lot based on temperature, humidity, coat oiliness, shedding, and grooming products used.
Ensure your horse is fully dry before taping. Groom your horse thoroughly beforehand, avoiding any coat sprays, conditioners or fly sprays which can reduce tape adhesion. These products can be used after kinesiology tape for horses is applied.