Our Client Care Managers Are Willing to Hear From You 24/7. Answer Your Question ASAP.
How to stand out among many custom sports tape brands? In addition to our own advantages, such as product quality, price advantage, and a regular source of customers. Creating your own brand will be more deeply rooted. Wemade as a private label factory, in addition to having professional production capacity, is also very good at brand building.
For custom sports tapes, wemade has developed a comprehensive customization process. You can print a design or logo on the fabric side of the tape or on the papercore, and the packaging of the sports tape can be customized with a design or brand. Just tell us what you want, send us a sample or send us a design, and wemade will design it for you or send you a sample for testing. Scroll down to learn more.
Custom Printed Sports Tape
Choose custom printed athletic tape, usually on a cloth side and papercore. You can also choose sticker to stick to the tape. Of these, papercore printing and sticker printing are the most cost effective and are what many customers will choose. Printing the logo directly on the tape is the most representative of the brand image. Of course, Wemade accepts all custom requests.

Custom Sports Tape Size and Color
Sports tape is also called zinc oxide tape. It is the most popular and most used color is white, black is the second choice and you can also customize the color you want, Wemade always has white in stock.
Wemade always has 2.5cm, 3.8cm and 5cm sizes in stock, which is enough to support most scenarios. Of course, you can also customize the width you want. For example, finger tape these special sizes.
In addition, the stickiness of the sports tape very much affects the effectiveness of the use. Especially some professional sports scenes have high requirements for adhesion, you can also make a request to increase the glue and enhance the adhesion.Sports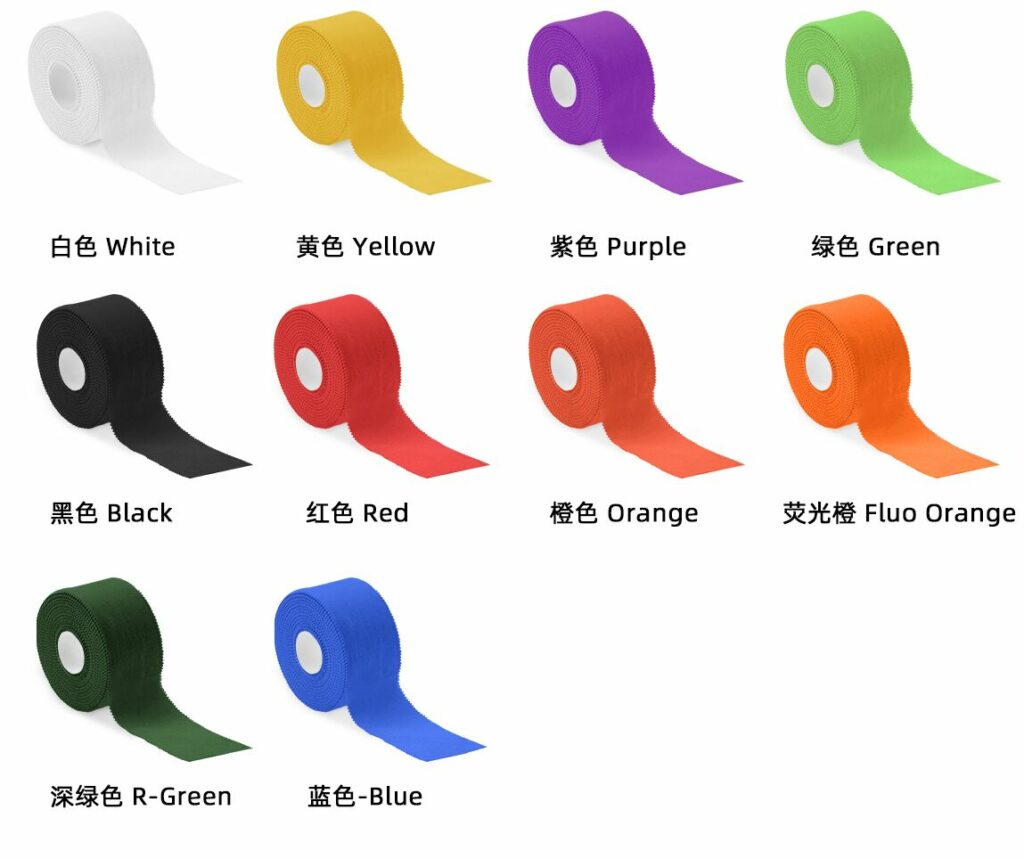 Multiple Sizes Available

Size

Quantity/inner box

Quantity/Outer Box

2.5cm*9.1/13.7m

48 rolls

288 rolls

3.8cm*9.1/13.7m

32 rolls

192 rolls

5cm*9.1/13.7m

24 rolls

144 rolls
Custom Sports Tape Packaging
There are many ways to package athletic tape. One of the most common is plastic sealing film, 1 roll of a package or 3 rolls of a package. Can also be combined with under wrap with packaging. There are also opp bags, color boxes and other patterns and logo printing. Likewise, you can tell us what you think or send us a design, and we will further refine the process for you later.

Wemade Builds Sports Tape Brand for You
Wemade has specialized in custom kinesiology tapes, custom cohesive bandages and custom sports tapes for over 10 years. It has a professional production department, design department and sales part. First, you just need to express your custom requirements to the sales and the sales will give a preliminary quotation. Secondly, the sales will convey to the design department and the designer makes the design draft. Then, the sales sends the design to you for confirmation and confirms the final price. Finally, the production department confirms the design, the proof is ok, and the official production starts. This is the general process. In these processes, wemade can completely control the cost and help you get the maximum benefit.
Wemade is committed to growing with our customers, you are welcome to send your request!