Cotton self adhesive bandages are adhesive stretch bandages that provide strong support and compression. The special stickiness will not slip and will not stick to skin or hair. 
The porous bandage is breathable, so you don't have to worry about ulceration of the wound. Tear directly by hand, suitable for emergency use, convenient and quick.
2.5cm*4.5m (0.98inch*14.76ft)
5cm*4.5m (1.97inch*14.76ft)
7.5cm*4.5m (2.95inch*14.76ft)
10cm*4.5m (3.94inch*14.76ft)
15cm*4.5m (5.91inch*14.76ft)
Wemade accepts customised bandages and customised packaging in the size or colour you want. Custom adhesive bandages are usually printed with a design or logo on the bandage and papercore, and can also be customised with personalised packaging to create a brand image. (Learn More)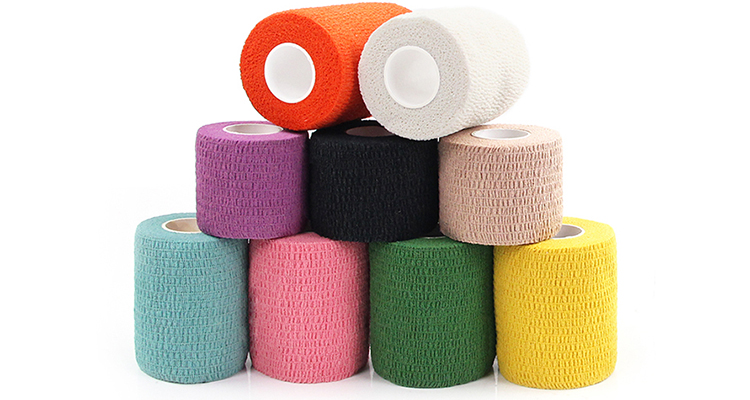 The self adhesive bandage is made of high-quality cotton and spandex, which is breathable and comfortable without sweating. The exceptional elasticity follows the skin, muscles and joints unrestricted, allowing a full range of motion. Available in a variety of sizes and colors. Widely used in sports injuries – preventing accidental sprains, dislocations and subluxations. 
Treats muscle strains and protects areas of friction. Prevention and treatment of primary varicose veins, phlebitis, venous ulcers, acute or subacute subcutaneous tissue inflammation. Reduces and stabilizes edema caused by venous disease, and lymphedema. Suitable for families, athletes, pets, animals and more.
Details Of Cotton Cohesive Bandage​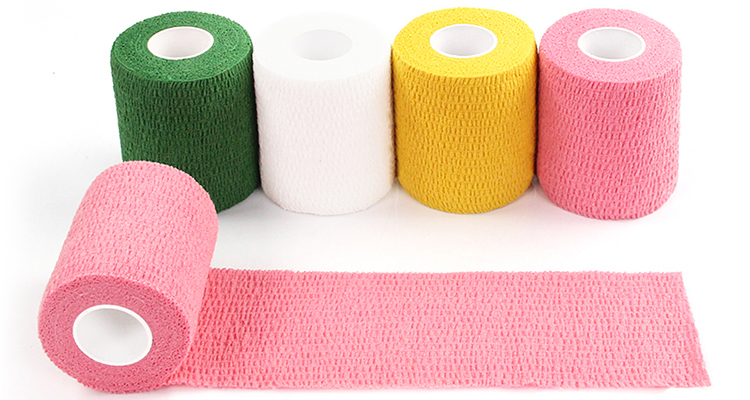 90% cotton and 10% spandex
Safe, no drug and hypoallergenic
Soft, breathable and comfortable
Highly elastic, freely adjustable
Self-adhesive, non-stick skin & hair
No glue residue, clean and fresh
Tear by hand, convenient and quick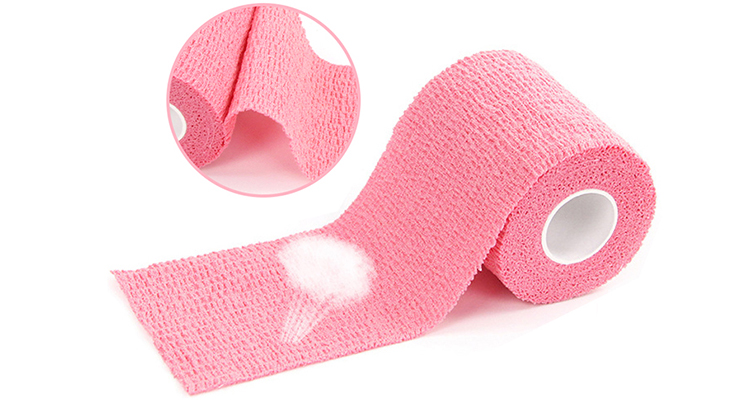 Cotton self adhesive bandage is more breathable than non woven self adhesive bandage, with thicker fabrics, stronger stickiness, and bright colors. The cut surface is flatter and more refined. Of course, non-woven fabrics are enough to meet various needs. If you pursue texture, you can choose cotton fabrics, and non-woven fabrics are more cost-effective.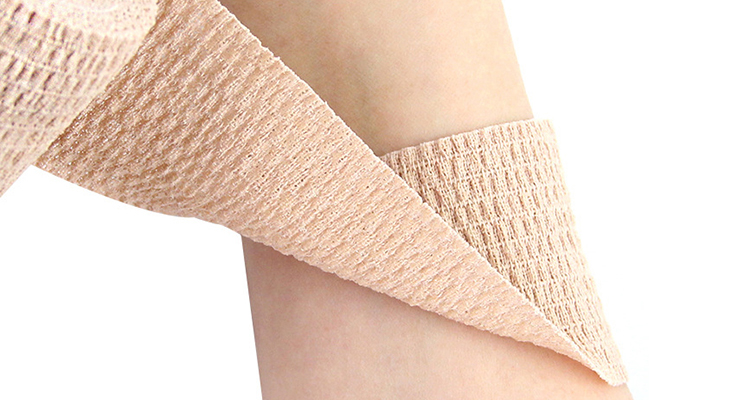 Self adhesive bandage has a super elastic ratio, and the pressure can be adjusted freely. Convenient and easy to tear, no need for scissors, just use your hands. Self-adhesive, non-stick to skin and hair. Hypoallergenic glue, no glue residue, clean when peeled off. Breathable cotton for extra breathability and dries when removed.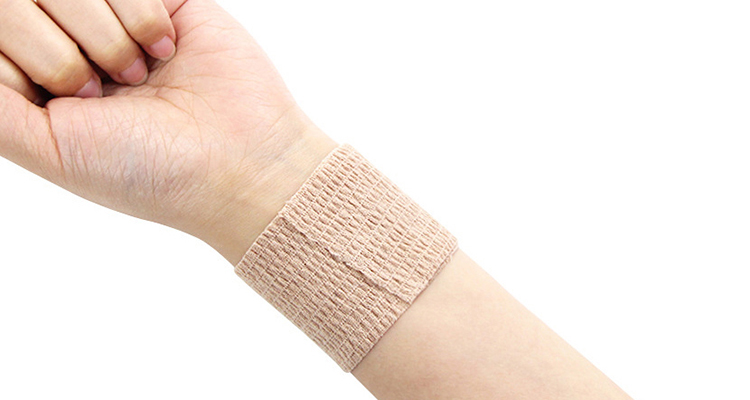 Cotton self adhesive bandage has a wide range of uses. They can not only wrap and fix dressings to protect wounds, but also wrap body joints for stable support. Suitable for humans, pets, animals, etc. Applied to sports events, hospital surgery, clinic treatment, physiotherapy recovery, daily use and other scenarios.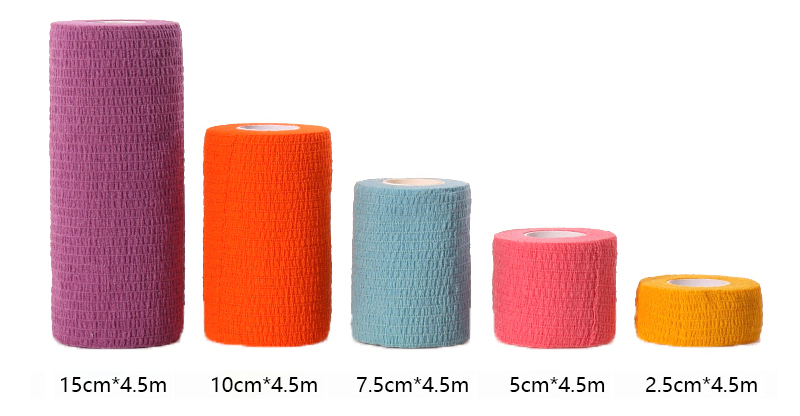 Multiple Sizes Available

Size

Quantity/Inner Box

Quantity/Outer Carton

Weight/One Carton

2.5cm*4.5m

24 rolls

576 rolls

8.6 kg

5cm*4.5m

12 rolls

288 rolls

7.1 kg

7.5cm*4.5m

12 rolls

192 rolls

8 kg

10cm*4.5m

12 rolls

144 rolls

7 kg

15cm*4.5m

12 rolls

96 rolls

6.8 kg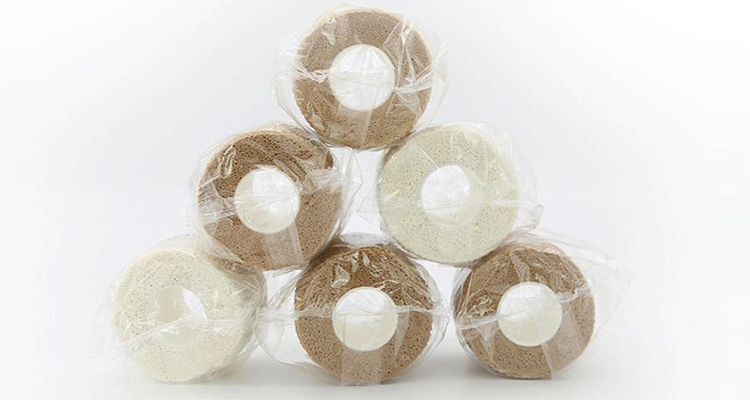 The cotton self adhesive bandage is packed in the transparent opp bag so that it can avoid dust contamination. Small, convenient and quick. Suitable for sale. You can also customise your own branding on the opp bags.
The opp bagged bandages will be packed in a middle box and then packed in an outer box for a total of 3 layers of packaging. You can also customise your own branding on the middle box and outer box.
The great advantage of Wemade as a factory is that it can provide regular packaging to help you ship better without affecting re-sales. Most importantly, the streamlined packaging saves more on shipping costs.
How to Use Cotton Cohesive Bandage?
NOTICE
If the skin is inflamed or wounded, avoid wrapping the area directly.
The elastic bandage can be used on humans, pets, objects, etc.
If you have any allergic symptoms such as redness during use, please discontinue use temporarily and consult a medical professional.
Be careful not to over-tighten the bandage to maintain a good and comfortable protective effect.
Be careful not to overstretch the ends of the bandage to avoid excessive tension affecting the adhesion.
Do not pull the bandage hard when removing it, but find the opening and remove it slowly.