Punch kinesiology tape is a muscle relief tape with small holes, which is a type of sports tape, and you can also understand these small holes as a specific pattern. The unique small hole design makes it more breathable, so Punch kinesiology tape is also called breathable kinesiology tape by some people.
The "hole" pattern creates pressure differentials under the applied tape, and the stretched pores simultaneously provide targeted three-dimensional support for the fascia, skin and receptors in the fascia in a different direction than ordinary kinesiology tapes Receive more stimulation to relieve joint pain.
We are a manufacturer from China. We can provide any ODM and OEM services you need. We have a professional design team. If you need customized products, you can contact us directly, or you can click custom kinesiology tape or wemade service for details.(Learn More)
About punch kinesiology tape
Punch kinesiology tape is a soft, comfortable and breathable body tape, this body tape is specially woven from 100% medical grade cotton fiber, it has 160% elastic tape.
Breathable kinesiology tape is usually uncut rolls, each uncut perforated roll measures 2 inches X 16.4 feet (5cm X 5m), each small hole measures 1cm x 0.5cm, regular rolls provide enough movement Performance tape, good for about 10-12 uses.
The pattern of alternating holes along the tape allows for 2-way stretch and 3-D compression of the skin and fascia. The strong yet gentle, latex-free medical-grade adhesive of this body tape adheres to the skin and can be worn for up to 5 days.
Features of punch kinesiology tape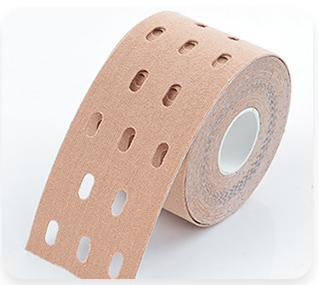 Cotton Fabric with Hole
Punch kinesiology tape is made of high-quality cotton cloth, this special cotton cloth is mixed with 95% cotton and 5% spandex, so it has great elasticity. It's soft and won't feel uncomfortable even if you use it for a long time, it's like your second skin.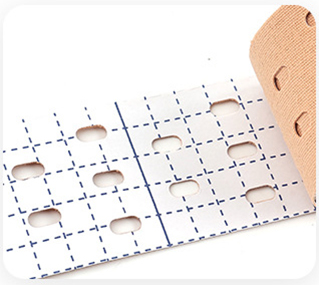 Easy to Mark Gridlines
The back of the punch muscle relief tape is designed with a self-adhesive paper with grid lines, which allows you to precisely cut the tape into any size and shape you need. If you want to be a brand, you can also print your own LOGO on the adhesive paper, which can effectively expand your brand influence.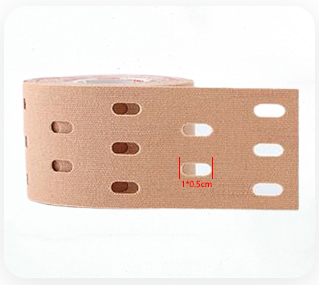 Breathable Small Hole Design
The reason why punch muscle relief tape is called breathable kinesiology tape is that in addition to the strong air permeability of its own material, the water ripple design increases air permeability, and its small hole design is also to increase air permeability. This determines that its use experience will be better.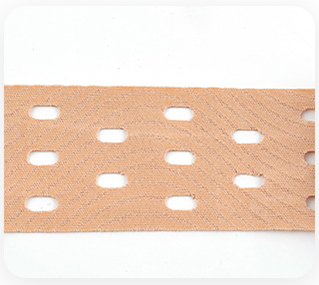 Strong Sticky Acrylic Glue
The punch kinesiology tape has a hypoallergenic water ripple adhesive layer. The glue is made of Japanese acrylic glue and German Henkel glue, so the stickiness is very strong. The water ripple design can increase the breathability of the skin without affecting the stickiness.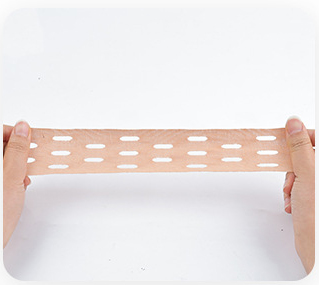 Excellent Elasticity and Ductility
Good ductility for longitudinal stretching. You can freely control the stretching strength, closely fit the skin, follow the muscle texture, assist the muscle extension and contraction, and enhance the sports performance.
Application of punch kinesiology tape
Punch kinesiology tape has a wide range of applications. Breathable kinesiology tape can be used as ordinary kinesiology tape on any part of your body, such as knees, wrists, waist, etc. It can also be used on neural pathways: due to diagonal elasticity, nerves are subjected to additional stimulation (e.g. nerve radiation and contraction). For stroke patients. They responded better due to the extra stimulation of the hole pattern.
The lymphatic system also receives additional impulses, making this breathable kinesiology tape ideal for acute injuries, swelling, and hematomas. Breathable kinesiology tape is the most widely used brand in the professional muscle therapy tape medical market.
In addition, breathable kinesiology tape can also be used as breast lift tape, because of its excellent breathability, it is very friendly to women's breasts, even if it is used all night, it will not make you feel uncomfortable.
Will the hole design affect the stickiness of muscle therapy tape?
Of course not, the small holes are just to increase the ventilation and air permeability of the muscle therapy tape, and the glue used is still the same.
Can you send samples of muscle therapy tape?
We are honored to offer you free samples for quality check, but shipping cost is your side, this charge will be deducted from the payment for formal order.
Or you can arrange a RPI (remote pick-up) service upon FedEx, UPS, DHL, TNT, etc. to have the samples collected.
Are there any other differences in the different colors? Why are the prices different?
Of course not, the small holes are just to increase the ventilation and air permeability of the muscle therapy tape, and the glue used is still the same.
Can you send a draft contract?
Yes, after confirming the order, I will draft the contract for you.
Are the instructions shipped in the box with the product or electronically?
Usually our products do not contain instructions, if you need, we can send you an electronic for reference.
Can you print anything on muscle therapy tape?
This depends on the process and quantity of printing. We can help you with personalisation, or you can send us a design or a sample for testing.