Horse vet wrap is a self-adhesive bandage made from non-woven fabric with a stretchable fabric for elasticity. It is commonly used to treat wounds and sports injuries.
Horse vet wrap offers excellent support for sprouts and strains, to wrap horses' hooves and legs, and as a self-adhering bandage wrap for horses.
10cm*4.5m (3.94inch*14.76ft)
15cm*4.5m (5.91inch*14.76ft)
Wemade accepts customised bandages and customised packaging in the size or colour you want. Custom adhesive bandages are usually printed with a design or logo on the bandage and papercore, and can also be customised with personalised packaging to create a brand image. (Learn More)
This vet wrap is made of high-quality non-woven fabric and elastic spandex. Soft, breathable, thin and flexible. Can be applied anywhere effortlessly.
Horse Bandage has long-lasting stickiness and does not require additional aids to fix. Horse Vet Wrap is non-stick to skin and hair, no glue residue, and can be easily removed.
Vet wrap doesn't have any bad smell, is safe, non-toxic, and contains no irritating ingredients. Suitable for all people, pets, veterinary use. Covers all surfaces with ease.
The colorful horse bandage is highly elastic, and the pressure can be adjusted freely without constriction. 
Special 10cm (4inch) width size, individually packaged, safe and portable, keeping your wound clean, dry, and protected from infections. Horse bandage can be used for a long time.
Vet wrap for horses, cats, dogs or other pets. Can also be used as sports grip straps for rackets, decorations, cosplay costume wraps, and more.
As regular sports tape or first aid care bandage for compression around your knees, elbow, toe, finger, wrist, or ankle.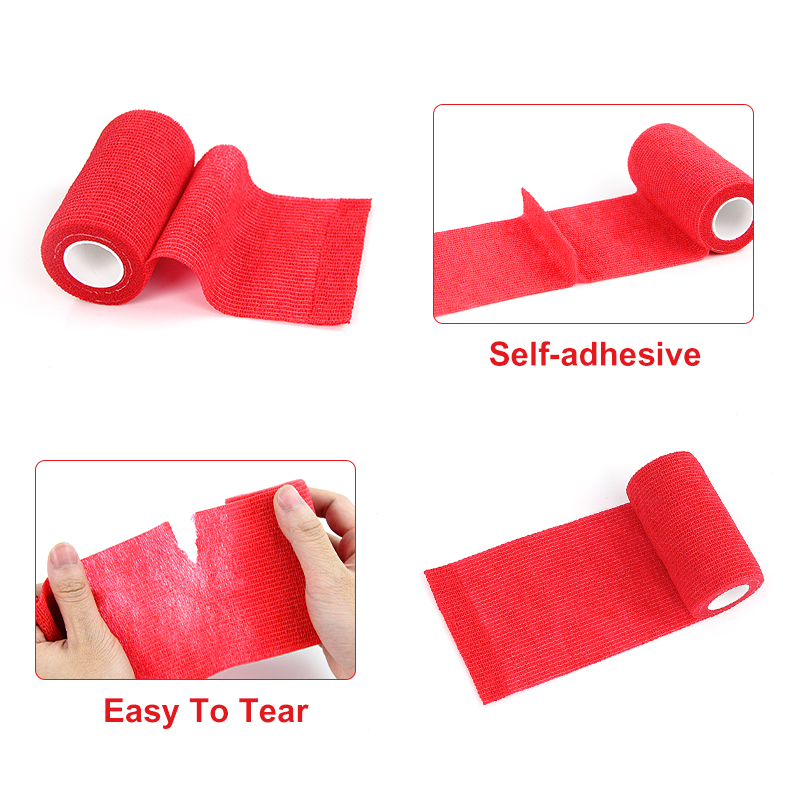 Lightweight and Breathable
Horse vet wrap is made from non-woven fabric to permit breathability and comfort as injuries mend.
Flexible Fit
Horse bandage is comfortable and fits limbs and joints. Also, the hand-tearable and durable material is able to support sprains and strains.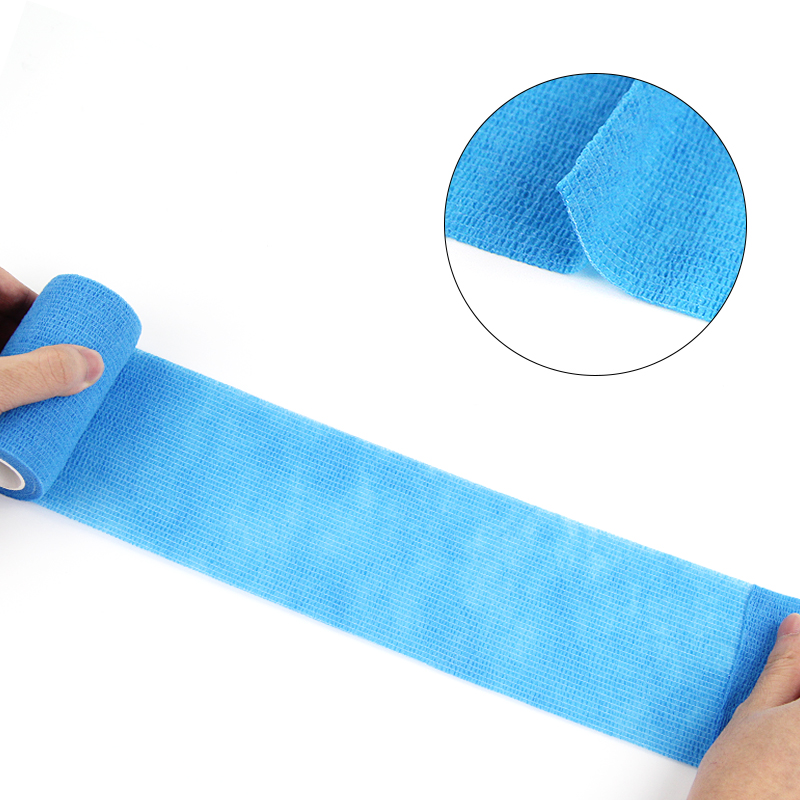 Cohesive Application
The self-adhesive wrap is designed to ensure that it is secure and not easily dislodged, while also allowing for senseless removal and replacement of the horse vet wrap.
Wound Care
Use horse bandage to hold the dressing in place, thus wrapping the wound.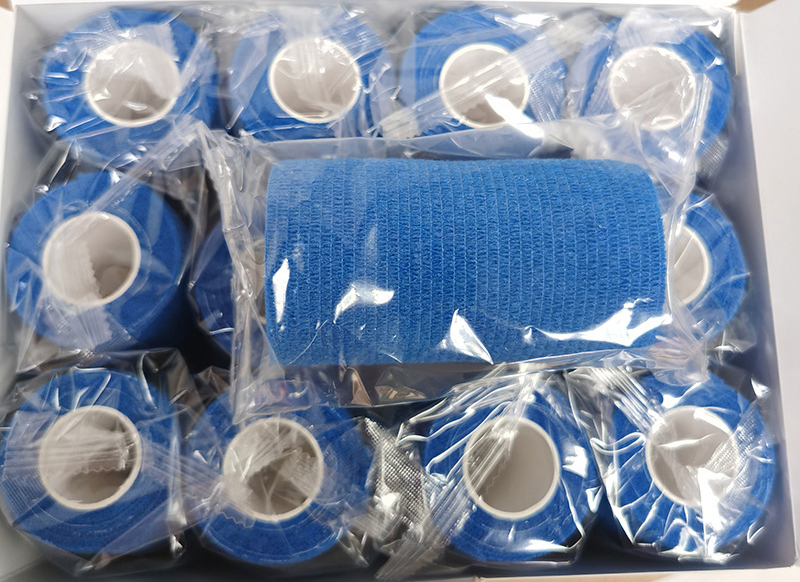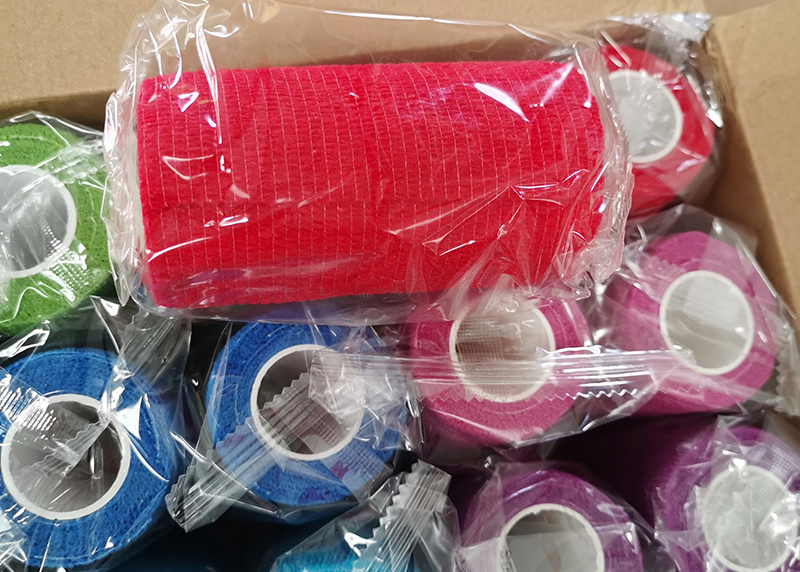 Multiple Sizes Available
Size
Quantity/Inner Box
Quantity/Outer Carton
2.5cm*4.5m
24 rolls
576 rolls
5cm*4.5m
12 rolls
288 rolls
7.5cm*4.5m
12 rolls
192 rolls
10cm*4.5m
12 rolls
144 rolls
15cm*4.5m
12 rolls
96 rolls
Each roll of horse vet wrap is individually opp wrapped and then packed into inner box and outer carton in that order, which is our regular packaging. They are usually 12 rolls in medium box, and you can request one colour or mix of colours. The hottest selling size of the horse bandage is 4inch wide. Not the bigger size is better, you can decide which size to choose based on the size of the animal and the area where it will be used.
How to Produce Cohesive Bandage?
MATERIAL – We will prepare a variety of colors of non-woven horse vet wrap raw materials in stock.
GLUING – Professional workers will apply glue all over the non-woven fabric. The adhesion is controlled by the glue.
ROLLING – As with the production of tape, it also goes through the rolling machine.
CUTTING – Cut into any size bandage roll you want on the cutting machine.
PRODUCTS – We will also prepare regular bandage to meet customers' different demands.
TESTING – We sample some tapes to test its size, stickiness, stretchability and other quality issues.
SHIPPING – Then we will arrange packing, shipping, etc.
Vet wrap serves to secure dressings and gauze to the horse's joints, such as the legs and hooves.
It is wrapped around the application site to hold the dressing in place, support the joint, ensure breathability and speed recovery. It is non-stick to skin and hair.
It is a bandage made of non-woven material. Reuse will affect its support and breathability. We recommend single use.
Can vet wrap stick to wounds?
It cannot come into direct contact with the wound. It only serves to fix and support it.
How often do you change your vet wrap?
Depending on the condition of the wound and the support of the bandage. Usually, we recommend changing the bandage once every 4 hours.