Boob lift tape is an elastic body tape applied on the breasts. It has strong adhesion and is not easy to fall off. Supportive enough to support large cup breasts. Adhesive breast tape is light, breathable and looks naturally invisible. Suitable for strapless, deep v, backless, wedding dresses, swimsuits and more. Boob lift tape is a new type of underwear that can perfectly replace traditional underwear.
5cm*5m (1.97inch*16.4ft)
6.35cm*5m (2.5inch*16.4ft)
7.5cm*5m (2.95inch*16.4ft)
10cm*5m (3.94 inch*16.4ft)
Wemade is good at customized services and accepts small batch customization. Such as the color, size, glue, etc. of the boob tapes. At the same time, Wemade is committed to creating a boob tape personal brand. Such as printing logos, patterns, etc. on tapes and backing paper. (Learn More)
What is the Boob Lift Tape?
Boob lift tape is a waterproof, breathable, eco-friendly, skin-friendly, sticky, high elastic tape. Adhesive breast tape is perfect for A-DD cups, great for breast support, lift and shaping, and you can customise it to fit your desired breast shape. It is a practical invisible bra for wedding dresses, swimwear, halter, deep V, strapless and other clothes. To remove adhesive breast tape, you can wet it with water or apply oil to remove it gently.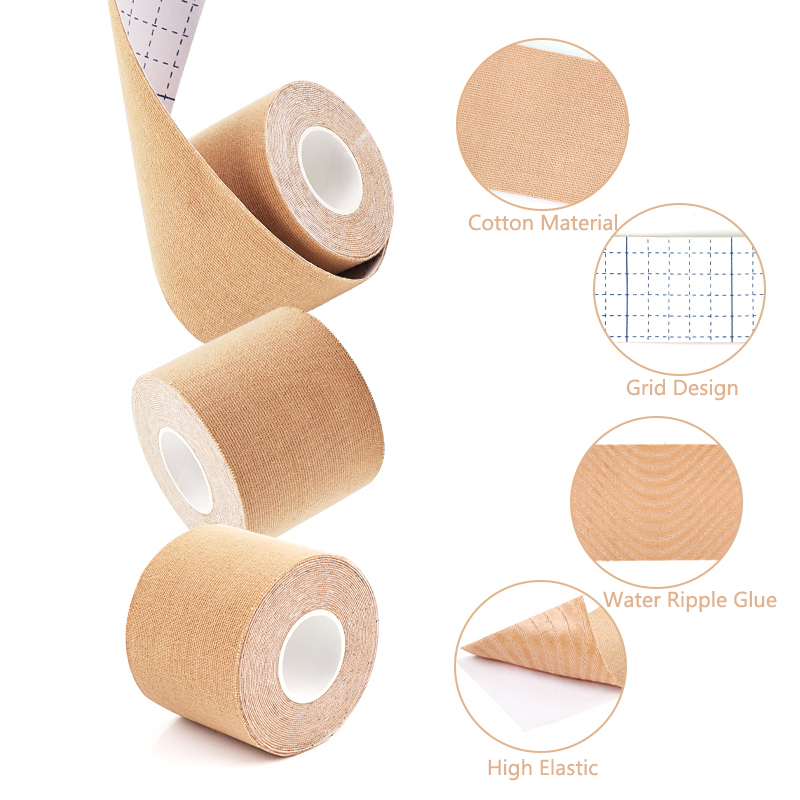 95% Cotton and 5% Spandex
Most comfortable and breathable material. Soft and breathable, friendly to skin.
Grid Backing Paper
Each grid is 5cmx5cm, convenient for marking size and easy to cut.
Water Ripple Glue
Hypoallergenic acrylic or Henkel glue, medium adhesion, suitable for everyone.
170%-180% Stretching
It can reach 170%-180%, which is enough to support breasts of all cups.
Strong Hold & Adhesion
Boob lift tape can provide firm and continuous support, don't worry about loosening due to exercise and dancing.
Breathable & Sweat Proof
Breathable glue, long-lasting stickiness, not afraid of sweat and water. Suitable for surfing, swimming and other water games.
Discreet & Natural Looking Hold
Boob lift tape is perfect for large breasts, providing a natural yet sexy look. It can be worn with clothes or directly outside.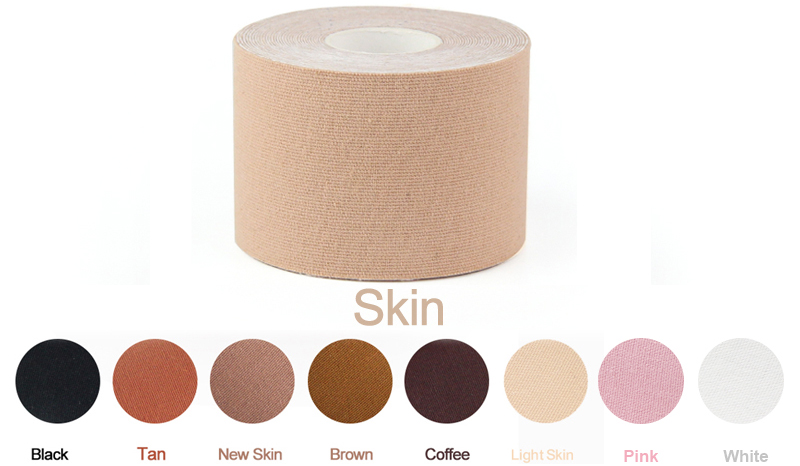 Skin Color, Hot!
Skin colors will suit most skin, and are the colors you can't go wrong with.
Black Color, 2nd Choice
It's a sexy, slimming and versatile color.
Light Skin for Fair Skin
An option for those with fairer skin.
New Skin for Dark Skin
For those with darker skin tones.
Tan, Brown and Coffee
Choose according to personal preference or skin tone.
Pink & White Can be Worn Outside
Wear adhesive breast tape directly on the outside, sexy without restraint.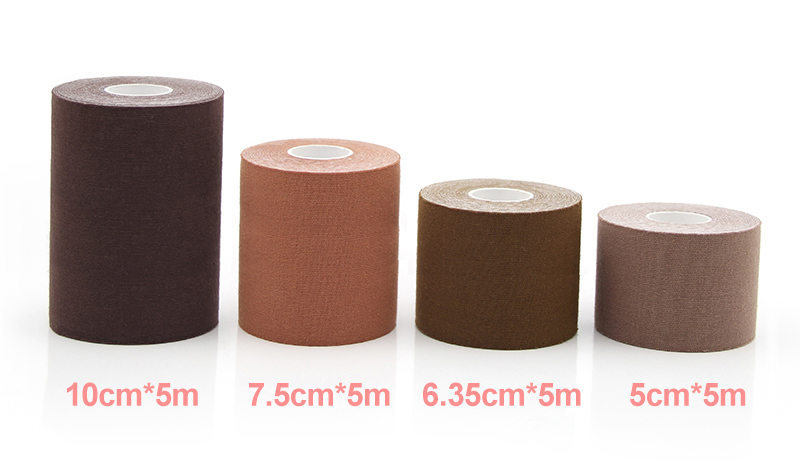 5cm*5m, Hot!
It is suitable for all sizes of breasts, very friendly to small breasts, and strong enough to support large breasts. It is also the best-selling size and is first choice for beginners.
6.35cm*5m
Between 5cm and 7.5cm. Suitable for those who are not satisfied with 5cm and feel that 7.5cm is too wide.
7.5cm*5m
Fits large cups for better wrapping and more even support. Covering a larger area.
10cm*5m
Ideal for those with larger cups, excess fat, and supernumerary breast. It effortlessly wraps and shapes the breasts.
Various Boxes for You to Choose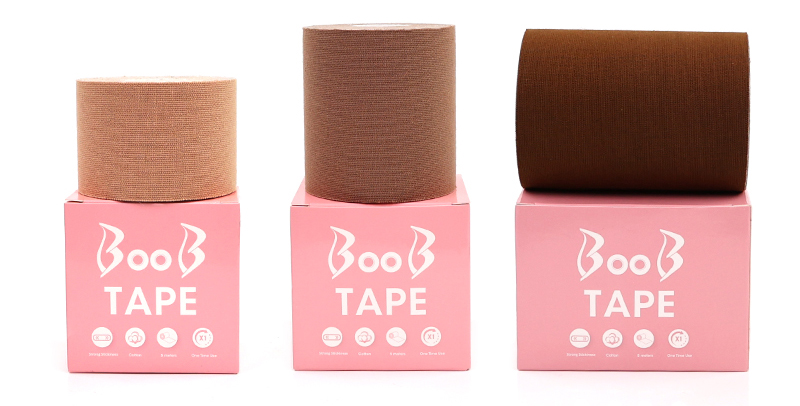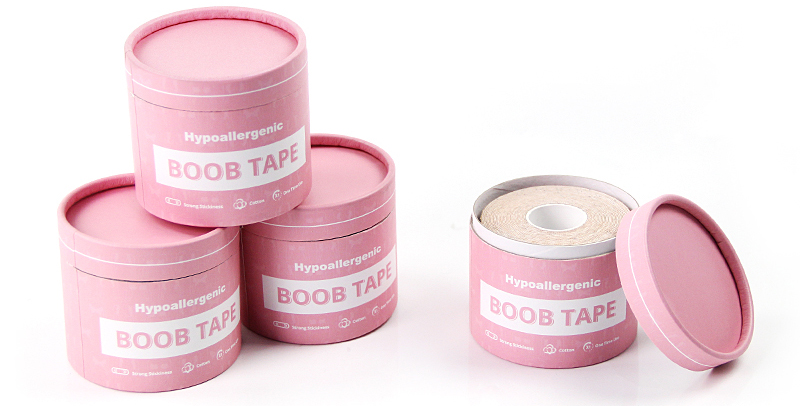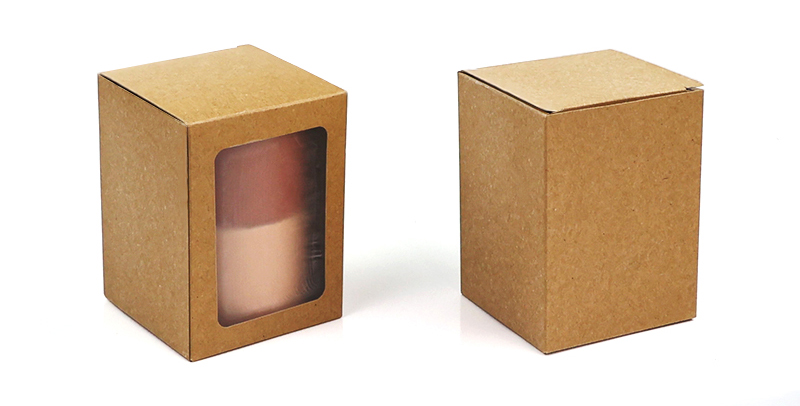 Boob Tape VS Silicone Bra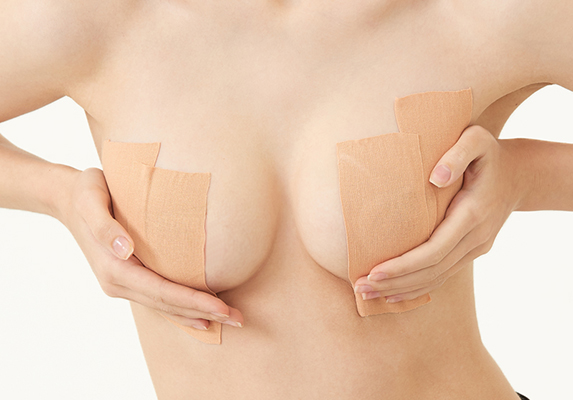 Lightweight and Breathable
Common clothing fabrics are more skin-friendly, less prone to allergies, and have good air permeability.
Moderate Viscosity
Water ripple imported acrylic glue, hypoallergenic, fits the skin texture, suitable for most people's sticky needs.
Moisture Wicking
Adhesive breast tape absorbs water and sweat and releases it immediately without compromising stickiness.
Without Clasps
Rely on stickiness and stretch to shape your bust.
Natural and Invisible
The color fits the skin better. Thin and non-obtrusive, suitable for tight and sexy clothes.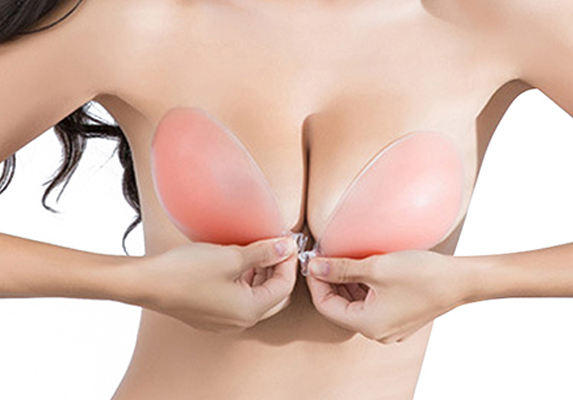 Heavy and Thick
Made of full silicone, the fabric is thick and non-breathable and feels more stuffy.
Strong Stickiness
Full glue, stronger stickiness, no air holes. It is easy to fall off when exposed to water and sweat.
Waterproof and Sweatproof
The surface is waterproof, but the air permeability is poor. Once penetrated, it will affect the stickiness.
With Clasps
Tough plastic clasps can scratch or pinch skin.
Smooth without Wrinkles
Flat and smooth, easy to wear. The color and appearance are abrupt. Not suitable for light and tight clothes.
Various Boob Lift Tape Sets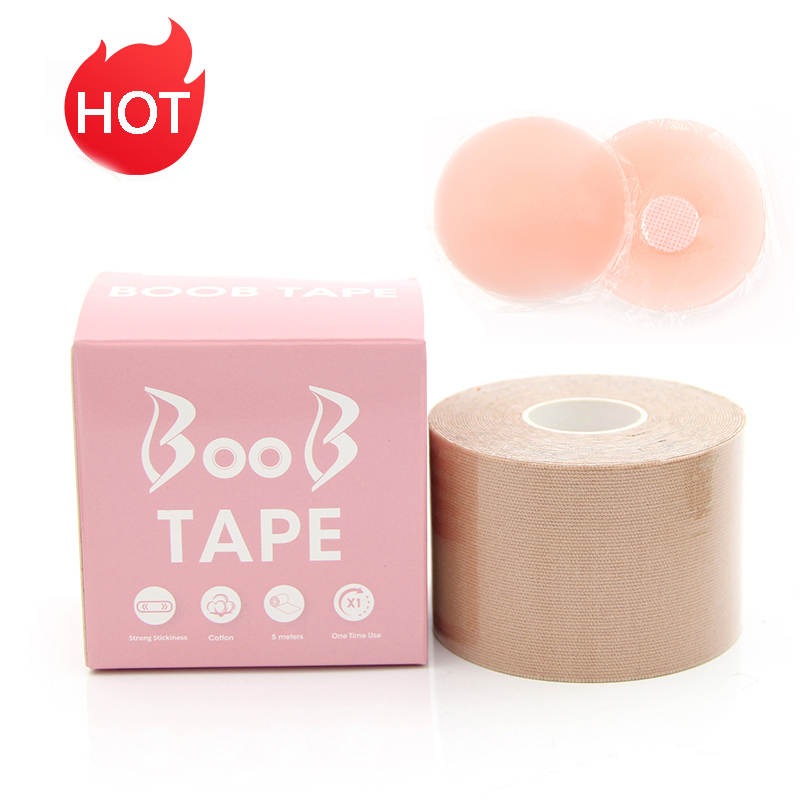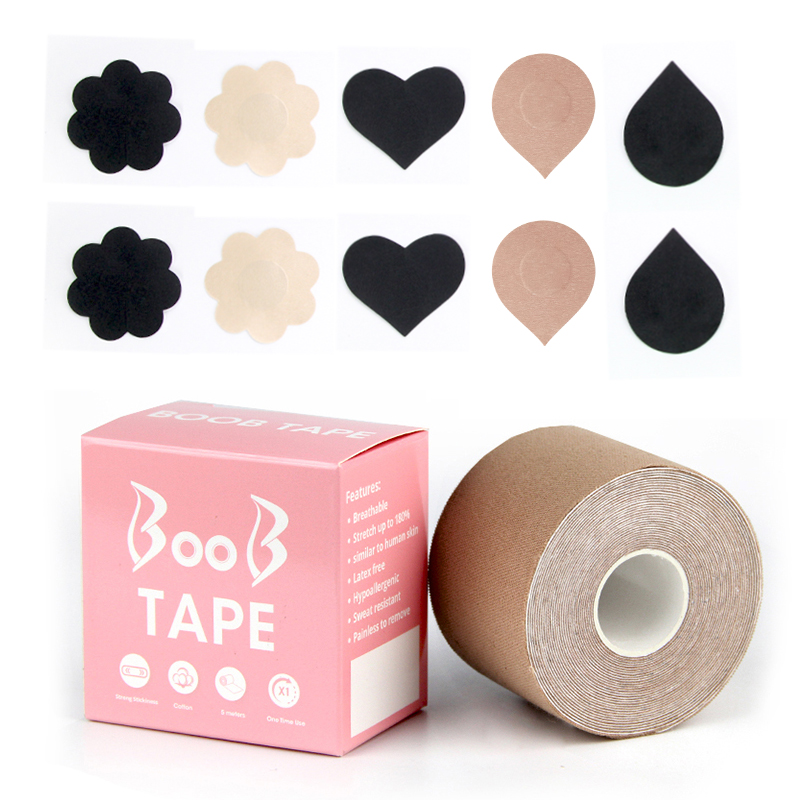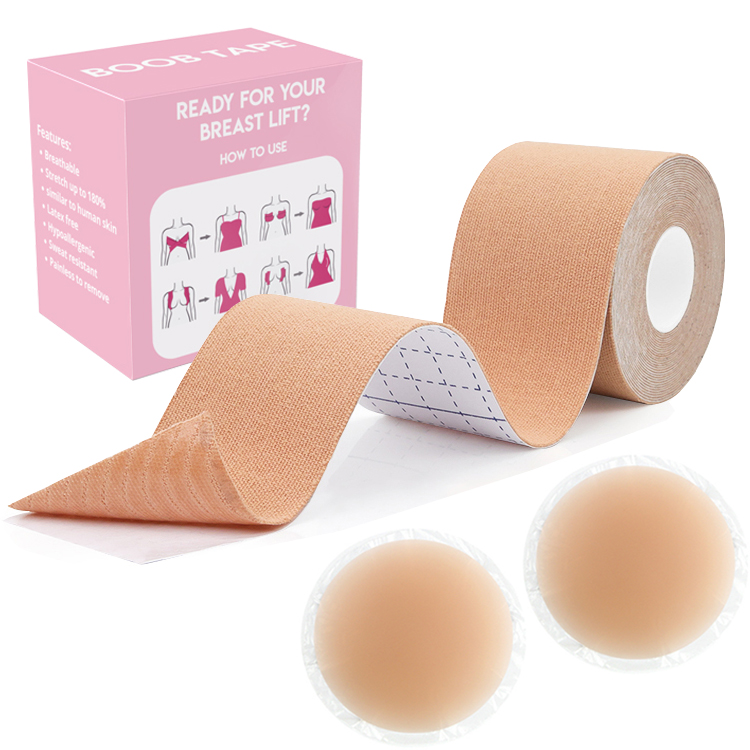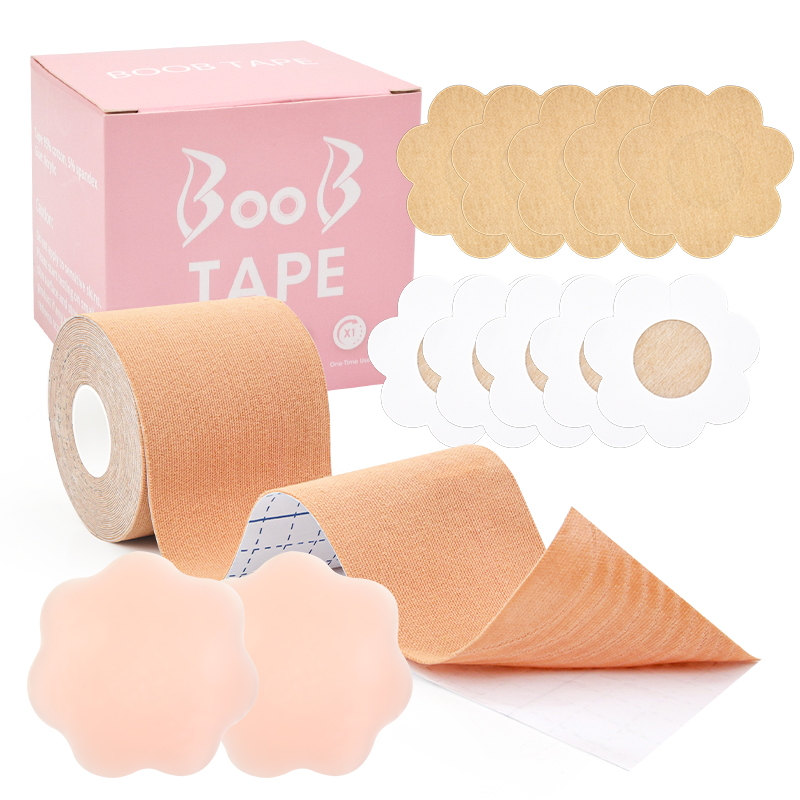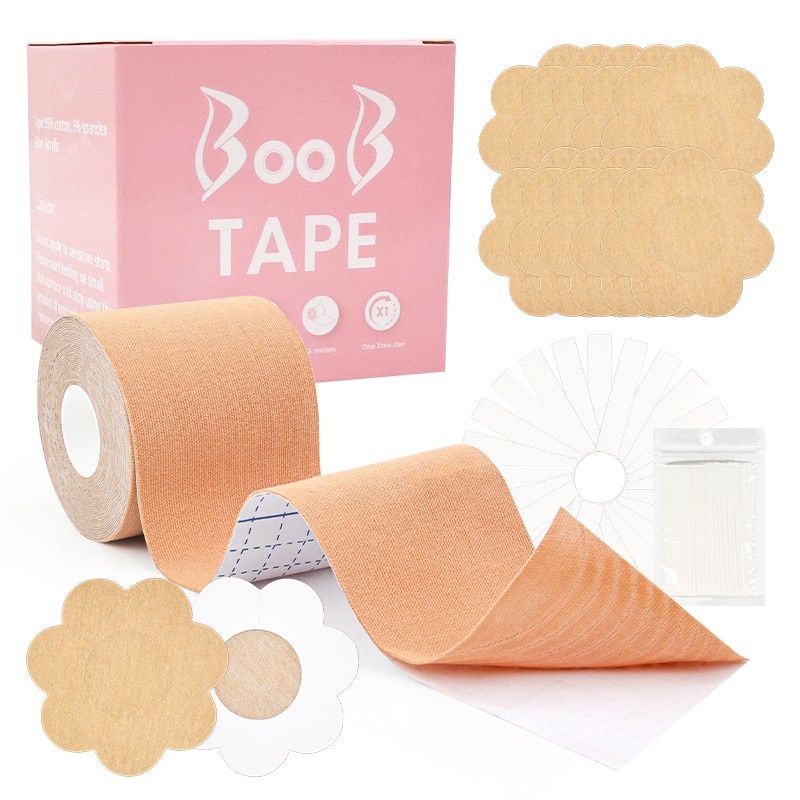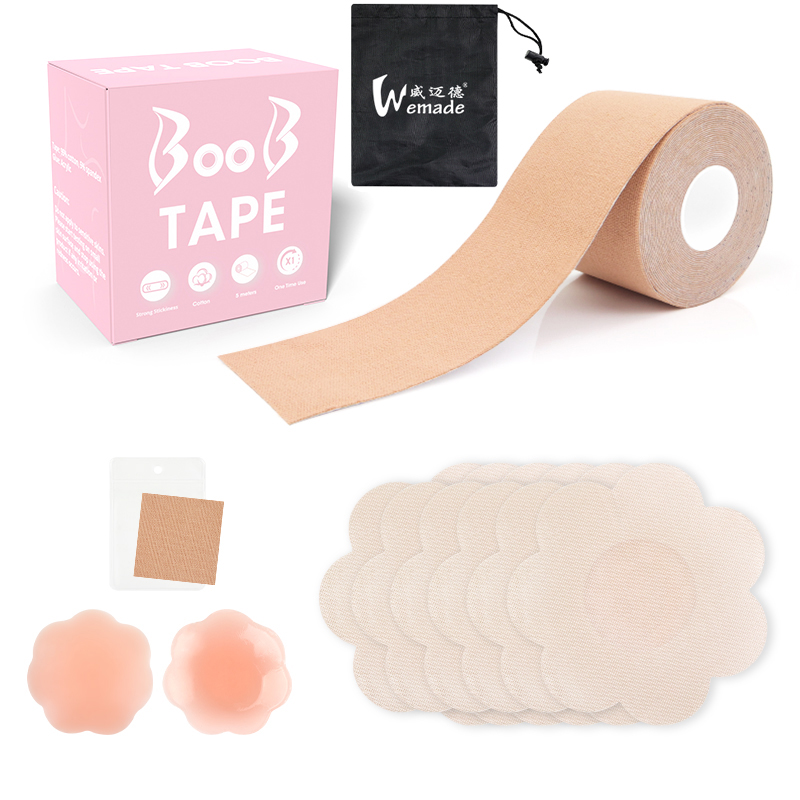 How to Use Boob Lift Tape?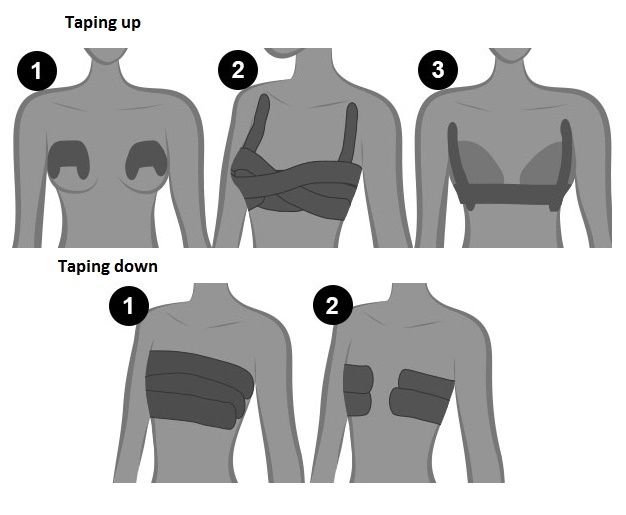 How to Apply Adhesive Breast Tape?
Preparation – Clean the skin and keep it dry.
Protection – Apply nipple covers, avoid harmful rubbing.
Measuring – Crop the tape in needed length.
Taping – Hold the breasts and apply the tape.
How to Remove Adhesive Breast Tape?
Easy Take-off – Hot bath could help peeling the tape.
Other Method – Soaking the tape with body oil.
Removing – Slowly pull off the tape.
What is boob lift tape used for?
It is an adhesive breast tape, specifically designed to lift the breasts. It has strong support and tightening power to help women achieve the desired breast shape.
Is adhesive breast tape any good?
It has no straps, no buckles, and acts as a lifting and shaping. It is natural, invisible and seamless. It is very friendly to deep V, strapless and halter dresses.
Is it safe to tape your breasts?
It is safe, but not for sensitive skin and broken skin. Also, when removing the tape, you need to be gentle so as not to tear your skin.
Can you sleep in boob lift tape?
In fact, it has no effect on the breasts. But we recommend giving your breasts a proper break as well.
How long can you wear breast lift tape?
We recommend about 8 hours.