Our Client Care Managers Are Willing to Hear From You 24/7. Answer Your Question ASAP.
Custom Printed Cohesive Bandage
Owning private label cohesive bandages is a common means of increasing profits. If you want to further develop self adherent tape or want to get more long-term benefits, Wemade recommends that you mark your brand directly on the bandages. As a factory that has produced self-adhesive bandages for more than 10 years, Wemade not only has the ability to print, but more importantly, it can save costs and create more benefits for you.

Custom Cohesive Bandage Colors
Wemade has developed many colors of cohesive bandages by itself, roughly divided into solid colors, camouflage, and printed colors. They are all in stock, can meet the needs of various orders, and guarantee delivery. Of course, you can customize the color you want, just send the Pantone color number or sample. In addition, due to its wide application in the field of pets, additional bitter taste can be added to prevent pets chewing and tearing at their bandages.
Custom Cohesive Bandage Sizes
Wemade is already available in 2.5cm, 5cm, 7.5cm, 10cm and 15cm widths with a stretched length of 4.5m. These sizes are available for various body parts, pets, veterinary use. Of course, you can also customize your own size. In addition to this, the amount of glue can also be increased to improve the stickiness of the bandage. You can also customize the tensile strength of the adhesive bandage through the elastic ratio.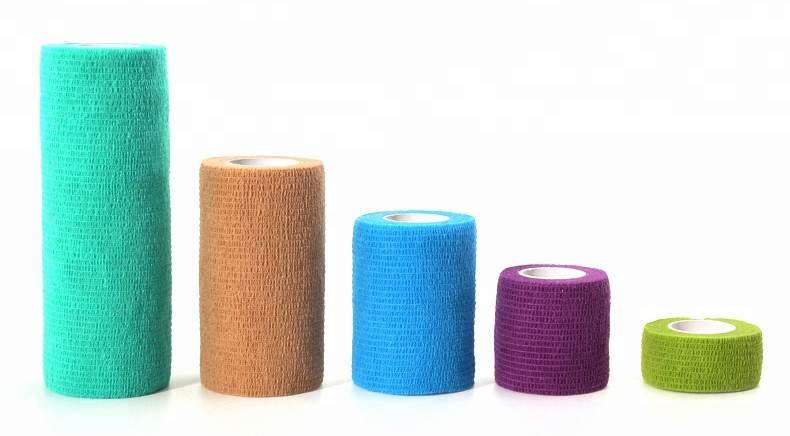 Multiple Sizes Available
Size
Quantity/Inner Box
Quantity/Outer Carton
2.5cm*4.5m
24 rolls
576 rolls
5cm*4.5m
12 rolls
288 rolls
7.5cm*4.5m
12 rolls
192 rolls
10cm*4.5m
12 rolls
144 rolls
15cm*4.5m
12 rolls
96 rolls
Custom Cohesive Bandage Packaging
Wemade is very good at custom cohesive bandage. Wemade is committed to creating personal brands for its clients because it has a strong design team behind it and has designed thousands of packages. It is especially good at custom kinesiology tapes and self cohesive bandage. Just tell us your idea or send us a design directly, and we'll make it happen!

You can tell us the information you want to make your packaging more attractive. Wemade can place patterns, logos, text descriptions, contact information, etc. on the sticky elastic bandage packaging.

Wemade Support Your Business
Wemade already has more than 10 years of custom cohesive bandage experience. OEM, ODM is one of its advantages. We are a factory that can control costs for you, and have professional sales to solve pre-sale, sale and after-sale problems for you. There are also powerful design department, quality inspection department and transportation department.
We produce up to 50 million rolls every year, export to hundreds of countries, and have designed thousands of appearances. We have various qualification certificates and product test reports to help you complete various inspections and customs clearance. We have also registered a variety of patents that can be used by authorized customers. We are very willing and capable of customizing personalized designs for customers and building company brands. Welcome your inquiry!