Printed cohesive bandage is highly elastic pet bandages with cute cartoon patterns. Ideal for first aid needs and sports protection against sprains and swelling. Compared with the solid color adhesive bandage, it is more vivid and interesting, suitable for children and pets. Ideal for cats, dogs, rabbits and horses.
2.5cm*4.5m (0.98inch*14.76ft)
5cm*4.5m (1.97inch*14.76ft)
7.5cm*4.5m (2.95inch*14.76ft)
10cm*4.5m (3.94inch*14.76ft)
15cm*4.5m (5.91inch*14.76ft)
Wemade accepts customised bandages and customised packaging in the size or colour you want. Custom adhesive bandages are usually printed with a design or logo on the bandage and papercore, and can also be customised with personalised packaging to create a brand image. (Learn More)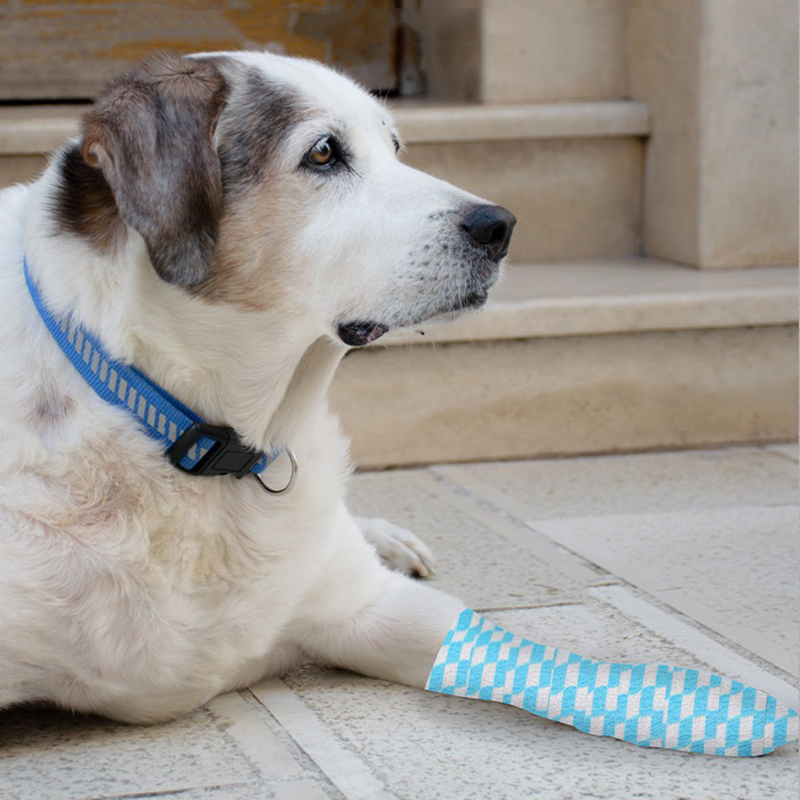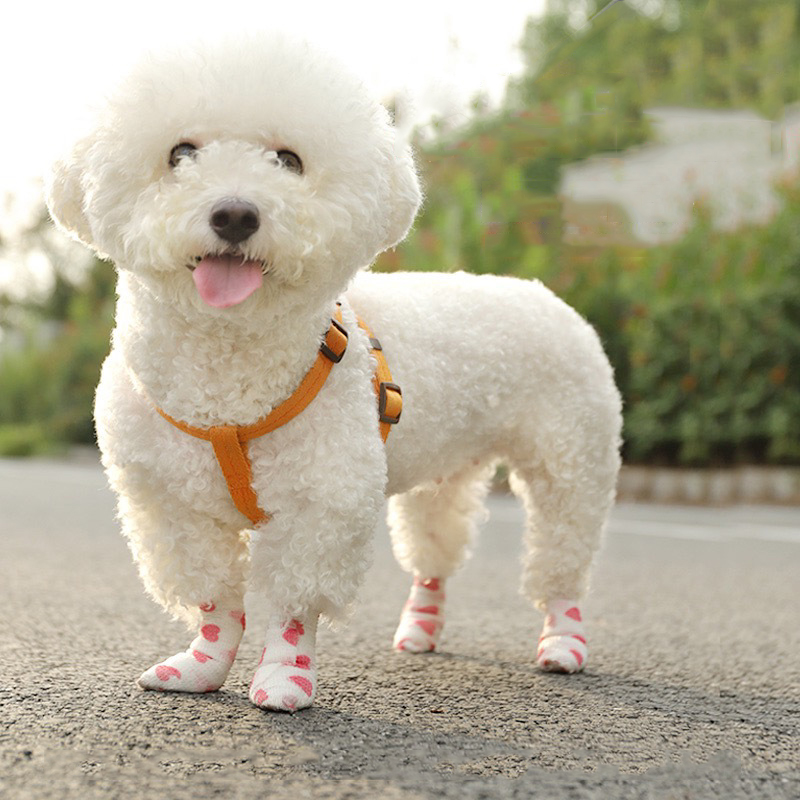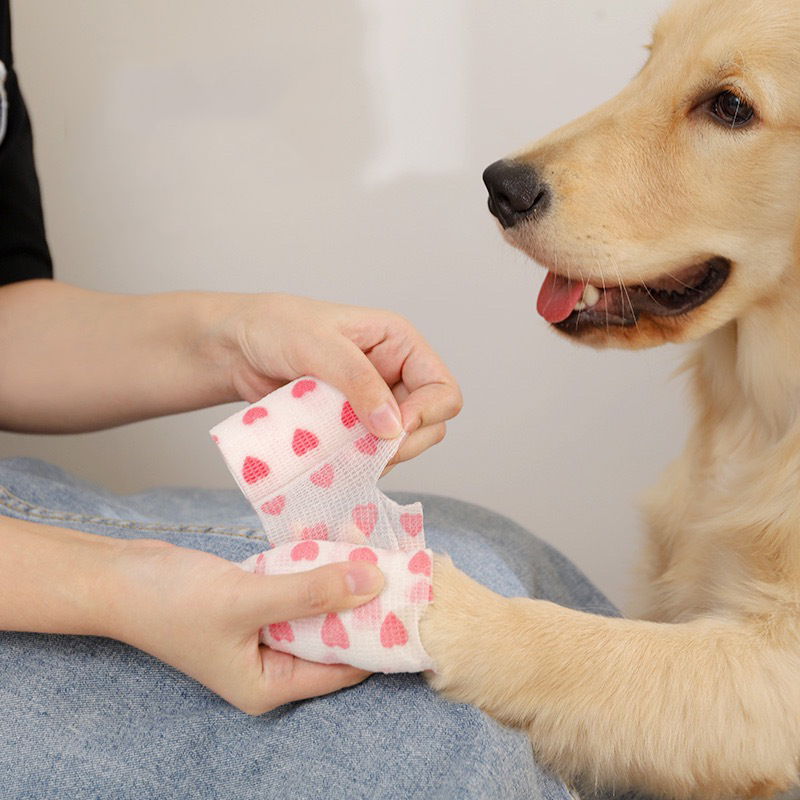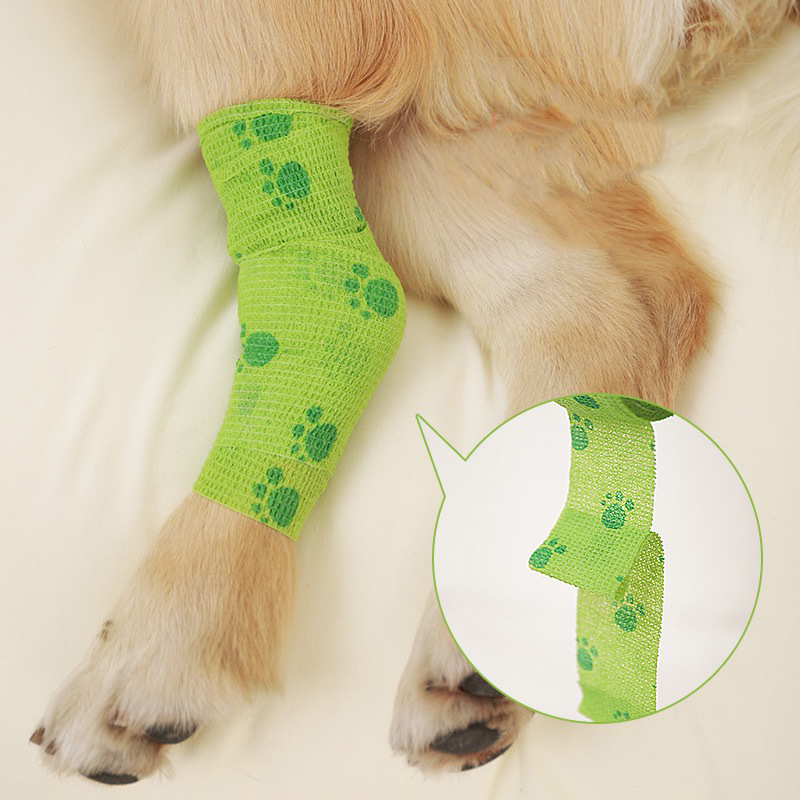 Introduction of Printed Cohesive Bandage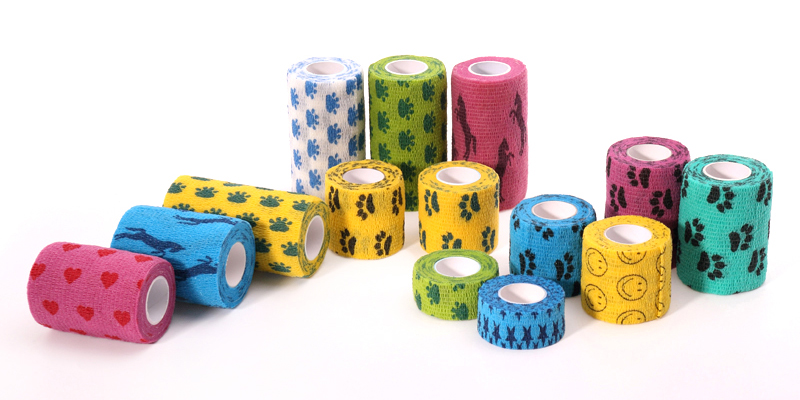 Pet bandages are made of high quality non-woven fabric. They are soft, breathable, lightweight and easy to tear. The printed cohesive bandages are designed for pets to protect them from injuries and will not damage their skin or fur. The self-adhesive bandages can also be used as home first aid and for everyday life.
Material: Non woven
Size: 2.5/5/7.5/10/15cm*4.5m
Color: 37 colors available
Pattern: Paws, smiley faces, hearts, squares
Ideal for first aid use on dog, cat, horses and other animals.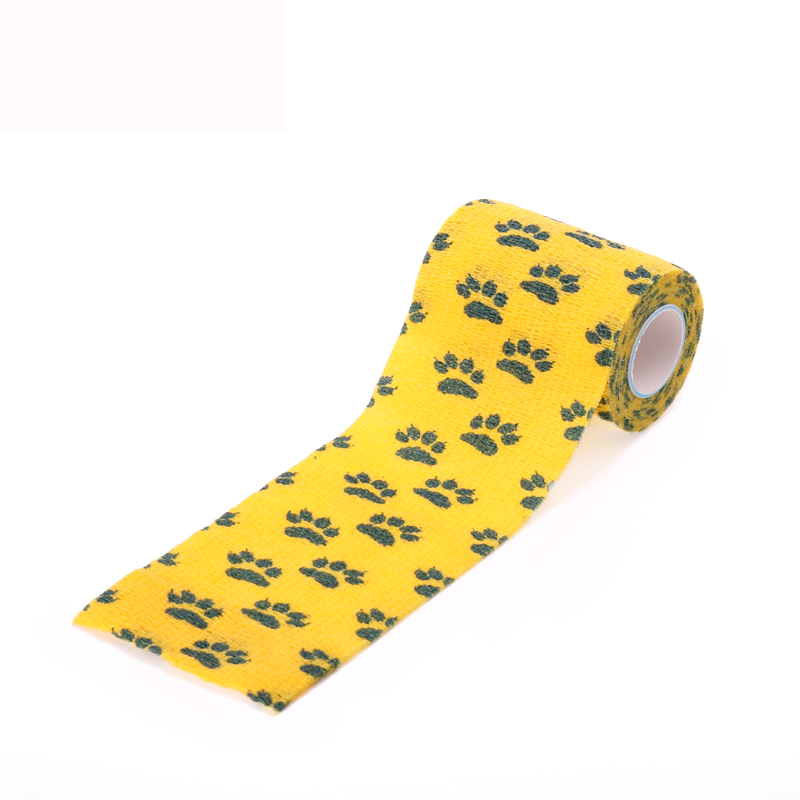 Printed cohesive bandage made of soft, non-woven fabric with a waterproof surface. Good breathability helps to promote wound healing and avoid skin irritation.
This bandage has adjustable elasticity. Freely control the pressure from the bandage. It is used to secure wound dressings and provide support for strains and sprains to avoid secondary injuries.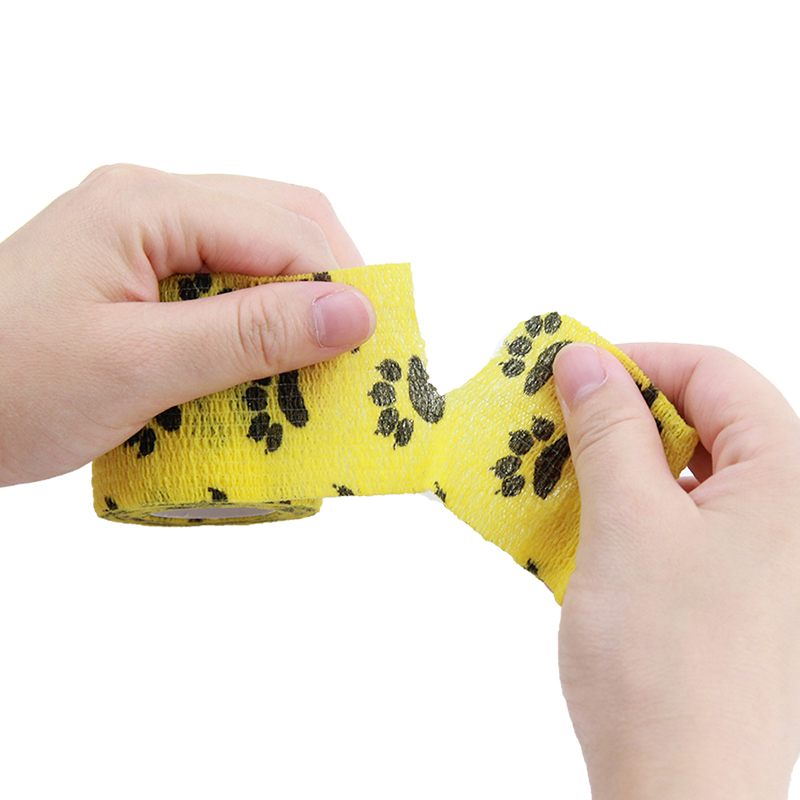 Cohesive bandages are lightweight , individually packaged, easy to carry and use. No need to use scissors, directly with the hand to tear. Simple and quick, suitable for home use and first aid use. And one-time use.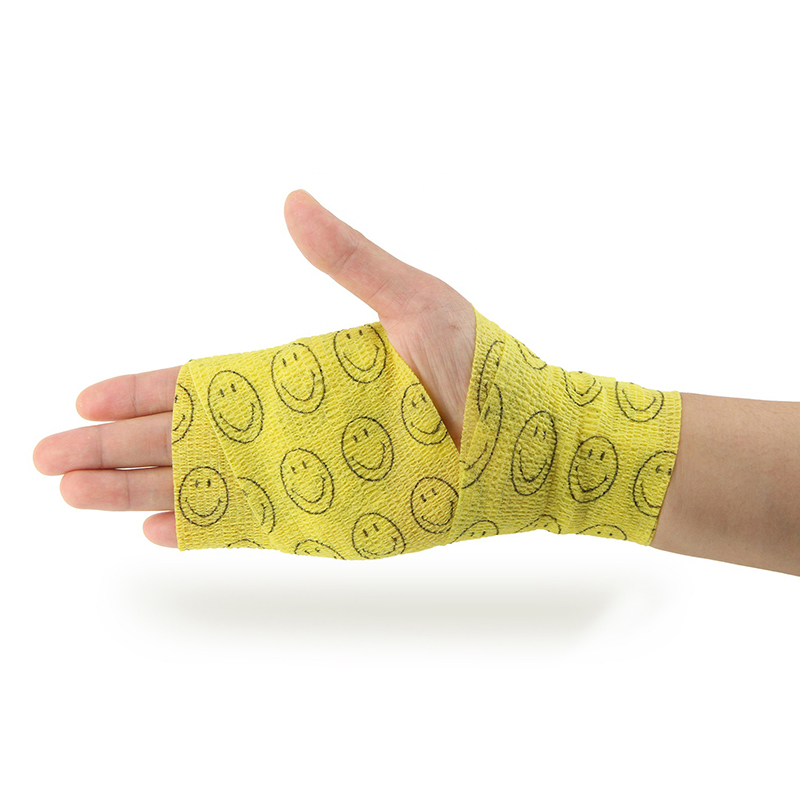 It will not stick to hair, will not leave glue and will not come off due to sweat. Suitable for people wrapping fingers, wrists, elbows, ankles, knees and supporting injured body parts that cannot be moved.
Custom Printed Cohesive Bandage
The multi-coloured printed pet bandage are bright and colourful and perfect for children and pets. We have 37 patterns for you to choose from, and you can also customize printed bandages. Colorful bandages are more suitable for exploring the pet market. Wemade specializes in the production and sales of pet bandages for more than ten years. Good at custom patterns and logos. Understand the market application of elastic bandages and help customers create their own bandage brands!
How Do You Bandage A Pet?
How to use printed cohesive bandage?
Step1. Prepare a roll of appropriate sized pet bandages.
Step2. Wraps wounds or joints that require immobilization.
Step3. Wrap it around until it is firm and does not fall off.
Step4. Do not overstretch and overstress.
Step5. Tear by hand, The ends are secured to the bandage.
Step6. After use, just take it off, no sticky hair.
Notice
Single use, do not reuse.
Do not touch the wound directly.
To prevent animal bites, bandages with bitters are available.
What kind of bandage can I use on my dog?
A bandage that won't stick to animal fur. You can opt for non-woven adhesive bandages, which hold in place without sticking to hair.
Can I use human bandage on my dog?
Depending on what kind of bandage it is, use caution with bandages that contain ingredients.
Can you wrap a dog's wound to stop licking?
We have a self adhesive bandage with bitters to help with this.
How long can you leave vet wrap on?
Based on usage. Strictly speaking, no more than 4 hours.