Camo Tape has a self-adhesive design that sticks without the need for taping and leaves no glue behind. The high elastic fabric allows you to adjust the elasticity freely. No need for scissors, just tear it off by hand. Camo tape colours are not only good for bandaging and fixing wounds, but also great for Shooting, Gun, Bow, Camera, Flashlight, Rifle and Bicycle!
2.5cm*4.5m (0.98inch*14.76ft)
5cm*4.5m (1.97inch*14.76ft)
7.5cm*4.5m (2.95inch*14.76ft)
10cm*4.5m (3.94inch*14.76ft)
15cm*4.5m (5.91inch*14.76ft)
Wemade accepts customised bandages and customised packaging in the size or colour you want. Custom adhesive bandages are usually printed with a design or logo on the bandage and papercore, and can also be customised with personalised packaging to create a brand image. (Learn More)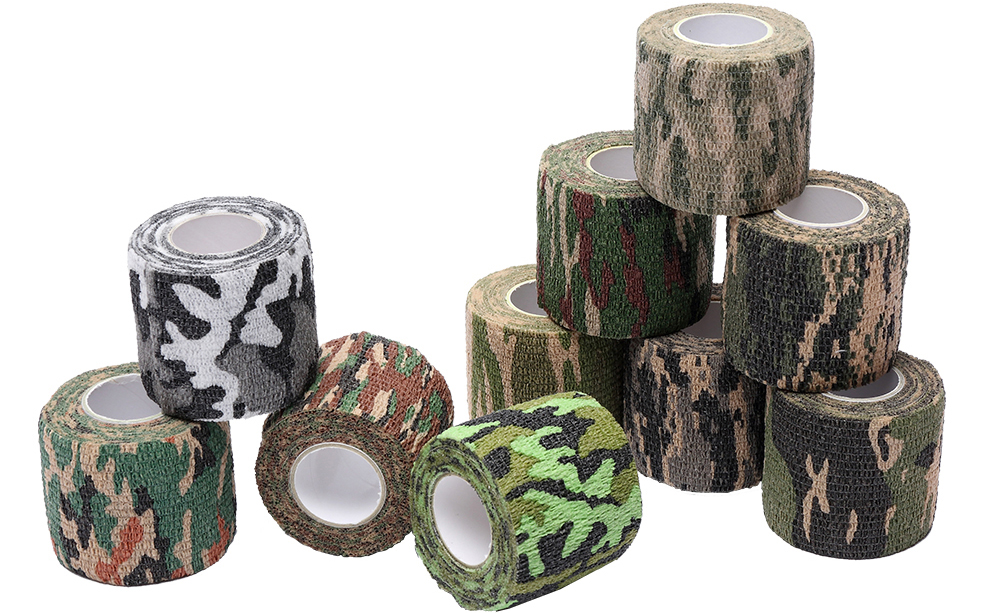 Camo tape is made of elastic, non-porous fabric. Lightweight and breathable, the skin can breathe freely under the bandage and promote wound recovery.
Its width is 2.5cm, 5cm, 7.5cm, 10cm and 15cm, and its length is 4.5m. Enough to wrap any part of the body and wrap around any object. Self-adhesive, waterproof and sweatproof, not easy to fall off. Removes easily without glue residue.
Each roll is individually wrapped, easy to carry wherever you want. Camo tape is commonly used to reduce swelling, bandage wounds, sprains and general pain, and can also be used to dress pet wounds.
Matte camo exterior provides outdoor concealment for reflective surfaces and reduces noise when shooting firing, a great accessory for hunting gear.
Camo tape can be for tactical camouflage in hunting, shooting, outdoor sports, ball games, athletics, daily necessities.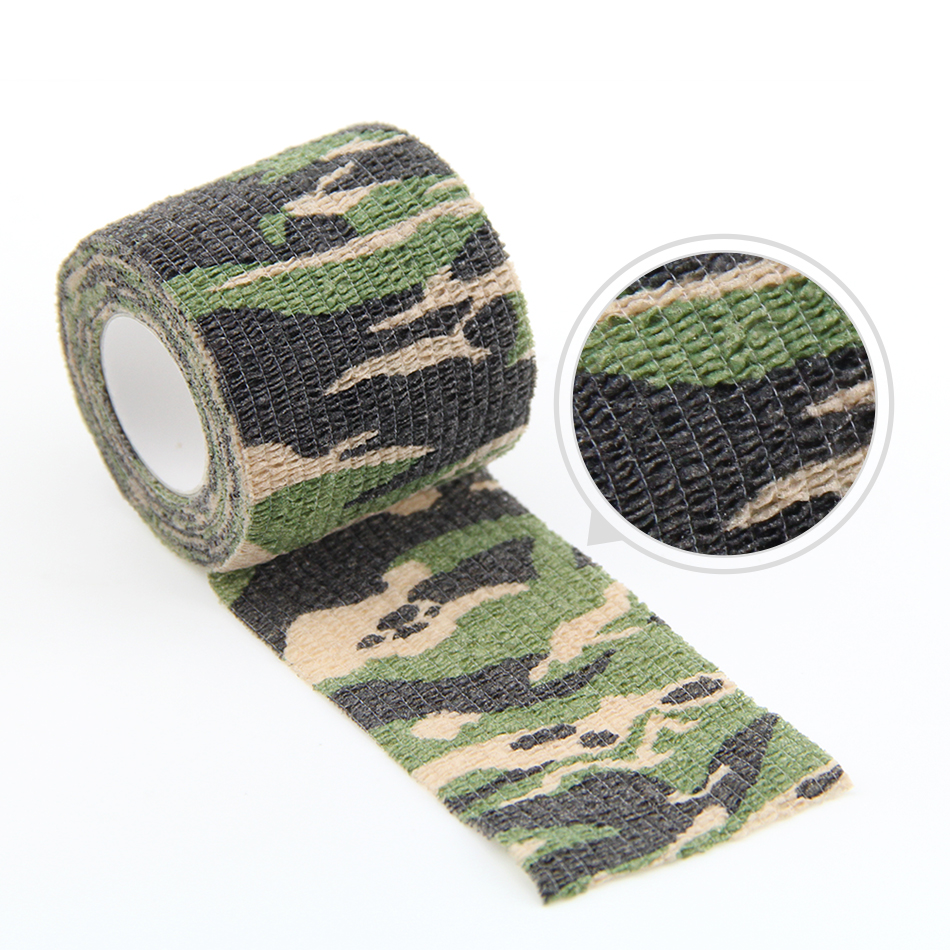 Suitable for military fans, camouflage toy renovation, cycling decoration, wrist bandage.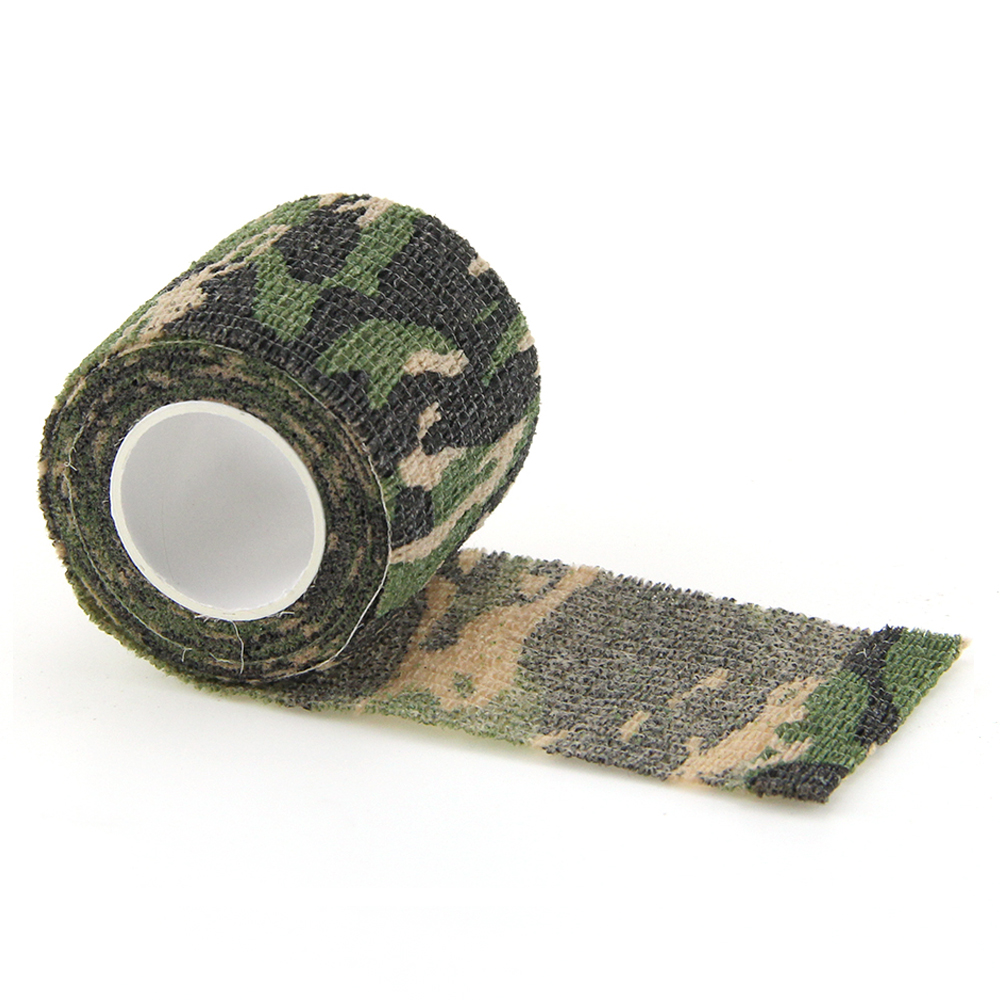 Self Adhesive Camo Bandage
Does not require clips and pins to stay in place. You won't have to frequently readjust camo tape.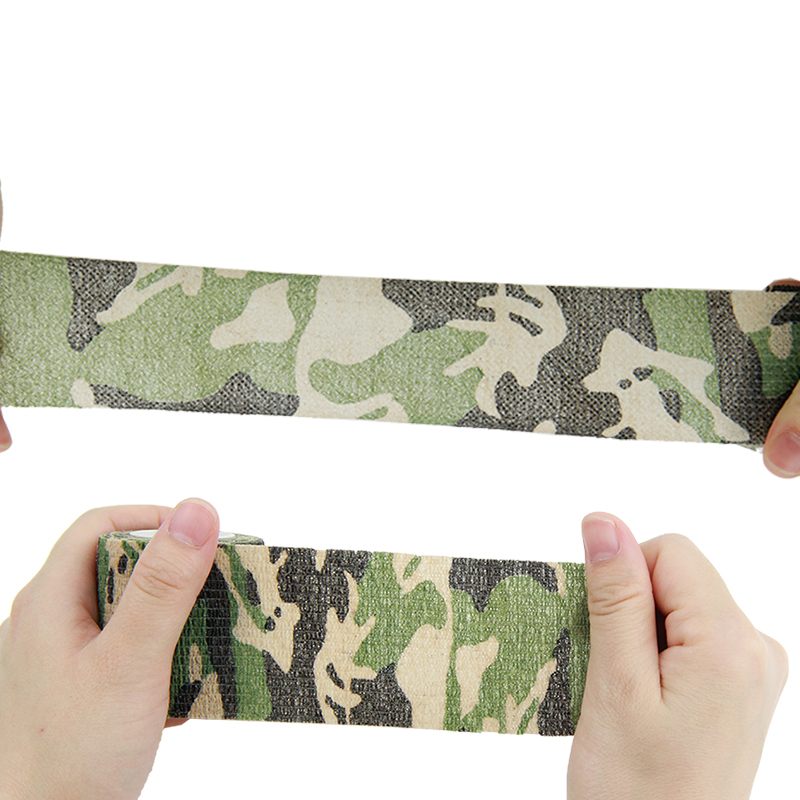 High Elastic Camo Bandage
You can adjust the pressure of the wrap and the area of the wrap. Simple and easy to get started yourself.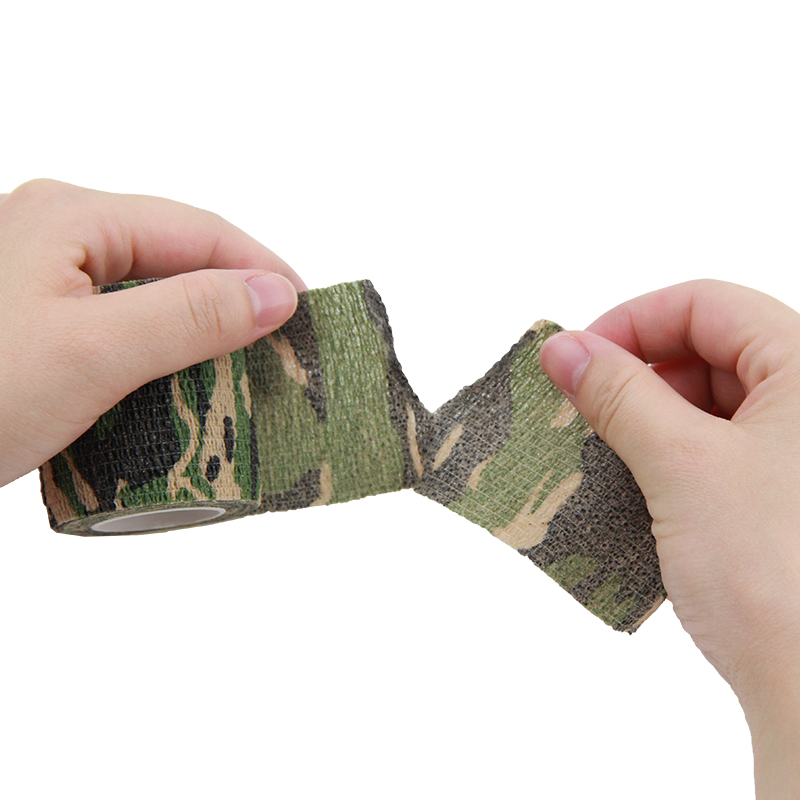 No need to use any tools, just gently tear it by hand and use it as you like. Individually packaged for single use.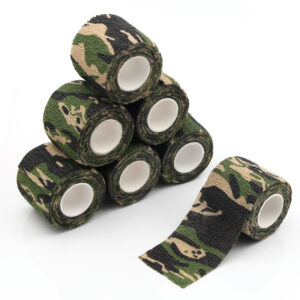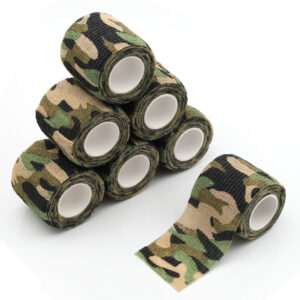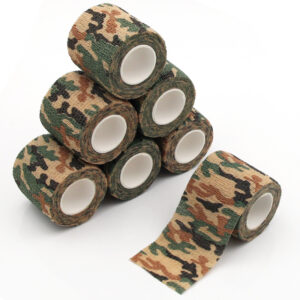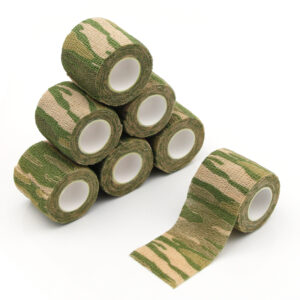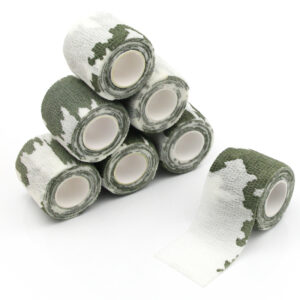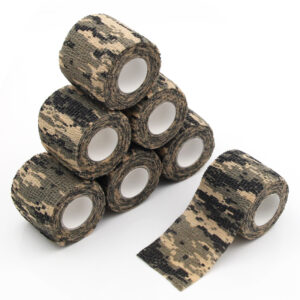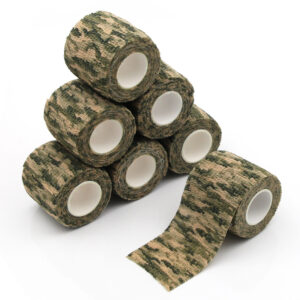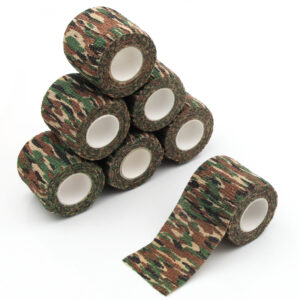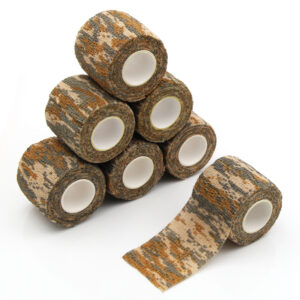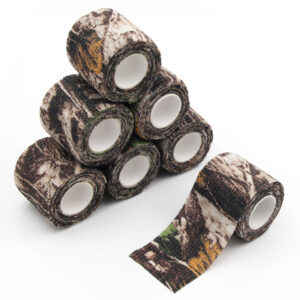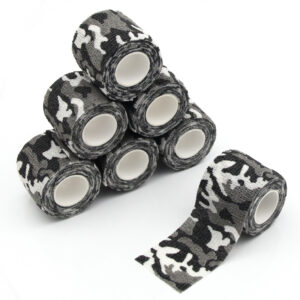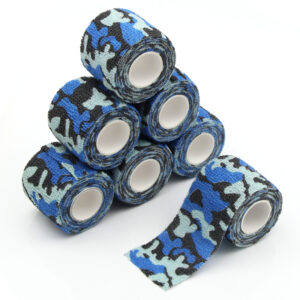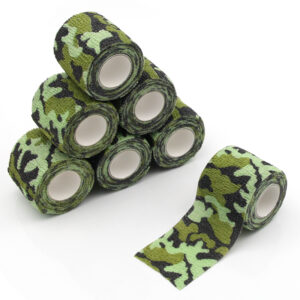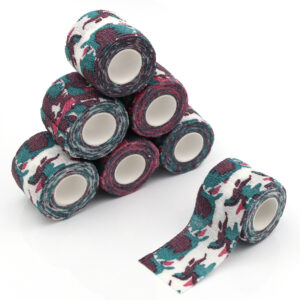 What is the Camo Tape Used for?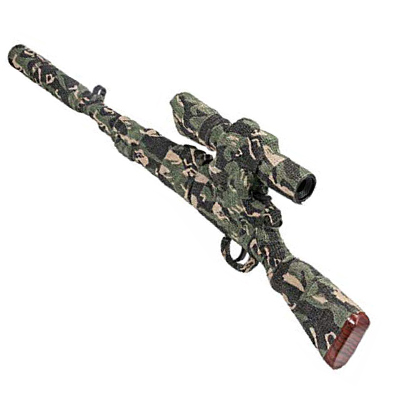 Conceal rifles, pistols, submachine guns, and other assorted firearms for better combat.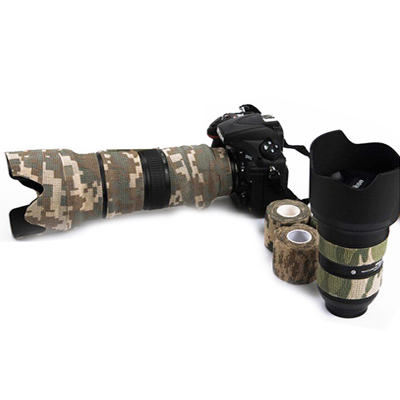 Camo tape can hide cameras and lenses in order to get close to nature and field photography.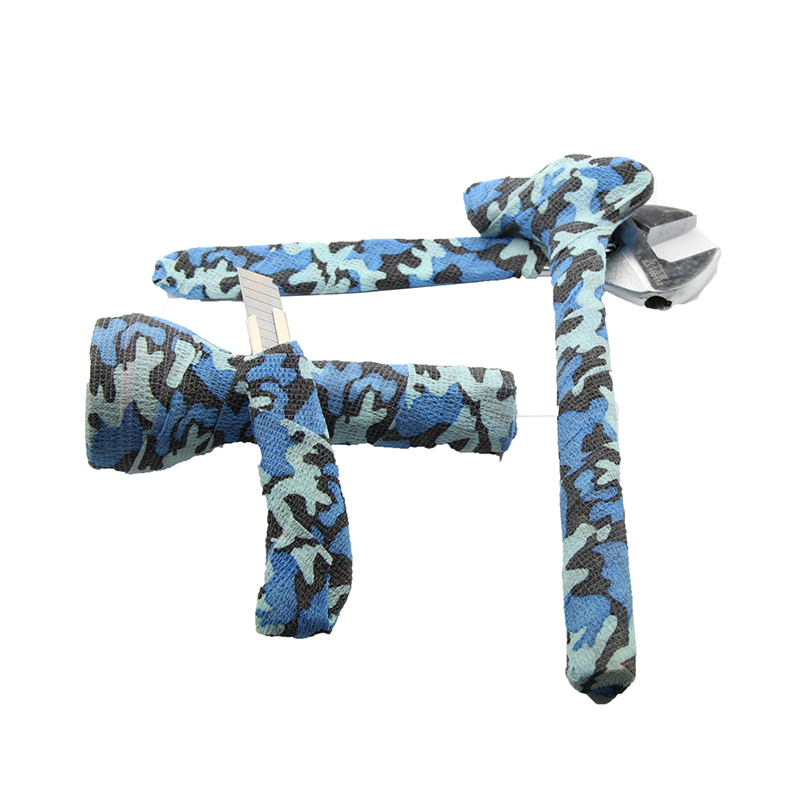 Protect knives, wrenches, hammers and other various implements, wear-resistant, growth of service life.
Camo tapes cut to size and conform to almost any object without the sticky residue.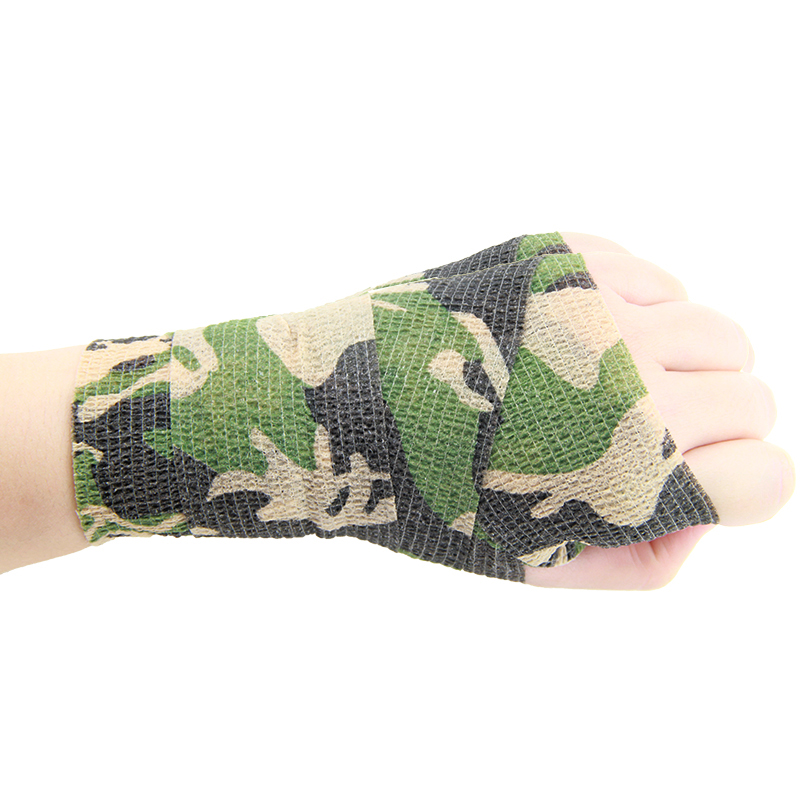 Camo tapes wrap the body can serve to immobilise wounds and support joints.
Step1. Choose the right size of camo bandage and the colour you want.
Step2. Cover the contact surface with appropriate pressure wraps.
Step3. Don't wrap too tightly and cover the surface evenly.
Step4. Tear by hand. The end is glued to the camo bandage.
Camo bandages can be used on fingers, wrists, elbows, knees, ankles and more.
Equally suitable for cats, dogs, birds, horses and other pets and beasts.
Extend the life of tools and equipment such as knives, spanners, hiking poles, etc.
Used for firearms, cameras, bottles, etc. to provide invisibility and
What is a camo wrap tape?
Vet wrap serves to secure dressings and gauze to the horse's joints, such as the legs and hooves.
It is wrapped around the application site to hold the dressing in place, support the joint, ensure breathability and speed recovery. It is non-stick to skin and hair.
It is a bandage made of non-woven material. Reuse will affect its support and breathability. We recommend single use.
Can vet wrap stick to wounds?
It cannot come into direct contact with the wound. It only serves to fix and support it.
How often do you change your vet wrap?
Depending on the condition of the wound and the support of the bandage. Usually, we recommend changing the bandage once every 4 hours.