Zinc oxide tape is latex-free and non-elastic. The athletic tape is made of pure cotton fabric and zinc oxide glue. it's great for joint support, reducing tissue stress and helping you recover from pain faster. Strong stickiness, can be fixed for a long time without falling off. The serrated edge just needs to be torn off gently by hand to enjoy the fun of exercising.
2.5cm*9.1m/13.7m (0.98inch*29.86ft/44.95ft)
3.8cm*9.1m/13.7m (1.5inch**29.86ft/44.95ft)
5cm*9.1m/13.7m (1.97inch**29.86ft/44.95ft)
Wemade accepts custom sports tape colors and sizes, such as ice hockey tape, athletic tape, soccer tape, kinesiology tape, and more. Customized graphics to match jerseys for professional teams to enhance uniformity and appeal. Slogans, branding, instructions, etc. can also be printed to enhance visibility and impact.(Learn More)
What is the Athletic Tape?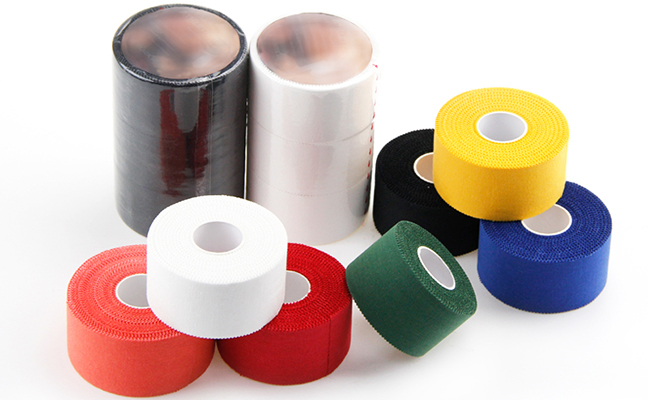 It is a durable and highly zinc oxide tape. Help you prevent sprains and protect your ligaments and joints during sports.
For example, footballers are keen to wrap their wrists and ankles. Boxing enthusiasts use tape under their boxing gloves to stay comfortable and receive protection, and it is also often used as an alternative to boxing bandage. It is also great for use as hockey tape, gymnastics tape, weightlifting tape, and pull-up tape.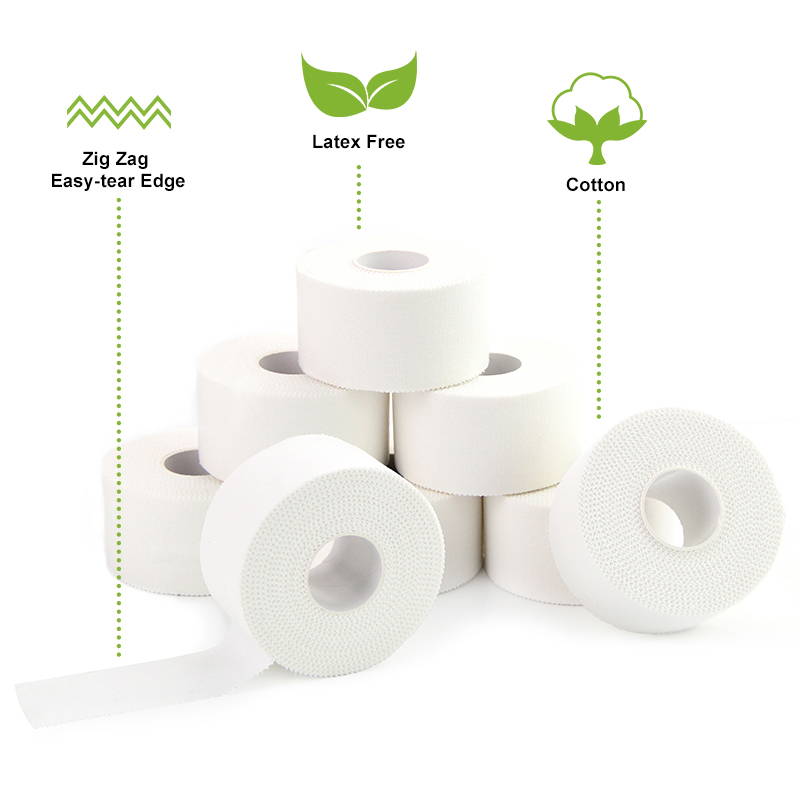 Soft and Breathable
Durable & Long-lasting
Great Adhesion
Hypoallergenic
Powerful Support
Tear by Hand
Suitable for Various Activities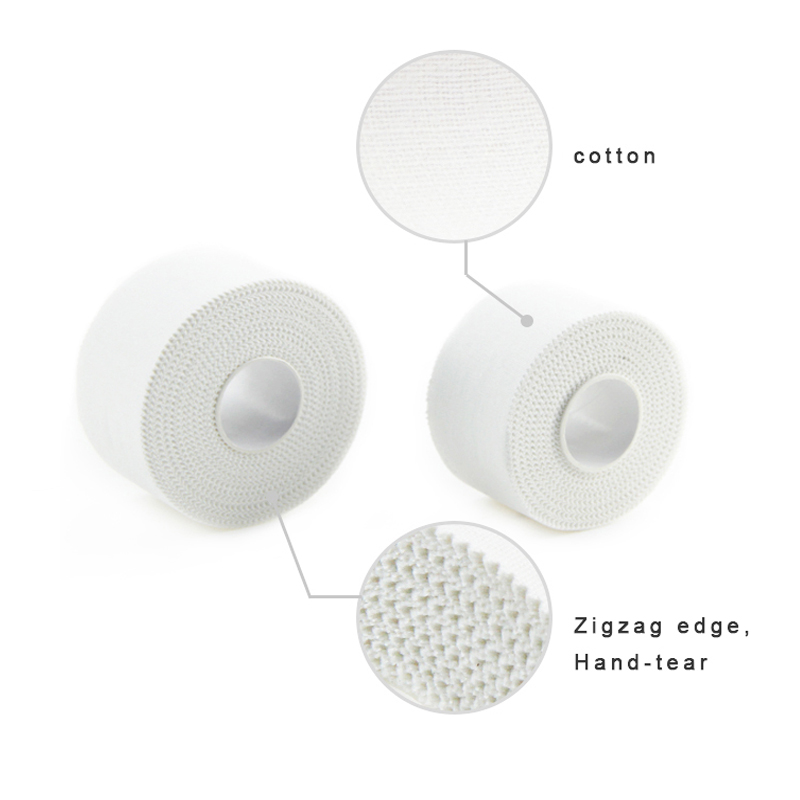 100% Cotton Material
Zinc Oxide Tape
Hot Melt Adhesive
No Drug, No Latex
Non Elastic
Zig-zag Edge
Available Sizes & Colors
Cotton Tape and Rayon Tape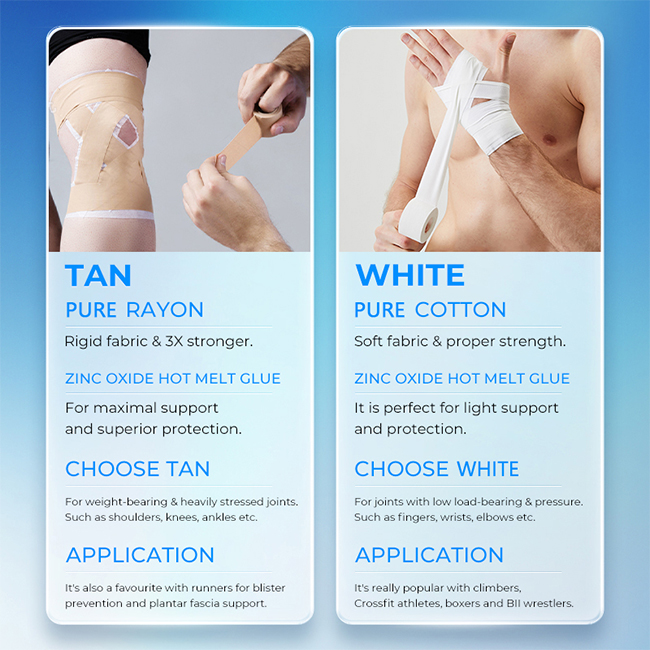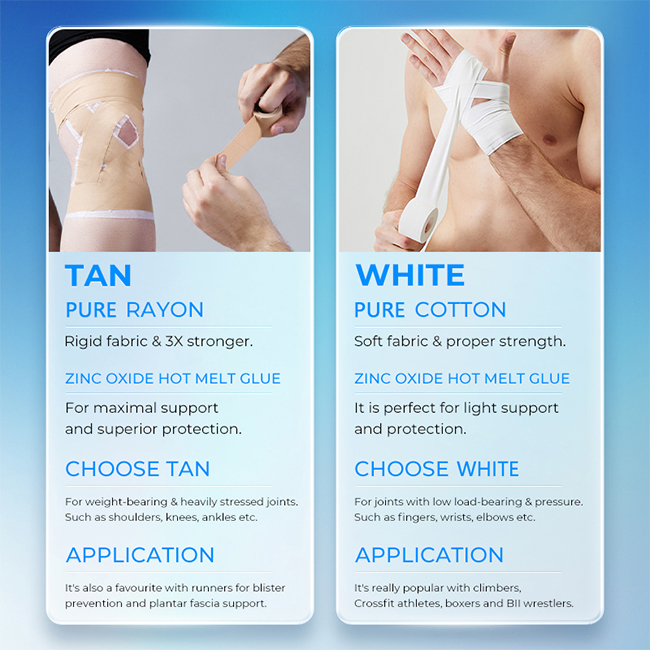 Cotton athletic tape fabric is soft, lightweight and breathable. Strong adhesive, firm to use, does not come off when exposed to water or sweat. Enough to meet the basic training use. Suitable for light support and protection. Such as fingers, wrists, elbows etc. It's really popular with climbers, Crossfit athletes, boxers and BII wrestlers.
Rayon athletic tape is also called rigid tape. Its thick fabric is more wear-resistant and durable. The glue is more adhesive and suitable for maximal support and superior protection. For weight- bearing & heavily stressed joints. Such as shoulders, knees, ankles etc. It's also a favourite with runners for blister prevention and plantar fascia support.
Cotton tape is sufficient for basic training and daily fitness. If you are a professional athlete or have strict requirements for fabric and adhesion, you can choose tan athletic tape.
Athletic Tape and Pre-wrap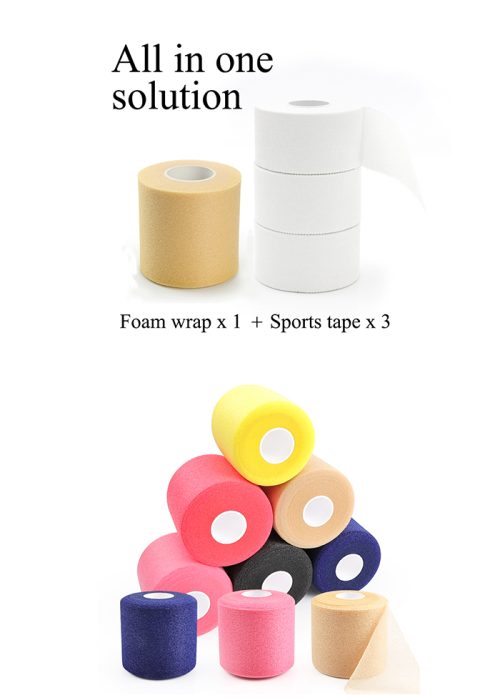 Athletic Tape for Strong Hold and Pre-wrap for Skin Comfort
The strong athletic wrist tape is paired with soft foam for convenience and comfort. Adding a protective layer between the skin and the tape prevents abrasions and skin irritation when removing, and also prevents allergies. And with no adhesive residue, you are able to remove the tape without any pain while maintaining support.
Soft and Flexible
Latex free made of hypallrgenic materials
Anti-Wrinkle Material
Tough enough to tug.pull and apply
completely oderless
Easy to Tear
Use as you go and control the size of the wrap freely.
No Glue and Rubber
The underwrap comes in 2 sizes, 6cm*20m and 7cm*27m. There are many colours and custom sizes and colours are also available.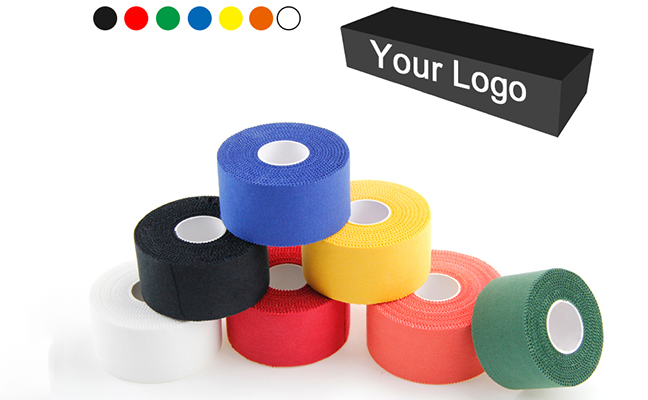 Printed zinc oxide tape is a type of cotton tape with a pattern or logo on it. Same as any other athletic tape. There are three main colors on the market: black, white and tan. Some professional teams need to unite their souls, some brand owners need to increase their popularity, and some want to be different. Therefore, the demand for printed tapes will only increase.
Wemade specialises in custom tape colours and sizes. We welcome your enquiry! (More Details)
How to Use Athletic Tape?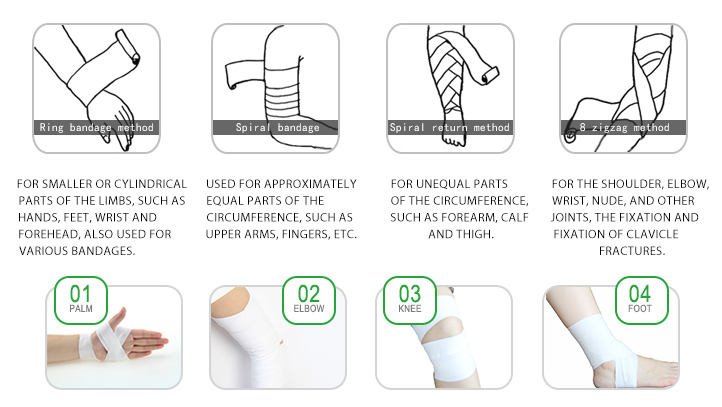 Step
Prepare 1 roll of the right size of zinc oxide tape.
Wrap the joints where you want to improve support.
Wrap appropriately to prevent sprains but do not restrict movement.
When covering large areas, take care to wrap evenly.
Tear it right off by hand and stick the end to the tape.
        Notice
Ensure that the skin is clean and dry and remove hair.
We recommend pairing it with pre wrap.
Don't wrap it too tightly.
Uneven coverage can be ripped off section by section to wrap.
Videos of Zinc Oxide Tape