Pre cut tape is a muscle tape that is pre-cut to a specific size or shape. Most pre cut kinesiology tapes are made of cotton and spandex, but some people prefer to use kinesiology tape precut made of rayon and spandex for reasons of use.
Our pre cut kinesiology tape has been cut into strips according to the most common size on the market, and you only need to tear it off gently when you use it. The size of this tape strip is usually 5cm*25cm, which can meet the needs of most people and basically meet the use of various joints.
5cm*5m(1.97inch*16.4ft)
5cm*35m(1.97inch*114.8ft)
We are a manufacturer from China. We can provide any ODM and OEM services you need. We have a professional design team. If you need customized products, you can contact us directly, or you can click custom kinesiology tape or wemade service for details.
Pre cut kinesiology tape is one of wemade's best selling products. Our original intention of producing this product is to solve the problem that most users are inconvenient to carry scissors. Regular pre-cut athletic tape comes in rolls, but is pre-cut into strips that can be peeled off and used directly.
We have designed a variety of unsuitable shapes according to different purposes, and you can choose according to your needs. You can buy the rolls and tear them yourself, or you can buy the strips and use them right away. There are also claw, Y or X pre-cut tape patches if you are using them on the elbows, soles, ankles, etc.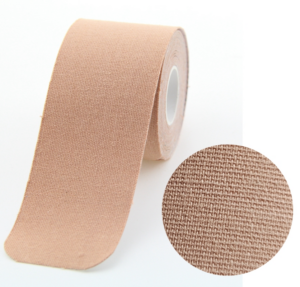 Skin Friendly Cotton Material
The pre cut kinesiology tape is woven from pure cotton and spandex silk, which has the same elasticity as human skin, making it the most comfortable body tape on the market. Pre cut kinesiology tape is like your second skin, protecting this vulnerable area.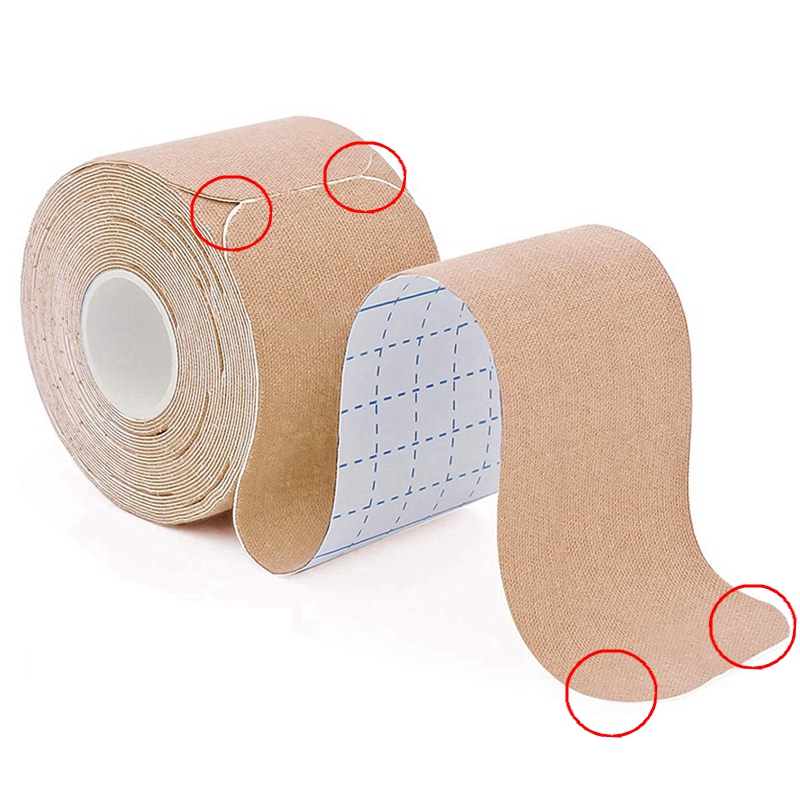 Easy to Tear
The biggest advantage of pre cut kinesiology tape roll is that it has been cut into 5cm*25cm I-shaped strips, which can be easily torn off. This design allows you to use it easily in any occasion, you only need to tear it lightly, can be used without relying on scissors.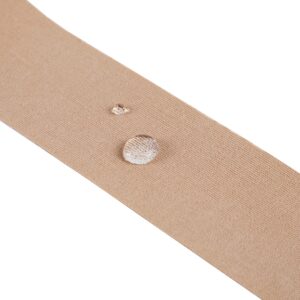 Waterproof and Sweatproof
The adhesiveness of the edge will be slightly worse in the case of water and sweat, and the edge may be warped, but the overall adhesiveness of the tape will not deteriorate. We tested it ourselves, taking a shower with the pre cut kinesiology tape on it, and it wasn't affected much by the water.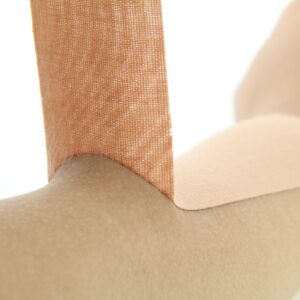 Strong Adhesion
Adheres for up to 3-5 days under most conditions to support injured muscles and tissues while still allowing a full range of motion. The stickiness of pre cut kinesiology tape does not get worse over time, but gets stickier.
Pre Cut Tape and Uncut Tape
There are two type of kinesiology tape, uncut regular rolls and pre-cut rolls or strips. Uncut rolls are usually called uncut kinesiology tape and pre-cut rolls are kinesiology tape strips.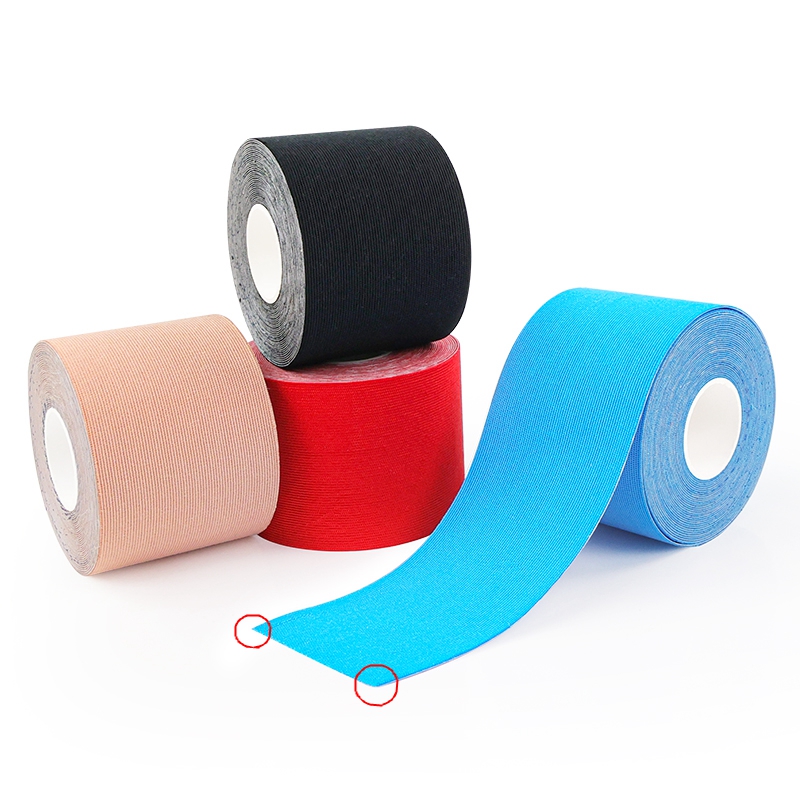 Uncut kinesiology tape is usually a roll of 5cm*5m. Uncut kinesiology tape's advantage is that you can cut it into any size and shape you want according to your needs and preferences. Uncut kinesiology tape's downside is that you have to carry a pair of scissors with you every time you go out, otherwise you won't be able to use them.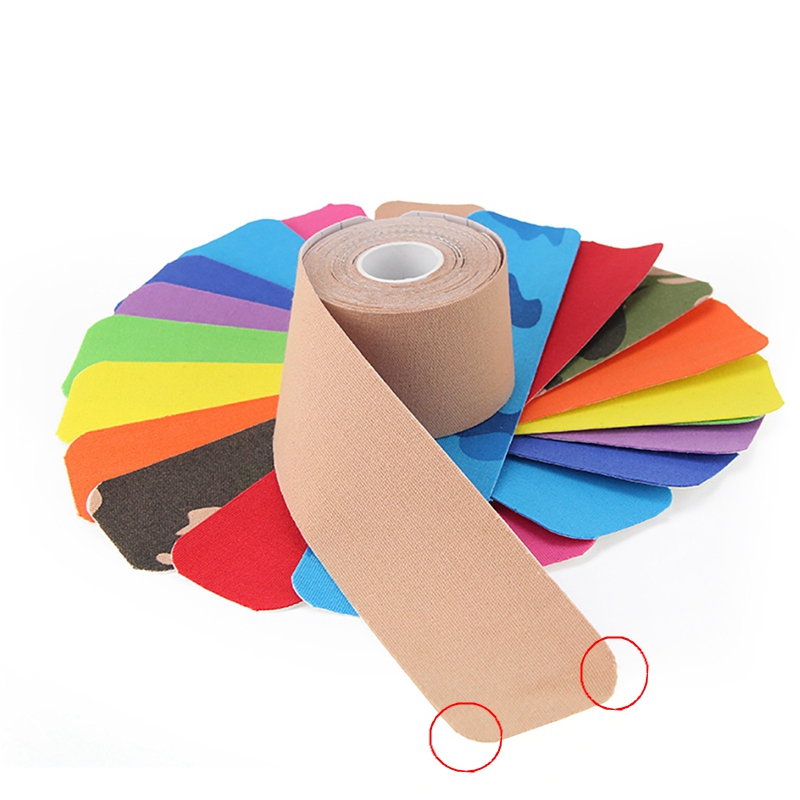 Kinesiology tape strips is available in a variety of packaging formats. It can be packed in plastic bags, 6 pieces, 10 pieces or 20 pieces in 5cm*25cm strips in one bag, or cut into 5cm*5m pre-cut rolls. The advantage of Kinesiology tape strips is that it can be directly removed and used anytime and anywhere. Cons:kinesiology tape strips's limited in size.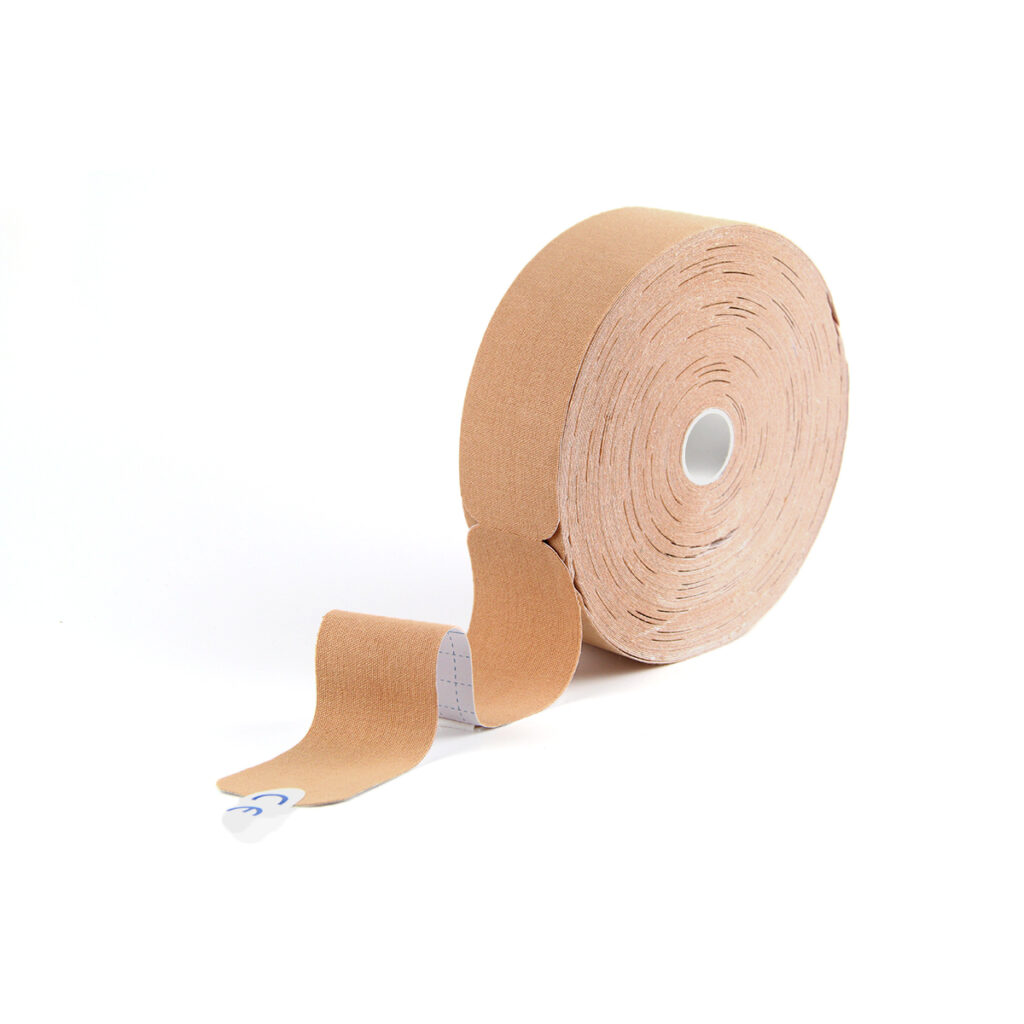 35m Pre Cut Tape
Big roll kinesiology tape pre cut is a customized product, the width is usually 5cm, the length can be any length, the longest length we have done is 35 meters, 140 pieces per roll, can choose according to your needs.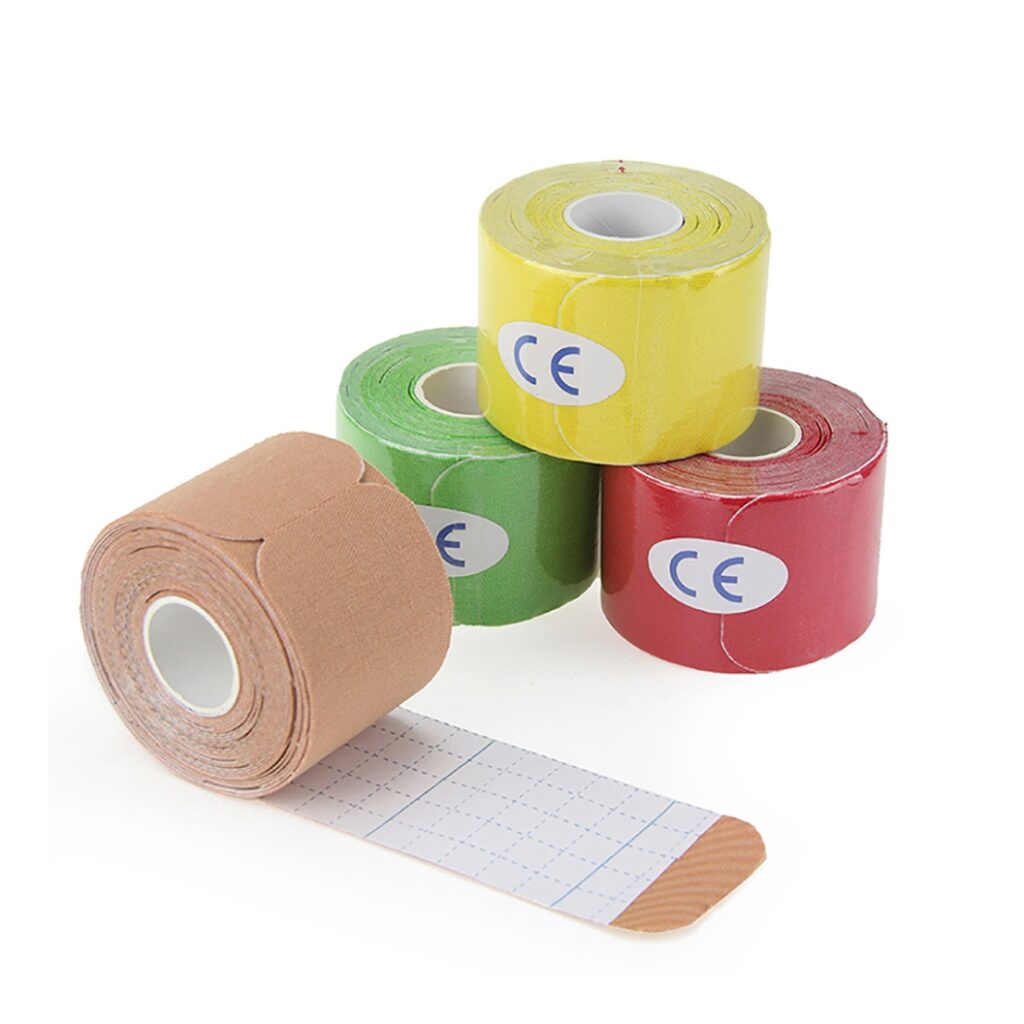 5m Pre Cut Tape
Common roll kinesiology tape pre cut is roll, the length of the roll is 5cm*5m, and the size of each small strip is 5cm*25m, this kind of pre-cut sports tape is sold in rolls.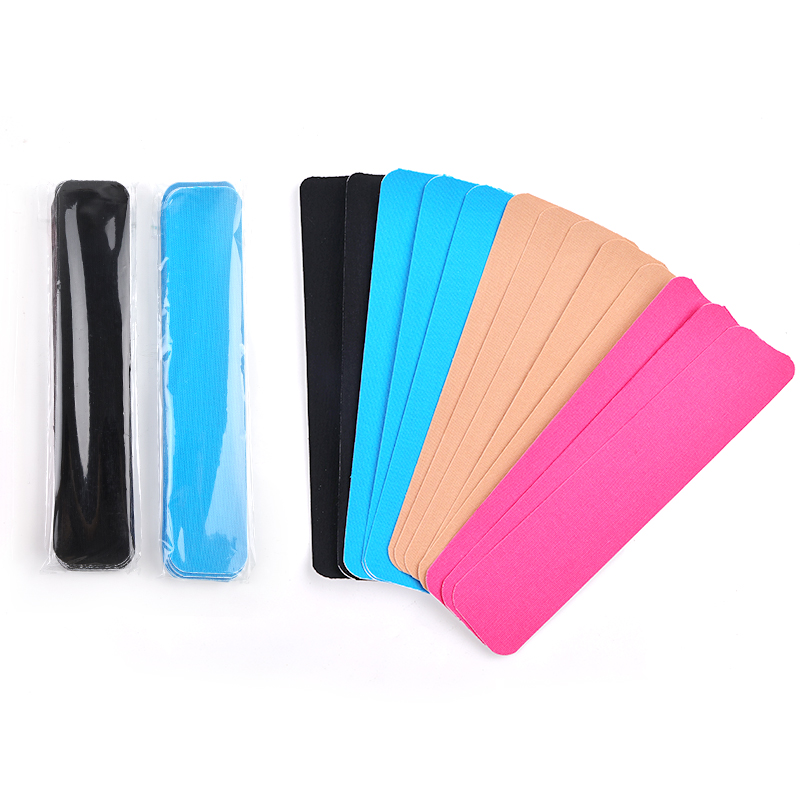 These Kinesiology tape strips are sold in bags. The length of each pre cut strip is 5cm*25cm, Regular packaging is a bag of 6 pieces, 10 pieces, or 20 pieces. One pack is used each time, and pre-cut strips are more convenient to carry.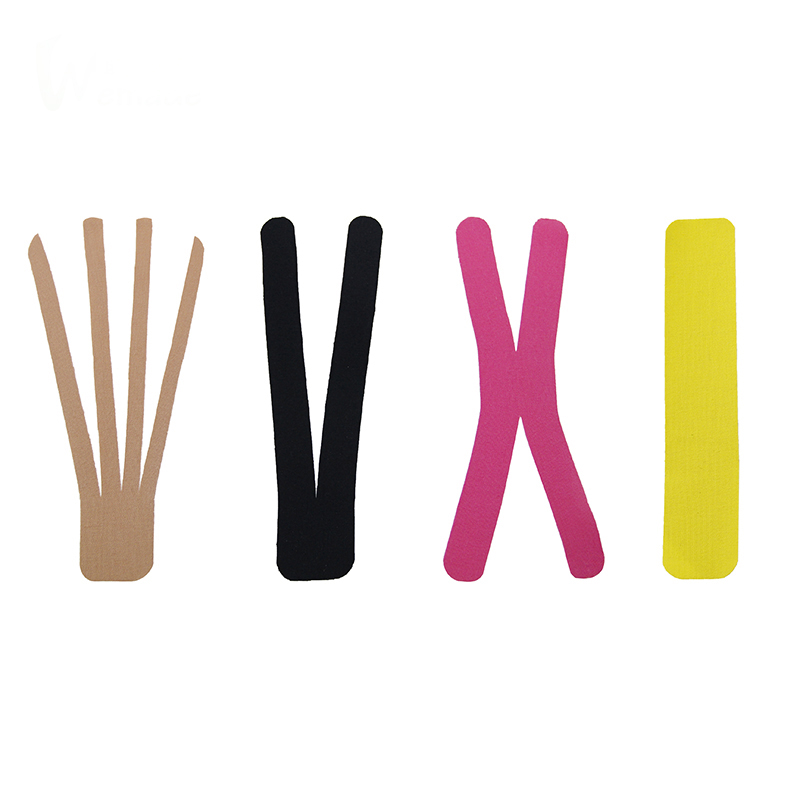 Pre Cut Tape Patches
Pre cut kinesiology tape patches are designed according to different body parts for easy application on specific parts. It has many shapes, such as claw shape, Y shape, X shape, I shape and so on.
Applications of Pre cut tape
What are the advantages of kinesiology tape pre cut?
The biggest advantage of kinesiology tape pre cut is its ease of use. When the sports tape is pre-cut, it can be used by gently tearing it off.
Can I get samples of kinesiology tape pre cut?
Yes, samples are available for all of our products, if you would like to get a sample, please contact us now.
How long is your kinesiology tape pre cut production lead time?
For mass order, the production cycle of regular four colors, blue, pink, skin color and black is shorter, about 15 days, and other colors or patterns will take a little longer.
Are the instructions shipped in the box with the product or electronically?
Usually our products do not contain instructions, if you need, we can send you an electronic for reference.