Rigid strapping tape belongs to sports strapping tape. It is a high quality rayon rigid tape. It has a very strong porous adhesive that allows the skin to breathe freely while maintaining adhesion. The serrated edge design allows you to tear it directly by hand, which is convenient and quick. Provides extra support to prevent sports injuries such as strains and sprains.
2.5cm*9.1m/13.7m (0.98inch*29.86ft/44.95ft)
3.8cm*9.1m/13.7m (1.5inch**29.86ft/44.95ft)
5cm*9.1m/13.7m (1.97inch**29.86ft/44.95ft)
What is the Rigid Strapping Tape ?
Rigid strapping tape is a strong sports support tape. It uses the most flexible rayon fabric and the strongest zinc oxide hot melt glue. Stabilizes joints during strenuous physical activity and plays a role in prevention and recovery. Sports strapping tape works by limiting the movement of ligaments, tendons and joints to prevent injury or re-injury in high-stress environments.
Our sports rigid strapping tape comes in 4 colors and 4 sizes for you to choose from.
Black, white, skin and tan. Tan color is hot selling and popular.
1.25cm and 2.5cm width tape is designed to prevent and treat injuries by stabilizing small joints and limiting movement. For example, fingers, toes, wrists, etc. Commonly used in hand training for volleyball players, goalkeepers, strength trainers, etc.
3.8cm and 5cm width tape is suitable for gravity support of large joints. It covers a larger area and has stronger support. Suitable for knees, ankles and shoulders. Often used in sports such as football, basketball, judo and wrestling etc.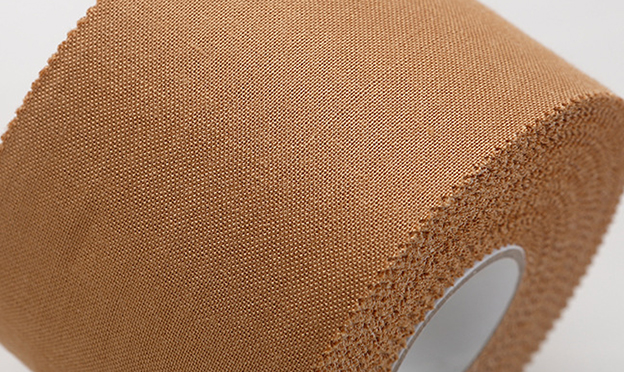 100% Rayon, Tough and Wear-resistant
Premium rayon-cotton fabric, soft yet thick, skin friendly. Wear-resistant and long service life. It is has no elasticity. Used to stabilize joints, prevent injuries, and improve sports performance, making it ideal for professional sports events. It is also the sports tape of choice for professional athletes.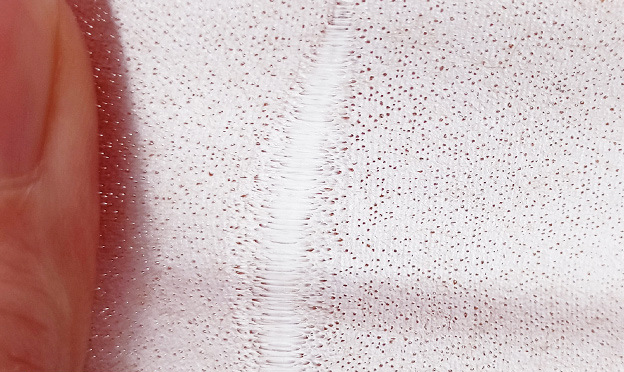 Zinc Oxide Glue, Strong Stickiness, Do not fall
The glue containing breathable holes is stable and not prone to allergies, and it is breathable and heat-dissipating without sweating.
The strong adhesive feature provides complete support, allowing you to move worry-free without fear of strains and sprains!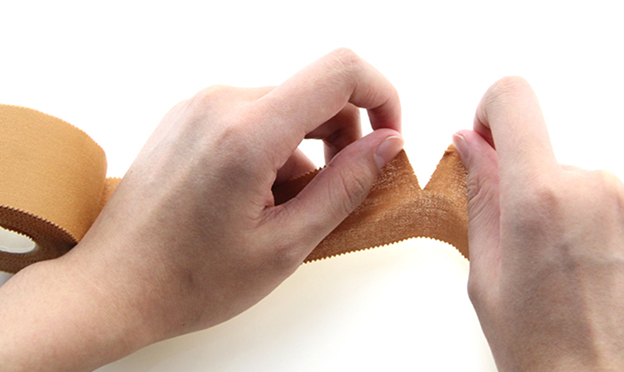 Easy to Tear, Tear by Hand, Convenient and Fast
The serrated edge design makes it easy to tear directly by hand, and you can freely control the length of use. There is no need to carry scissors with you, which is more convenient and faster. We also have flat edge design that can also be torn by hand.
Rayon Tape and Cotton Tape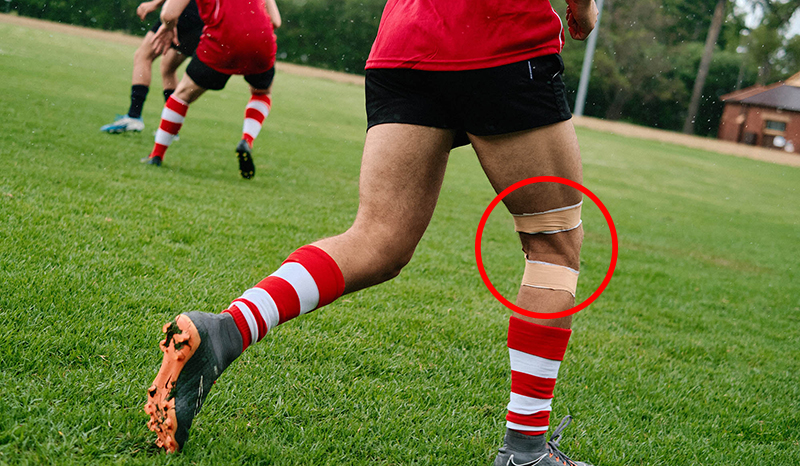 PURE RAYON
Rigid Fabric, 3X Stronger.
ZINC OXIDE HOT MELT GLUE
For maximum support and superior protection.
CHOOSE RIGID STRAPPING TAPE
For weight-bearing & heavily stressed joints. Such as shoulders, knees, ankles etc.
APPLICATION
It's also a favorite with runners for blister prevention and plantar fascia support.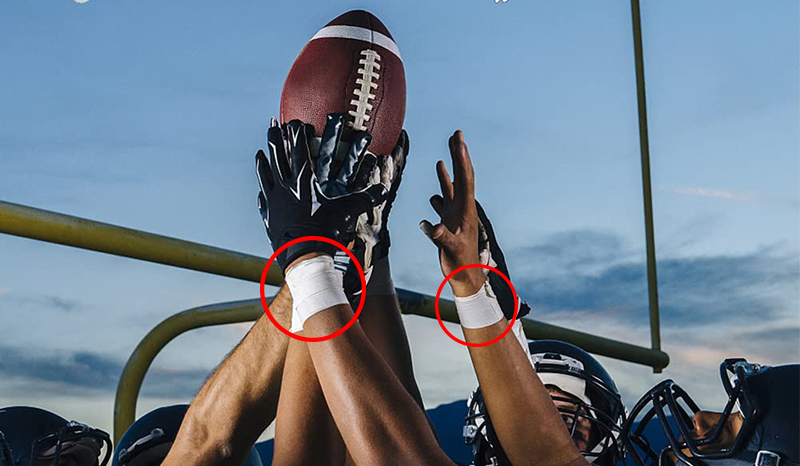 PURE COTTON
Soft fabric, proper strength.
ZINC OXIDE HOT MELT GLUE
It is perfect for light support and protection.
CHOOSE SPORTS STRAPPING TAPE
For joints with low load-bearing & pressure. Such as fingers, wrists, elbows etc.
APPLICATION
It's really popular with climbers, Crossfit athletes, boxers and BII wrestlers.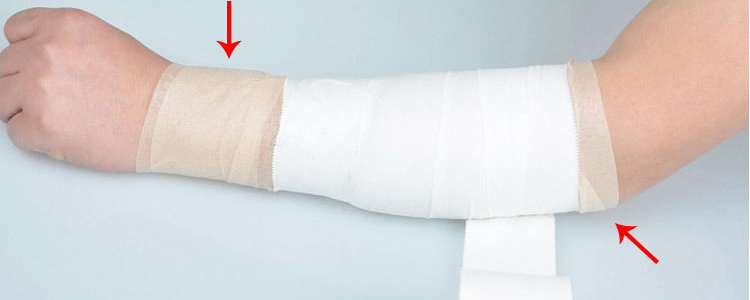 Thin, lightweight underwrap creates a barrier between skin and tape, protecting skin from friction and abrasions. Prevent allergies and blisters and removes quickly.
The pre wrap is highly elastic, tearable and breathable for a comfortable experience against your skin.
Suitable for people to protect and stabilize ankles, wrists, hands and knees before sports and activities, should be used in conjunction with sports tape.
Use pre wrap under tape to prevent body hair loss, underwrap can also be used as armbands, headbands, team apparel, emergency headbands.
How to Use Sports Strapping Tape?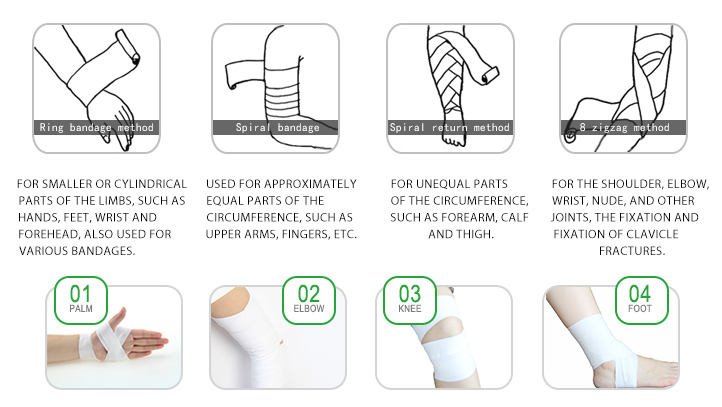 1.Prepare 1 roll of the right size.
2.Wrap the joints where you want to improve support.
3.Wrap joints appropriately to leave room for movement.
4.Even coverage of the surface provides maximum support and protection.
5.Tear by hands and stick the ends to the tape.
1.Make sure the skin is clean and dry, preferably hair removal.
2.Recommend to use underwrap together to protect the skin.
Do not wrap it too tightly, the force should be even, and it can be pasted in sections.
What is sports strapping tape used for?
It is a rigid strapping tape with no elasticity, specially designed to support body joints and prevent strains and sprains during strenuous exercise, thus preventing and protecting them.
What is the difference between kinesiology Tape and rigid taping?
Rigid strapping tape is used on body joints to provide extra support. Kinesiology tape works on the muscles to relieve muscle tension and soreness.
Can you sleep with rigid strapping tape on?
Do not wear sports strapping tape to sleep, because it is rigid and has no elasticity, which will affect your sleep quality.
Is zinc oxide tape the same as rigid tape?
Yes, rigid strapping tape uses zinc oxide glue, so it is often called zinc oxide tape.