Bandage and tape scissors
Bandage and tape scissors are scissors designed specifically for cutting bandages and tape. They usually have an obtuse point, which is designed to help cut bandages without scratching the skin. Tape scissors can be used as medical scissors as well as sports tape scissors or kinesiology tape scissors.
Handle Material: PP
Scissor Blade Material: Stainless Steel 2CR13
The Scissor Blades Are Made of Teflon or Blackened.
14.5*8.5cm (5.71*3.35inch)
18.5*8.5cm (7.28*3.35inch)
16*7cm (6.3*2.76inch)
We are a manufacturer from China. We can provide any ODM and OEM services you need. We have a professional design team. If you need customized products, you can contact us directly, or you can click custom kinesiology tape or wemade service for details.
What is the bandage and tape scissors?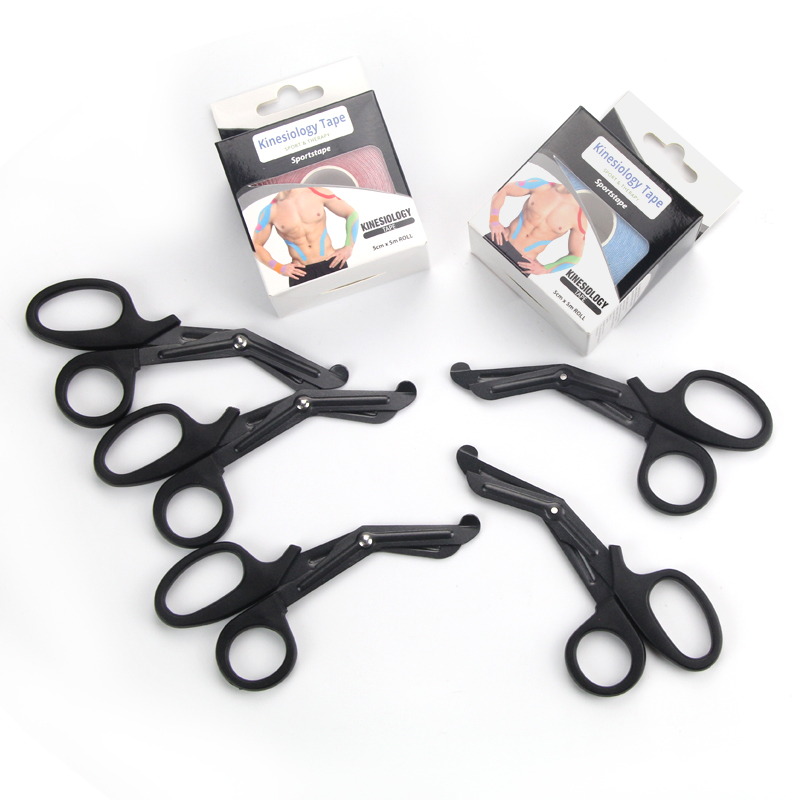 【Medical Scissors】: The blade material is stainless steel 2CR13, which is equivalent to stainless steel 420 in the United States, which has higher strength and hardness compared with other materials to ensure that wemade bandage scissors are more sharp and durable.
【High Quality】: The stainless steel blade is processed by forging technology, which makes the blade denser, and after 3 heat treatments, it makes the blade sharper and more durable. With milled serrations, Teflon-coated non-stick surface, more wear-resistant.
【Ergonomical】: Allows for precise control and maximum comfort, suitable for both left-handed and right-handed.
【Multipurpose Scissors】: Cut anything safely and effectively with these sharp tape scissors. Great for cutting ribbon, burlap, rope, car seat belts, leather, removing injured clothing, gauze, tape, bandages, and more. Great for Outdoors, First Aid, Nurses, Doctors, Firefighters, Gardening, Home.
【Durable Rivets】: Strong rivets ensure efficient and long-lasting cutting.
【Multipurpose Use】: Bandage and tape scissors have many uses, can be used as medical scissors, can be used as sports tape scissors, its unique zigzag structure makes it sharper, here we mainly introduce its application in sports tape.
【Quality Assurance】: Every medical scissors is hand assembled, inspected and hand tested to ensure only the best scissors are sold to you.
Features of Bandage and tape scissors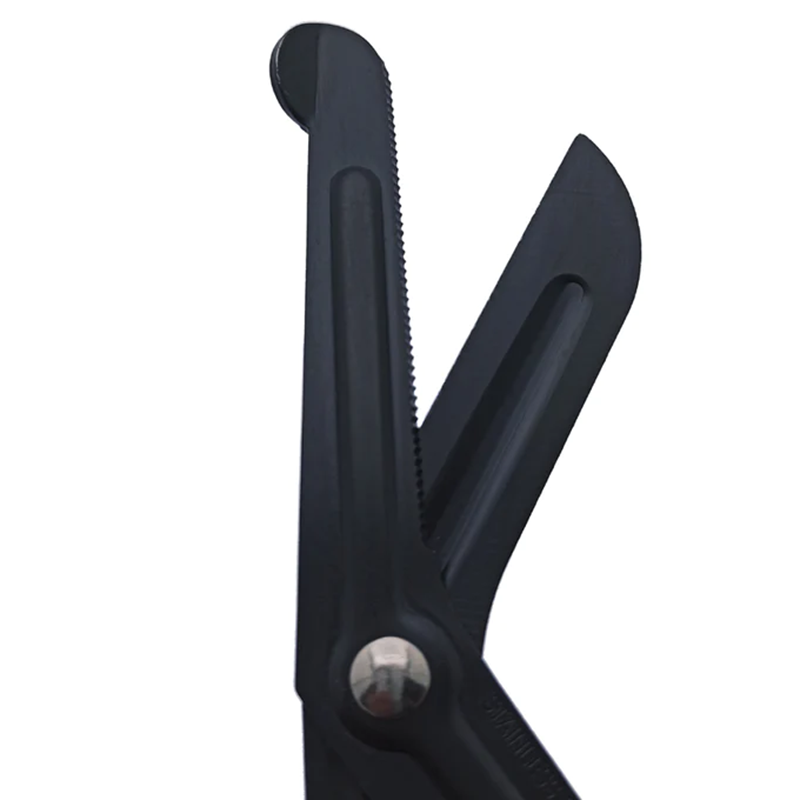 Bandage scissors typically have a blunted or rounded tip to minimize the risk of accidental injury during use. This design helps prevent puncturing or cutting the skin while cutting through bandages or tapes.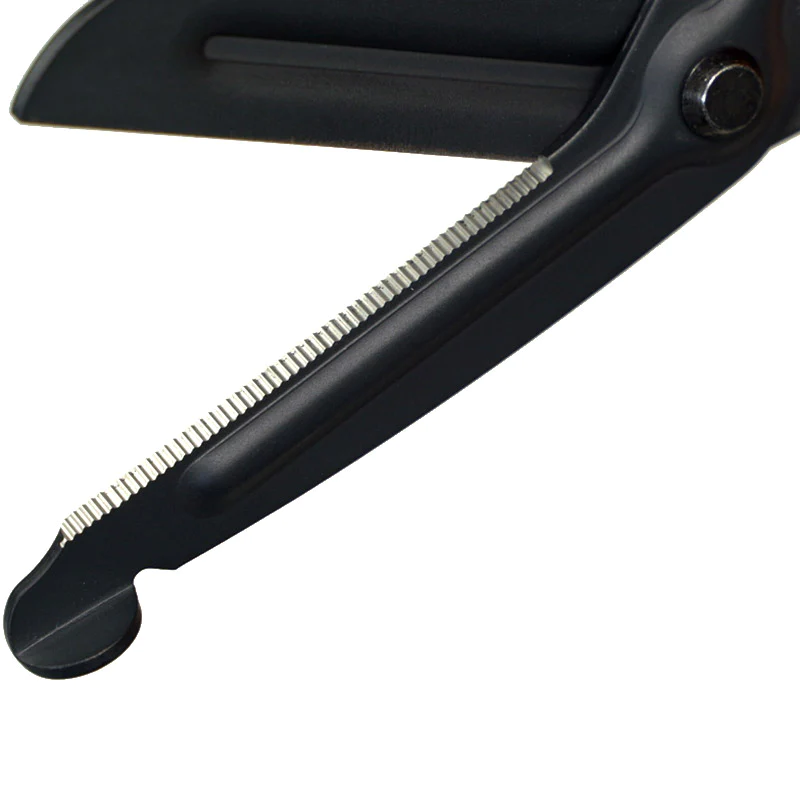 Serrated or non-slip blades
The blades of bandage scissors often have serrations or non-slip features. These help provide better grip and control when cutting through materials like fabric or adhesive tapes, allowing for precise and clean cuts.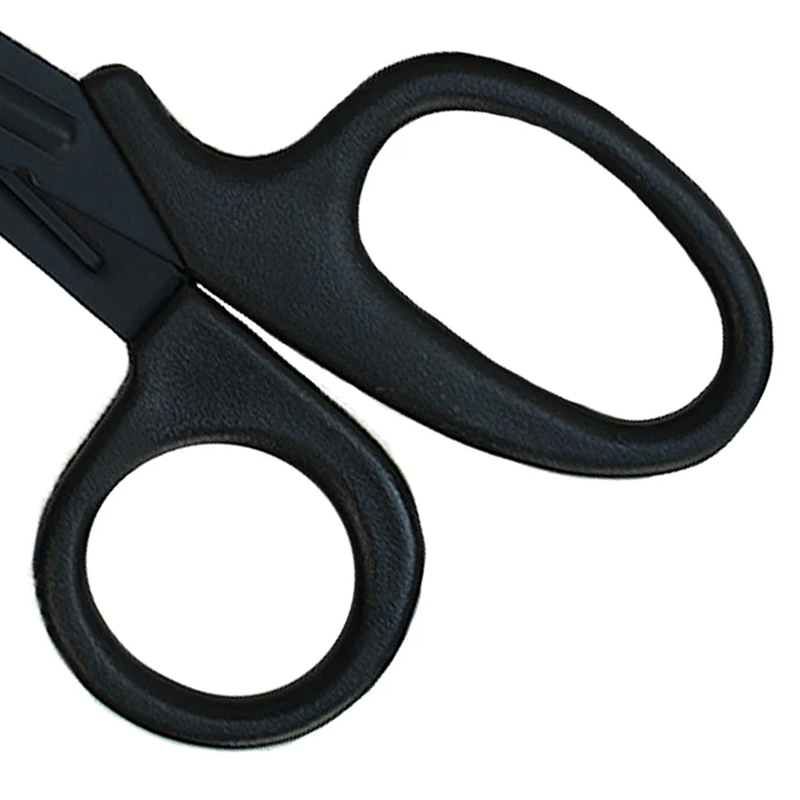 Bandage scissors often have ergonomic handles designed for comfortable use. They may feature cushioned grips or finger loops to provide a secure and comfortable hold during cutting.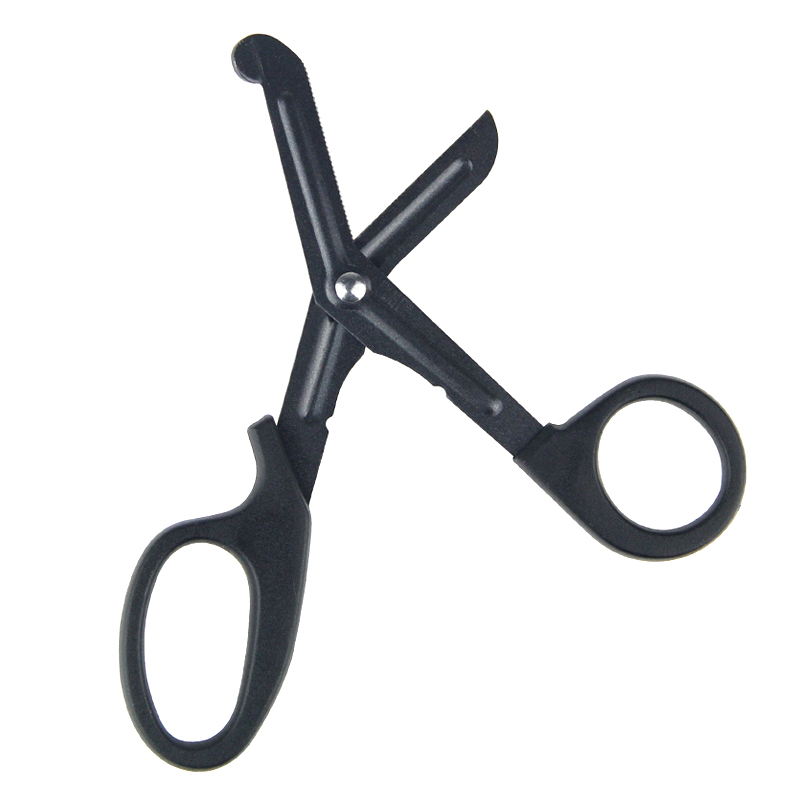 These bandage scissors are usually made of durable materials such as stainless steel to withstand frequent use and maintain sharpness over time. This ensures they can handle cutting through various types of bandages and tapes without bending or becoming dull.
Applications of Bandage and tape scissors
Kinesiology Tape Scissors
Kinesiology tape is a protective tape specially designed for skin and joints, but it is very sticky, so if you use ordinary scissors, it is very easy to damage and greatly reduce the service life. The jagged design of kinesiology tape scissors can easily solve this problem. It allows you to cut kinesiology tape into any shape as you like without jamming or burrs.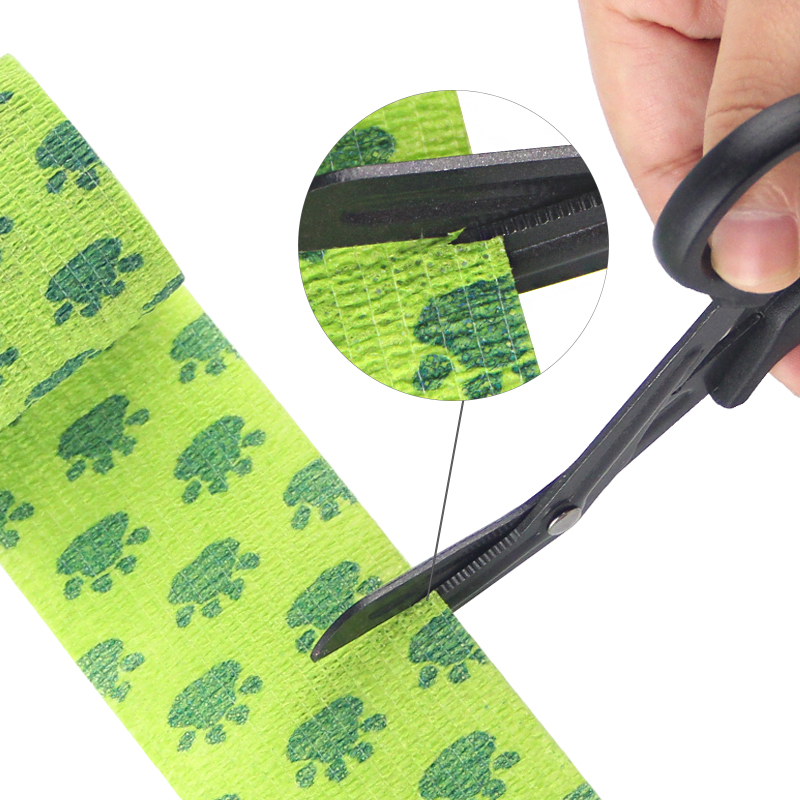 Cohesive Bandage Scissors
Cohesive bandage is a self-adhesive bandage, which is mainly used for postoperative dressing or pet dressing. Although it can be torn by hand, if you want to remove it quickly after wrapping many layers, you still need to use cohesive bandage scissors. Cohesive bandage scissors can help you quickly cut open the wrapped part, without the need to open layer by layer.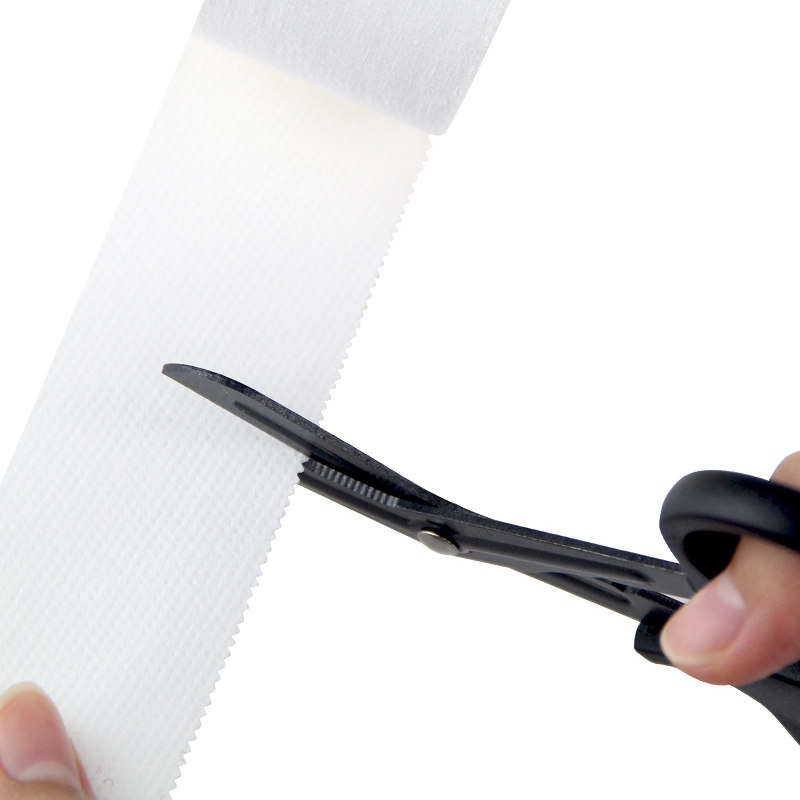 Sports tape is a super sticky tape. It has no elasticity and is mainly used to stabilize joints. In an emergency, it can be used as a simple plaster cast. Because it is very viscous and has no elasticity, it will become very hard after wrapping many layers. So it is not realistic to disassemble layer by layer, sports tape scissors can help you solve this problem. Sports tape scissors can also be called athletic tape scissors.
Who are the bandage cutting scissors suitable for?
Athletic Trainers and Athletic Therapists: Professionals who practice sports medicine and use bandage cutting scissors to apply and remove athletic tape, bandages, or compression wraps to support and protect athletes from injuries.
Physical therapists: Physical therapists often use bandage cutting scissors to remove athletic or therapeutic tape used to support injured muscles or joints. They need precise cutting tools to ensure that the tape is removed without any additional discomfort to the patient.
Nurses: Nurses play a vital role in patient care, performing tasks such as changing wound dressings, applying and removing bandages, and securing with tape. bandage cutting scissors are essential tools for these procedures.
Physicians and Surgeons: Physicians and surgeons often use bandage cutting scissors during physical exams, minor surgeries, or surgeries. They may need to remove dressings, cut medical clothing, or trim tape used to secure IV catheters or to close wounds.
Home healthcare provider: Caregivers or family members who provide home healthcare services may need to change dressings or remove bandages in a home setting. bandage cutting scissors help perform these tasks safely and efficiently.
Who uses bandage and tape scissors most often?
Athletes, doctors, nurses, nursing students, paramedics, paramedic training, EMT, EMS professionals who often use kinesiology tape and sports tape.
Do bandage scissors need to be sterilized?
Any medical equipment (e.g. scalpels, forceps) that comes into contact with the wound itself must be sterilized before use. Equipment that will not come into contact with wounds (such as medical scissors) should be sterilized between patients. If you are using it as kinesiology tape scissors or sports tape scissors, you don't need to sterilize it.
Can bandage scissors cut skin?
The tip of the lower blade has a flat blunt nodule designed to glide between the bandage and the skin without cutting the skin.
Do bandage scissors need to be oiled?
We recommend oiling your scissors whenever they feel a little rough – when that happens, you know how it feels. Exact times vary from person to person and depend on how often they are used and the kind of material.
Should scissors be washed?
Scissors need to be cleaned as often as they get dirty, so it depends on where you use them. If your scissors are often used to cut kinesiology tape, sports tape, they may become stickier faster. In this case, it must be cleaned immediately, otherwise it will affect the use of scissors.