Tattoo grip cover wrap is an elastic wrapping bandage made of 90% non-woven fabric and 10% spandex yarn. It also has a other name called tattoo adhesive bandage or tattoo machine grip wrap, which is actually a kind of cohesive bandage. Tattoo adhesive bandage is a substitute for tattoo grip cover, its main function is to wrap around the handle of the tattoo machine, which helps to prevent the handle from slipping and form a perfect tattoo design when in use.
If you have a foam tattoo grip cover on the handle of your tattoo machine, it can also be used to protect the foam tattoo grip cover from wear. It can also be used for sprains, swelling, soreness, sports wraps and pet dressings. The tattoo adhesive bandage won't leave any sticky stuff on the tattoo handle, and it's easy to replace and remove.
2.5cm*4.5m (0.98inch*14.76ft)
5cm*4.5m (1.97inch*14.76ft)
Wemade accepts customised bandages and customised packaging in the size or colour you want. Custom adhesive bandages are usually printed with a design or logo on the bandage and papercore, and can also be customised with personalised packaging to create a brand image. (Learn More)
Specifications for Tattoo grip cover wrap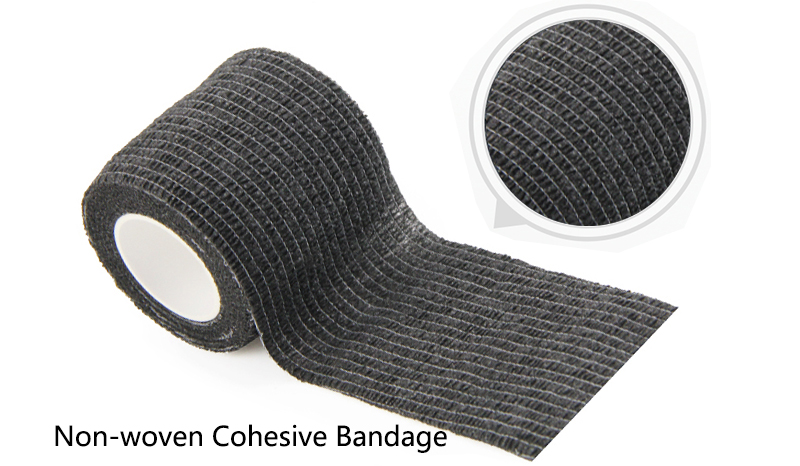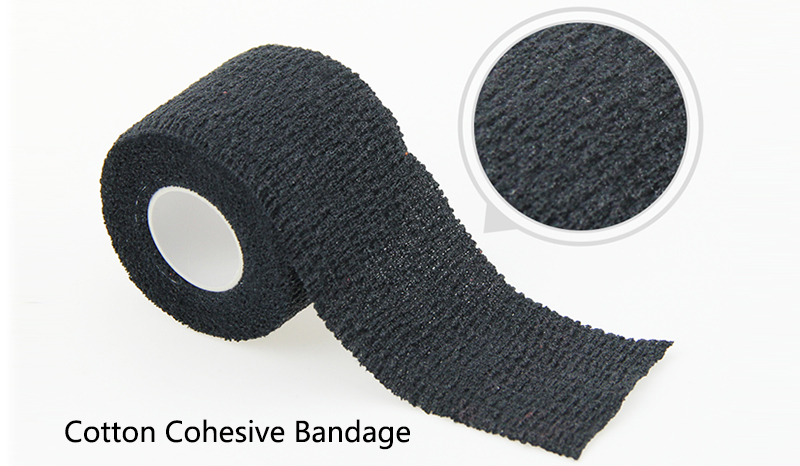 There are two main materials for tattoo grip bandage, one is non-woven material and the other is pure cotton material.
Non-woven Fabric, Good Elasticity, Lower Cost
Non woven tattoo grip bandage is characterized by better elasticity, can provide moderate pressure, has good air permeability, and improves the comfort of use. The raw materials of non-woven fabrics are cheap, the production process is simple, and the overall cost is low.
Pure Cotton Fabric, Better Water Absorption, More Skin-friendly
The cotton tattoo grip bandage is characterized by better water absorption. If you accidentally get blood or paint on the tattoo grip bandage during use, it can absorb faster and won't stick everywhere. Cotton fabric is more skin-friendly and can reduce skin irritation.
High Elasticity, Tightly Wrapped Without Sliding
The design of adding 10% spandex greatly improves the elasticity of tattoo adhesive bandages. The high elasticity ensures that it can tightly wrap the tattoo machine when in use and will not slip easily.
Safe And Non-toxic, Latex Free
Tattoo Grip Cover Wrap uses imported synthetic glue, does not contain latex, is non-toxic and harmless, ensures the safety of the bandage and minimizes allergies.
Features of tattoo grip cover wrap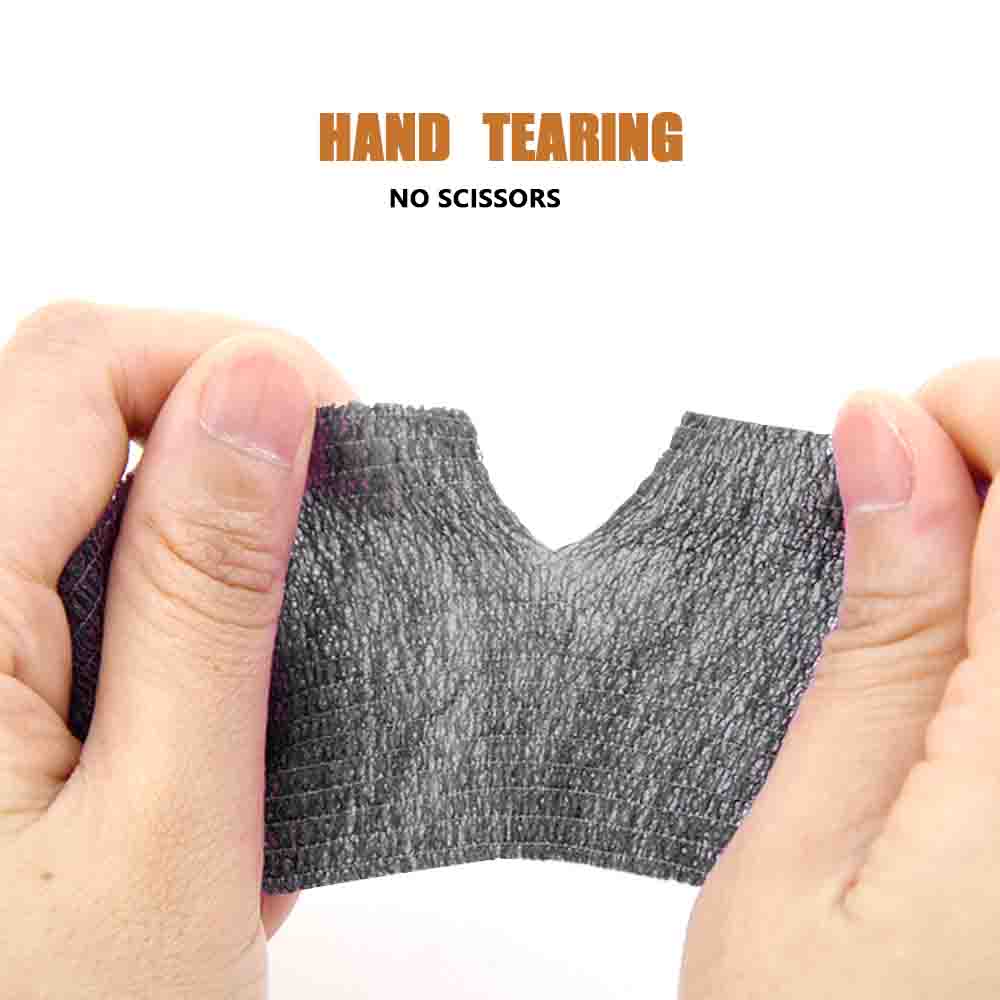 Easy to tear and easy to use
The tattoo adhesive bandage material is very soft, easy to wrap, and can be easily torn in any direction by hand, saving the trouble of using scissors, and it is very convenient to use. Breathable and safe for your skin, besides, they are lightweight, easy to carry, and very convenient to use.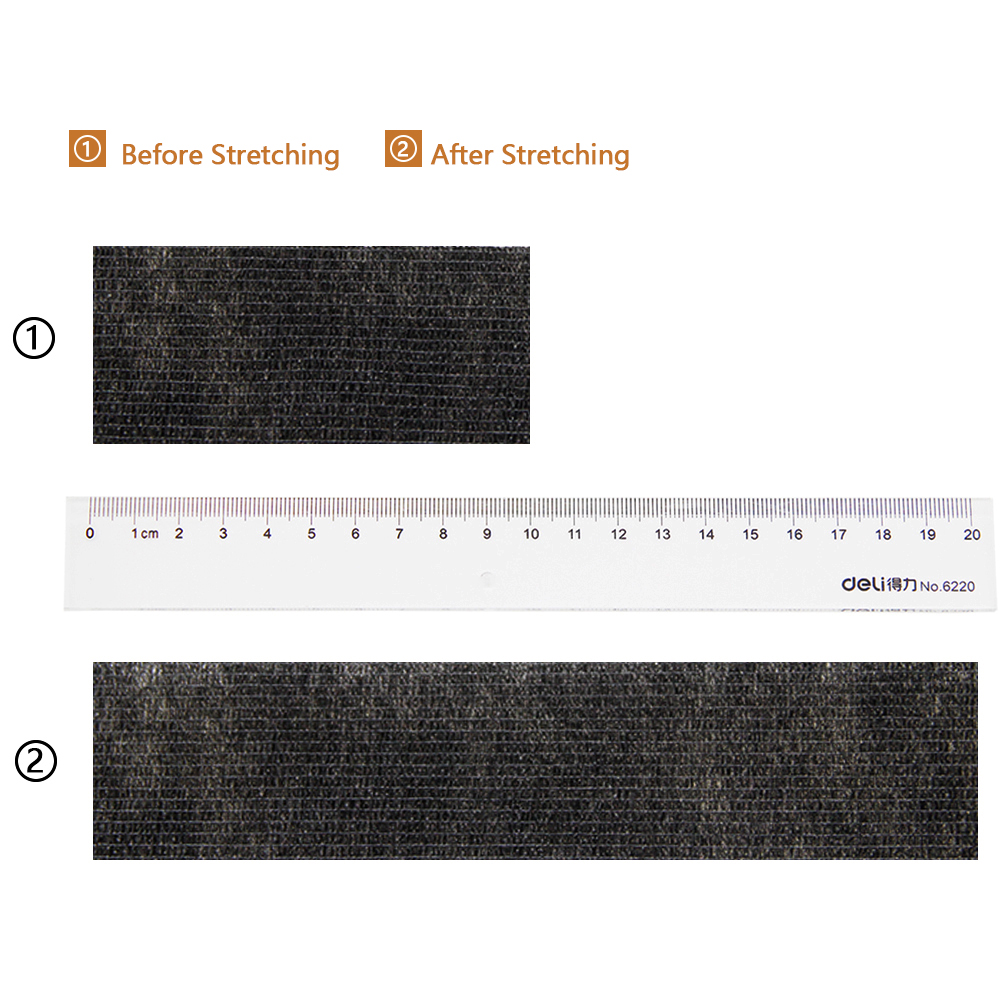 Extra Stretch For Easy Wrapping
Tattoo grip cover wrap is usually made of elastic cotton and non-woven fabric. The non-woven fabric and cotton fabric itself has a certain degree of elasticity. Adding 10% spandex can improve its elasticity to the extreme. It can stretch up to 220% and provide moderate pressure. , Improve the comfort of use.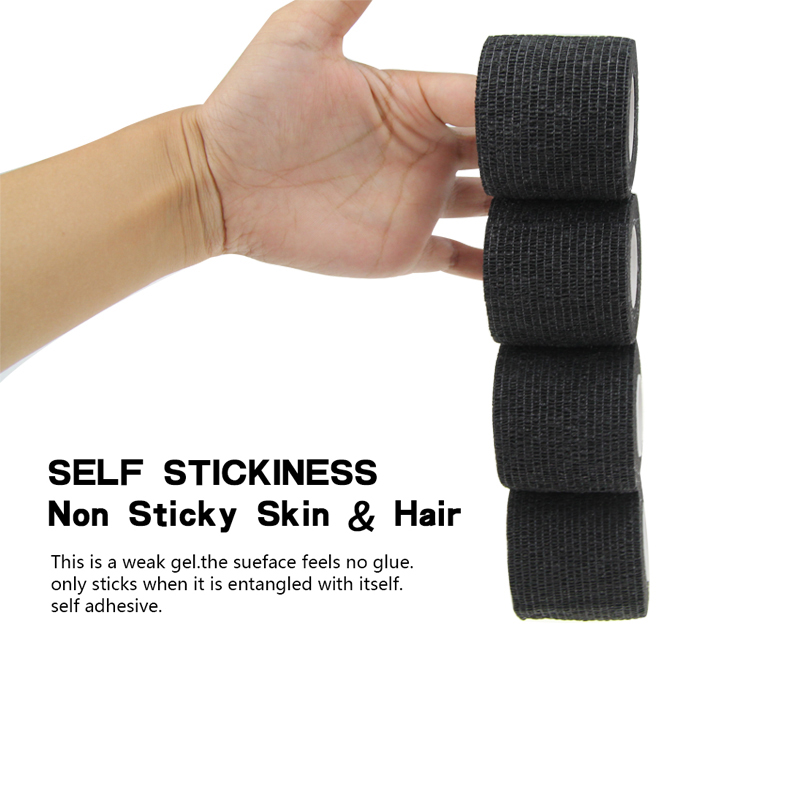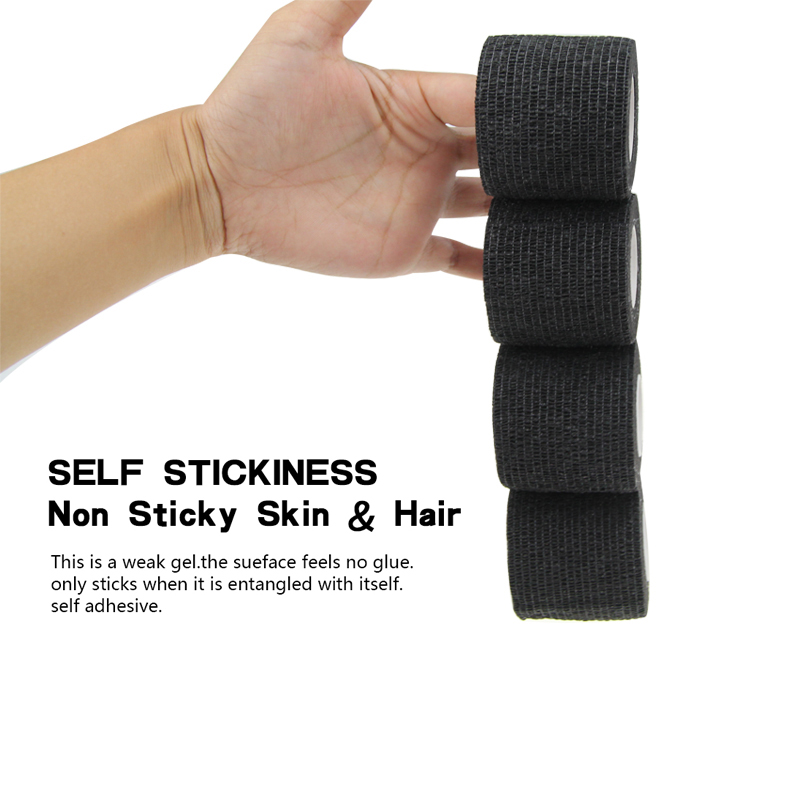 Self Stickiness , Non Sticky Skin And Hair
The tattoo grip cover wrap does not leave any sticky residue on the tattoo grip, nor does it leave any sticky residue on other materials or skin. The tattoo machine grip wrap easily adheres to itself and not to other surfaces like skin or hair, making it easy to remove and replace.
available colors of tattoo adhesive bandage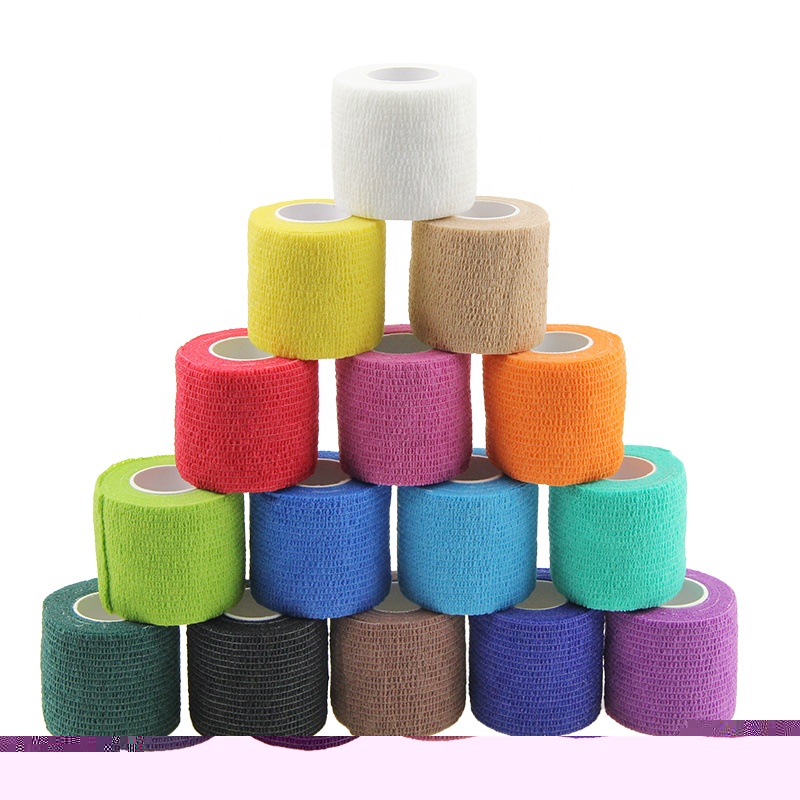 Solid Colors
We have tattoo adhesive bandage in 5 sizes and 18 solid colors, solid colors are the cleaner looking colors with more vibrant colors. This color is the most commonly used color for tattoo machines.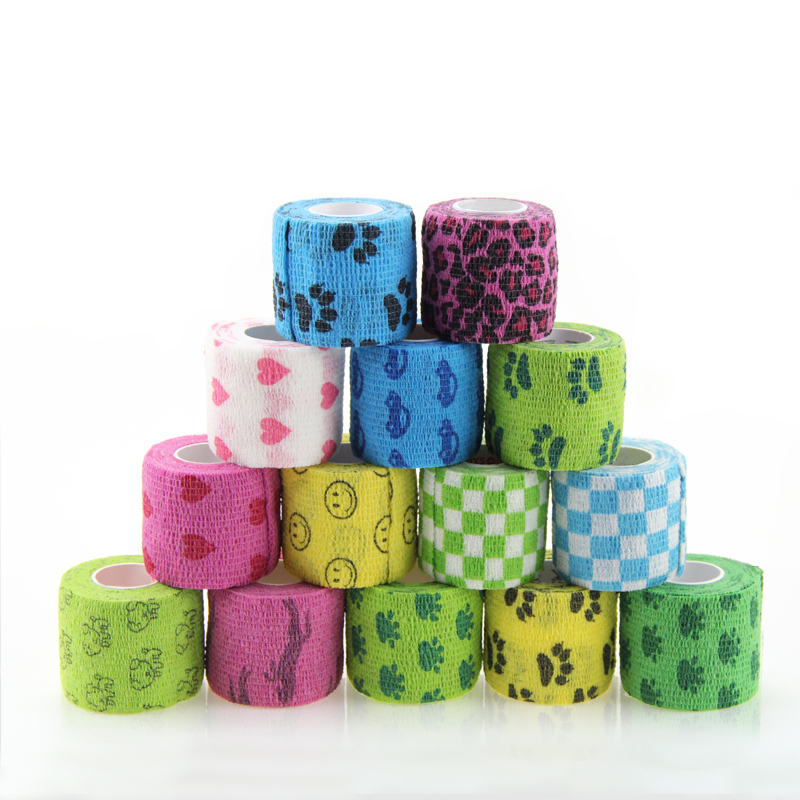 Printing Colors
The tattoo grip cover wrap with various patterns is most popular among women, and there are 5 sizes and 37 colors for you to choose. It looks fun and cute, and female tattoo artists should like it more.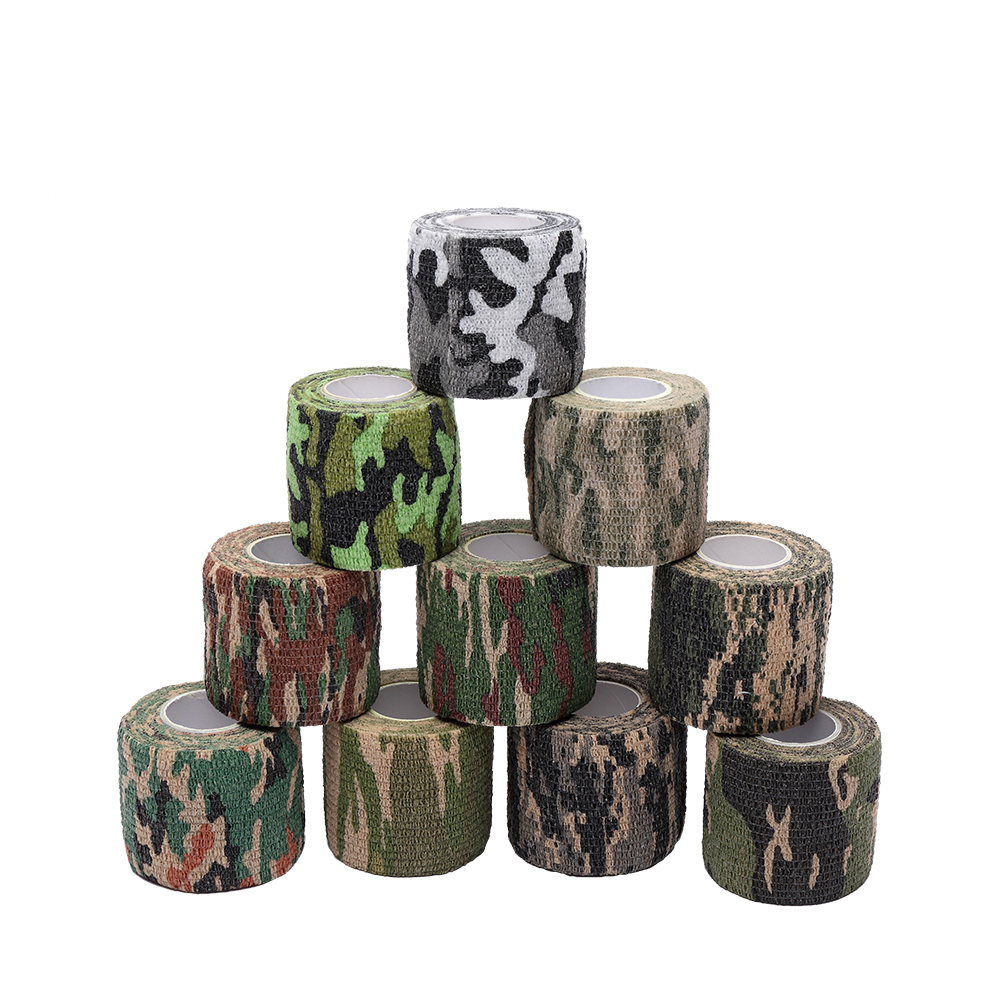 Camouflage Colors
There are 5 sizes and 15 colors of camouflage tattoo grip cover wrap for you to choose. It is more suitable for use by male tattoo artists, also, it is often seen in military coverts and field forest photography coverts.
Application of tattoo grip cover wrap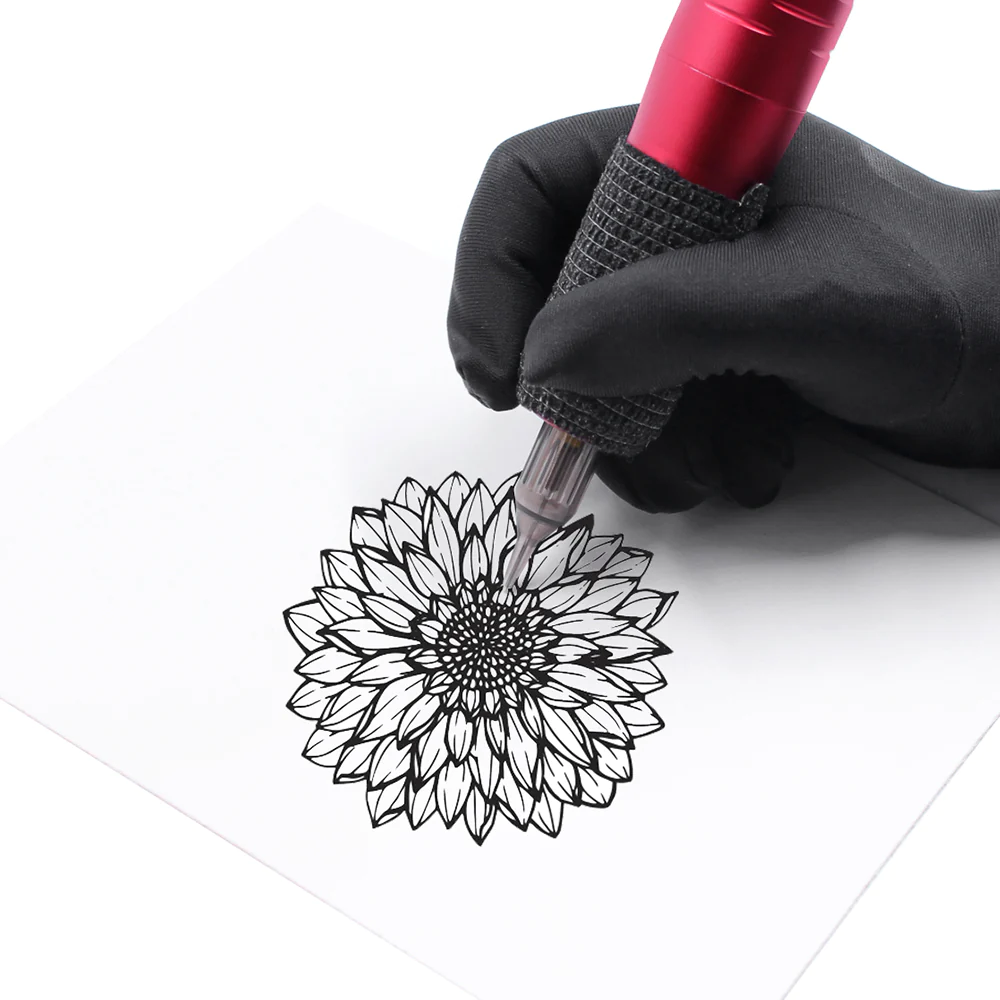 Anti-pollution, Non-slip, Clean And Hygienic
 This tattoo grip cover wrap is specially designed to perfectly protect the tattoo machine from contamination or scratches.
Tattoo machine grip wrap is made of soft non-slip fabric, which wraps around the handle of the tattoo machine, reduces the vibration of the machine, prevents the handle from slipping, and greatly improves the stability of the tattoo operation.
Disposable, clean and hygienic tattoo safe. This innovative tattoo machine grip wrap allows tattoo artists to better control the machine and easily create exquisite tattoo artwork, ideal for professional tattoo work.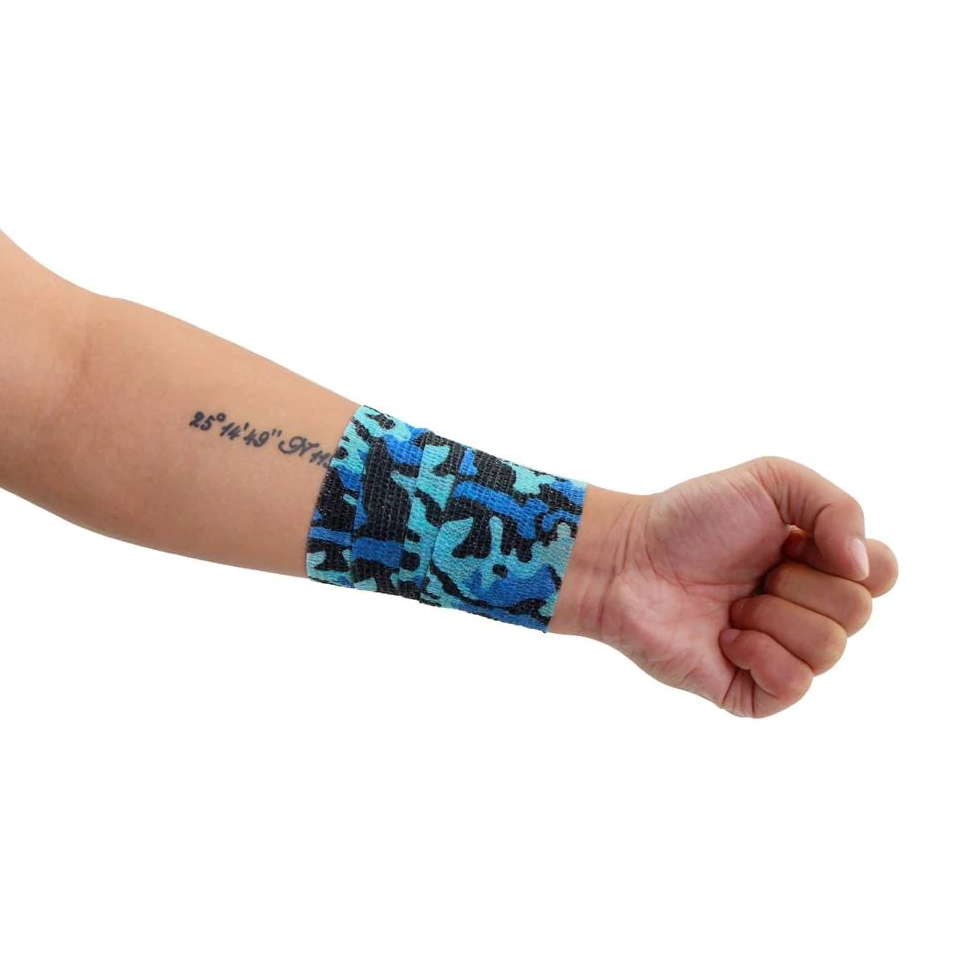 Protects New Tattoos, Reduces Fading, Relieves Pain
The tattoo adhesive bandage protects the new tattoo while it heals. The tattoo machine grip wrap helps protect the new tattoo from irritation, friction, and pollutants as the skin repairs itself. This can promote proper healing.
Reduces fading and prolongs the life of your tattoo. Wrapping creates a protective barrier against sun exposure, water, and abrasion, all of which can cause tattoo ink to fade faster over time.
The tattoo machine grip wrap helps reduce the pain, swelling and irritation of new tattoos, and also promotes increased blood circulation for therapeutic results.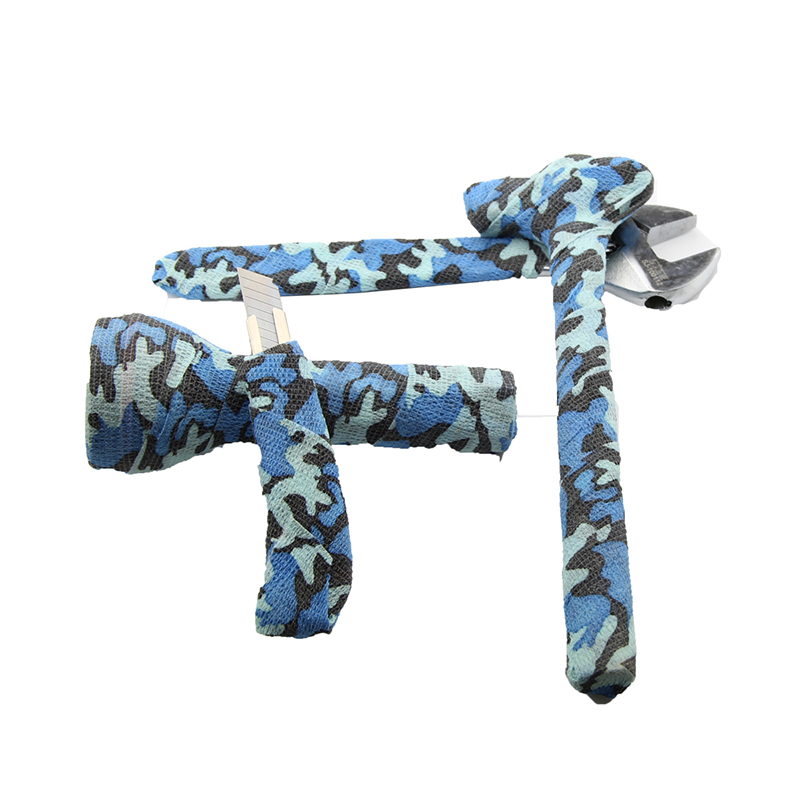 Tool Protection, Increased Friction, Camouflage
In addition to being used on tattoo machines, tattoo grip bandage can also be used to protect various tools such as knives, wrenches, hammers, etc., to increase the service life.
Tattoo grip bandages can also be used to wrap badminton handles, baseball handles, ice hockey handles, etc. to increase friction and prevent the equipment from flying out of your hand during use.
The tattoo grip bandage in camouflage colors can also be used in the jungle to conceal your photographic equipment or firearms in order to better camouflage yourself.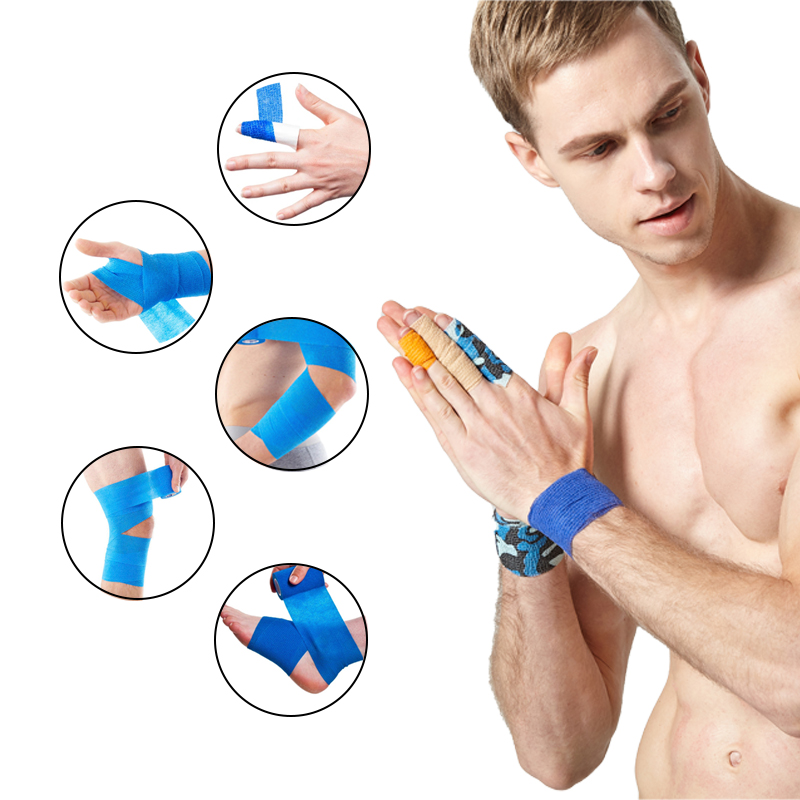 Sports Protection, Wound Dressing, Pet Dressing
 Tattoo machine grip wrap is also suitable for body joints, such as ankles, wrists, toes, elbows, knees, etc. It can provide certain support for the joints, relieve the impact force during exercise, and prevent sprains.
Tattoo machine grip wrap can also be used to bandage wounds, fix wound dressings, and relieve postoperative swelling. It is one of the most commonly used bandages by surgeons after surgery.
In addition, tattoo machine grip wrap is also suitable for pets. You can use them to wrap the injured parts of cats and dogs, and can also be used as a small shoe cover, so you don't have to worry about pets dirtying the house in rainy days.
Tattoo Grip Cover Wrap VS Regular Tattoo Grip Cover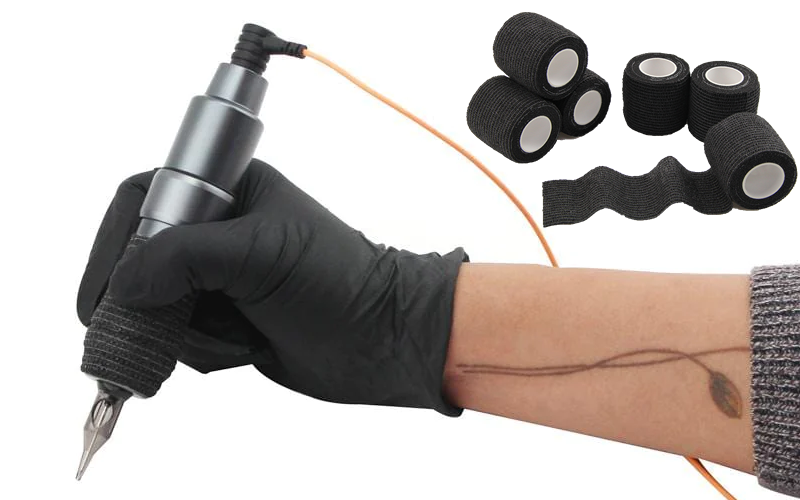 No Fixed Size,Unlimited Use
Any type of tattoo machine can be used, it has no fixed size, no matter what type of tattoo machine you have
Clean And Hygienic
One-time use, remove directly after use, even if it is stained with pollutants, it will not affect the machine
Easy To Adjust
The tattoo adhesive bandage is very convenient to use, you only need to wrap it, wrap it, wrap it, until you reach the appropriate thickness or diameter, you can always adjust it until you feel comfortable
Has Many Uses
Not only tattoo machine grips can be used, but also can be widely used in various joints of the body, or handles of various tools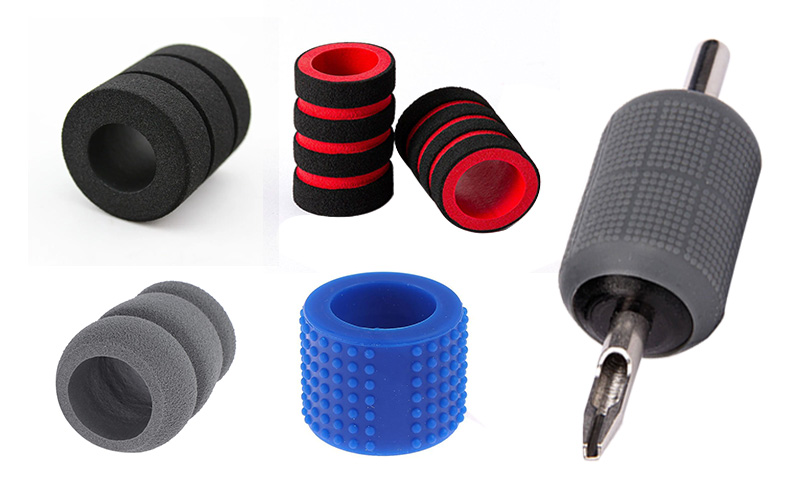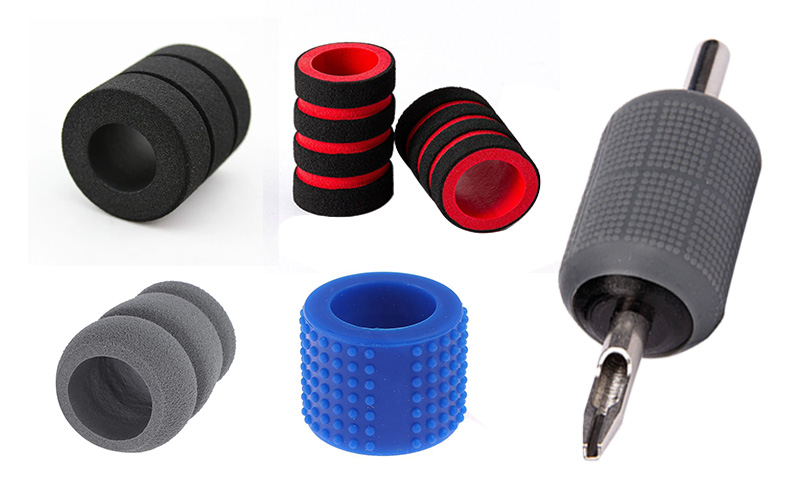 Fixed Size, Limited use
Different tattoo machines have different sizes and require different tattoo grip cover. If the size is not suitable, it is easy to slide and affect the use.
Reuse
Conventional tattoo grip covers are reused, and there will inevitably be residual pollutants
Cannot Be Adjusted
Conventional tattoo adhesive bandage can hardly be adjusted, the thickness and width are fixed.
Single Purpose
It can only be used for fixed models of tattoo machine handles, with a single purpose
What is a good alternative to grip tape for tattoos?
Judging from the current market situation, tattoo grip cover wrap is the most suitable wrapping tool for tattoo machines, because it is very flexible and easy to adjust. If you want to better protect your tattoo machine, you can also add a layer plastic protective bag.
How do you use a tattoo grip cover?
The use of the tattoo grip cover is very simple. The traditional tattoo grip cover only needs to be put on hard. The new tattoo grip cover wrap only needs to be wrapped, wrapped, wrapped, and adjusted until you feel comfortable.
Can you tattoo without grip tape?
Of course, grip tape is just an auxiliary tool to make you more comfortable to use and less likely to slip. If your tattoo machine grip is comfortable enough and non-slip enough, it doesn't matter if you don't use it.
Why do tattoo artists use grip tape?
This allows them to be more comfortable and stable while working on the tattoo, creating the most perfect work.
Why are tattoo grips so thick?
The thick grip helps to avoid and relieve the hand fatigue caused by pinching the grip for a long time, making your tattoo work easier.