Cotton kinesiology tape is the best-selling product of Wemade, we have 24 colors in total, and there are 4 regular colors, pink, blue, black and skin color. 
The base fabric of cotton kinesiology tape is made of 95% pure cotton fabric and 5% spandex silk, so it is less irritating, more skin-friendly, and has good air permeability. They come in uncut rolls so you can use scissors to cut them to the exact size and shape you want.
Cotton kinesiology tape was originally used to immobilize joints and treat arthritis. Over time, it was slowly applied to the field of sports protection. It usually uses Japanese acrylic glue or German Henkel glue, which is free of latex and natural rubber, which is easier to touch the skin and less allergic. The adhesive of the Cotton kinesiology tape is wavy, ensuring its adhesion to the skin while also ensuring breathability. It is waterproof and sweatproof, and it is not easy to fall off even if you sweat.
Cotton kinesiology tape is widely used, it can be used on most muscles and joints of the body. Most people use it to prevent muscle damage or skin abrasion, and some people use Cotton kinesiology tape to relieve pain and speed up recovery after injury. The author of this article has personally tested the effect. For muscle soreness after high-intensity exercise, such as mountain climbing or long-distance running, using cotton kinesiology tape can relieve pain and make you feel more comfortable.
2.5cm*5m(0.98inch*16.4ft)
3.8cm*5m(1.5inch*16.4ft)
5cm*5m(1.97inch*16.4ft)
7.5cm*5m(2.95inch*16.4ft)
10cm*5m(3.94inch*16.4ft)
We are a manufacturer from China. We can provide any ODM and OEM services you need. We have a professional design team. If you need customized products, you can contact us directly, or you can click custom kinesiology tape or wemade service for details.
what is Cotton kinesiology tape?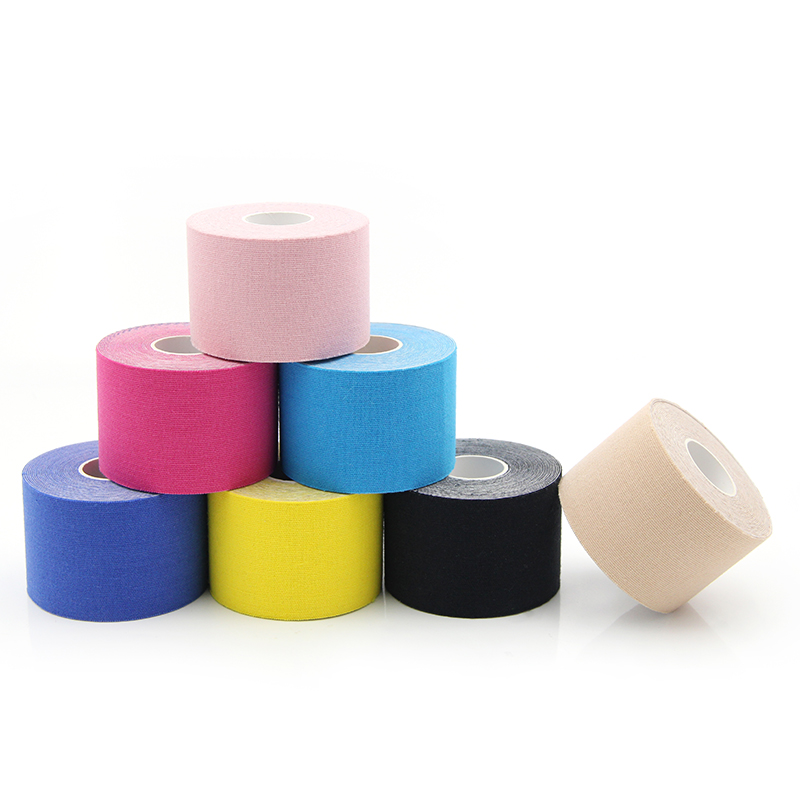 Cotton kinesiology tape is a kind of elastic tape, also known as "kinesiology athletic tape" or "kinesiology physiotherapy tape", which can be attached to the skin to increase muscle contraction or promote muscle relaxation. The main function is to prevent muscle damage, and it can also be used as physical therapy after injury. It also has a certain effect on arthritis, tendonitis, etc. It is one of the favorite physical therapy products for physical rehabilitation practitioners.
Cotton kinesiology tape is a drug-free and non-invasive patch. For the muscle itself, kinesiology athletic tape can enhance the contraction ability of damaged muscles, reduce muscle overstretching, and reduce muscle fatigue and cramps. When pasted with kinesiology athletic tape, the athlete is in a protected state and can assist old injuries. When attached to joint muscles during exercise, it can enhance joint stability, reduce sports injuries, support muscle activity, and delay fatigue.
Wemade Cotton Kinesiology Tape Features
Why our
cotton kinesiology
tape?
Improve muscle contraction ability
If the kinesiology athletic tape is applied along the direction of muscle contraction, it can generate the same pulling force, which in turn helps muscle contraction and helps to improve muscle contraction ability
The transverse shear force of the muscle patch can make the skin naturally wrinkle, allow the fascia and tissue fluid to flow along the direction of the fold, improve local blood circulation, and then achieve the purpose of reducing edema.
Kinesiology athletic tape can increase the threshold of pain by reducing the pressure on pain receptors, thereby achieving the effect of pain relief.
Our kinesiology athletic tape provides strong adhesion and will not fall off easily during sports
Our kinesiology athletic tape can be used  in many kinds of indoor and outdoor sports. Our muscle
further protect body joints during exercise
More than a tape manufacturer
The main products of Wuxi Wemade Health Products Co., Ltd. are medical bandages, kinesiology physiotherapy tape, sports tapes, boob tape and so on.
We are a well-known kinesiology physiotherapy tape manufacturer integrating production, sales and overseas trade. Founded in 2011, it has advanced production lines and testing equipment, as well as a complete modern management system.
Our work process is clear, and we have an industry-leading R&D, production, and quality assurance team. Our management team and most of our employees have more than 10 years of work experience.
Our advanced equipment includes multi-functional coating machines, various glue coating machines, automatic rolling cutting machines and various packaging machinery as well as experiment, testing and analysis equipment.
With a strict quality assurance system, we have obtained ISO13485, FDA, SGS, CE and numerous appearance, invention and other patents. Our products sell well in more than 100 countries and regions overseas. As a manufacturer, ODM and OEM are our biggest advantages.
If you need customized services, please contact us, or click custom kinesiology tape for details.We can also provide you with free samples, please click wemade service for details.
How To Use Cotton Kinesiology Tape?
Different parts have different methods of sticking. If you want to know more about the position and method of pasting, you can click on the blog page of kinesiology tape. 
What is the material of kinesiology physiotherapy tape?
Our most popular is 95% cotton + 5% spandex, but we also have other materials, such as 95% rayon + 5% spandex. Most of the glue uses Japanese acrylic glue and German Henkel glue. If you have other needs, we can also choose other types according to your requirements.
Does cotton kinesiology tape contain lidocaine or other pain relievers?
Our kinesiology physiotherapy tape only contains cotton cloth and glue, without any other medicine and cost, very safe.
Does kinesiology physiotherapy tape contain any rubber or latex?
wemade kinesiology physiotherapy tape does not contain any latex or natural rubber.
Can kinesiology physiotherapy tape protect against UV rays?
Our kinesiology physiotherapy tape is mainly used on muscles to help you relieve pain or prevent damage, it is not UV resistant.
How long does the stickiness of kinesiology physiotherapy tape last?
If you don't soak it in water, it can stay very sticky all the time, and it will get stickier and stickier the longer you use it. If you submerge it, the edges may lose their stickiness, but the body will still be sticky.